How to Talk to Your Kids About Breakbeat
Hey again, fellow kids! In our ongoing attempt to unpack a lot of stuff that maybe happened before you were born, today we're talking breakbeat—which is a curious term. Like electro or deep house, it has come to mean a bunch of different things to a bunch of different music fans over the years. For many, the scene has somewhat outstayed its welcome and become an uncool trigger word (even though we disagree). Arguing against breakbeats is a snob's errand.
Specifically, we're here to talk about uptempo, funky breaks—a melange of drum & bass, techno, and hip-hop sensibilities that proliferated in the '90s—the West Coast funky and desert breaks.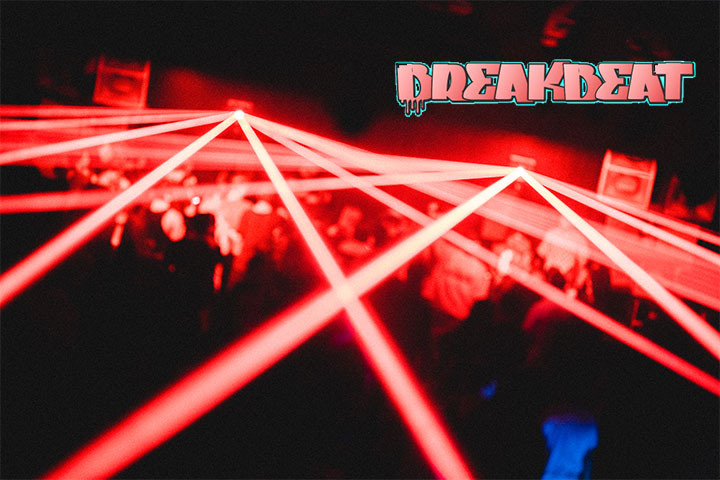 Insomniac Founder and CEO Pasquale Rotella said not too long ago, "I've been a massive breaks fan since the days I first experienced underground warehouse parties and desert raves. Breakbeats always created such a positive vibe on the dancefloor and hyped up dancers to bust out and interact through their creative styles." And he's right: Breakbeat is a fun, rhythmic base that is unpretentious and serves as a gateway sound to hook in folks from outside the traditional house and techno scenes.
In order to understand the West Coast breaks scene and how it fits in with big beat and garage and hip-hop and progressive breaks, we need to run it back a few more decades and put on our musicologist hat for a second.
A "break" is a sort of fundamental building block in any sample-based music—like house, hip-hop, breakbeat, and so on. It gets its name from sampling the percussion-driven segment of a song, where there is a break or change-up from the main groove, usually before the groove returns or another is introduced.
What the hell is a "break," even? Is it like a breakdown? Not exactly. A breakdown is more of a progressive "breaking down" to deconstruct a song into elements before building them back up in different patterns, often moving toward a crescendo or drop.
A break, on the other hand, is a sort of fundamental building block in any sample-based music, like house, hip-hop, breakbeat, and so on. It gets its name from sampling the percussion-driven segment of a song, where there is a literal "break" or change-up from the main groove, usually before the groove returns or another is introduced. Breaks often occur deep into a tune. You've definitely heard a million breaks in your life—the "Amen Break," of course, being the most famous.
Hip-hop DJs like Kool Herc started mining funk, soul, boogie, rock, and disco breaks as the basis for early and proto hip-hop releases, defining the form. Grandmaster Flash's "The Breaks" is about hard times, but it's also a play on the breakbeats that early hip-hop was founded on. The origins of DJs' breaks has been well documented in the annals of hip-hop. And as the '80s progressed and samplers became more powerful and accessible, the nascent house producers also started sampling like wild, sometimes using breaks (along with disco, soul, or original vocals) as part of their repertoire.
The hip-hop-leaning end of breakbeats evolved into a downtempo '90s breaks scene that is—as one forum poster explains—"more for chillin'" and clocks in at more down- and mid-tempos (105–110 and under, for the most part). DJ Shadow, Blockhead, Kruder & Dorfmeister, Bonobo, Kid Koala, and artists like that helped expand this groovy intersection of ambient and hip-hop sensibilities in the '90s and carried that through today.
The bridge from hip-hop breaks to higher-tempo breakbeats was probably aided in large part by the Florida breaks scene, led by DJ Icey, the "sonic architect of the Central and South Florida scene in the '90s," who helped meld Miami bass, electro, breaks, and hip-hop into a new scene that would, in turn, influence drum & bass/jungle, hardstyle, garage, and funky breaks.
This uptempo breakbeat splintered from jungle as it got faster—in the housier tempos around 120 BPM. Breakbeat also featured less rhythmic variation. On the flip side, jungle and drum & bass would make this percussion pattern scrambling a key part of its sound as they splintered from breaks.
Funky breaks, or West Coast breaks, came to describe a certain sound or vibe that emerged in the mid '90s in more uptempo spaces in the UK and (as the name suggests) here on the West Coast in the States. It was something a bit feral, a bit groovy, a bit silly. In Southern California, the Moontribe crew was one of the staples of the scene, emerging in deserts outside L.A.'s city boundaries. DJs like Treavor Walton, DJ John Kelley, Daniel Chavez, and Heather Schwarz were some of those early champions of the sound. Acid jazz and psytrance became bedfellows with this desert breaks sound at the "unofficial" full moon parties still held today.
There was generally a great deal of overlap and osmosis happening between DJs and promoters in California and Britain in the '90s as the Second Summer of Love and rave's ethos swept the West Coast. In the UK, Tayo, Adam Freeland and Rennie Pilgrem were residents from the Friction crew in London who coined the tag "nu skool breaks." DJs like Stanton Warriors, Lady Waks, and Plump DJs started to emerge by the end of the decade.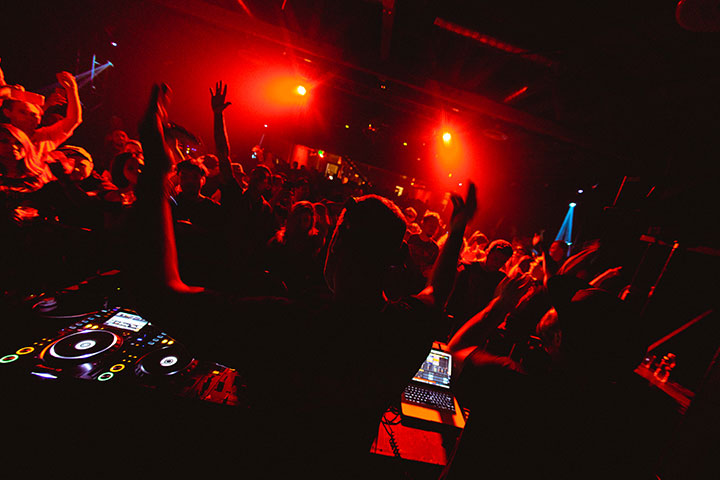 At the same time, big beat was burbling up in the second half of the '90s—largely but not entirely from the UK—with the Chemical Brothers, Fatboy Slim, and the Prodigy all getting in on/getting lumped in with the big beat scene. Big beat was arguably more bombastic, goofier, more guilty of white guys co-opting the swagger of black styles (which is a criticism you might be able to levy against more electronic genres, but fair play nonetheless). Big beat played more to pop/mainstream audiences—at least here in the States—whereas breakbeat was the soundtrack to more illegal, less commercially viable, headier, ravier situations and typically pushing higher tempos.
Once the last century turned into this one, we saw the breaks scene sort of fracture again, spinning off into micro-scenes like psych breaks and progressive breaks in the early '00s.
And breaks live on today—even if most folks aren't necessarily calling what they do "breakbeat" per se. DJs like Ben UFO, whose work stitches sounds on the UK continuum, have helped keep breaks fresh in the mind on the underground. And many of the main-room artists that grace our stages have been known to dip into the breaks, as well.
---
Share
---
Tags
---
You might also like