How to Talk to Your Kids About Techno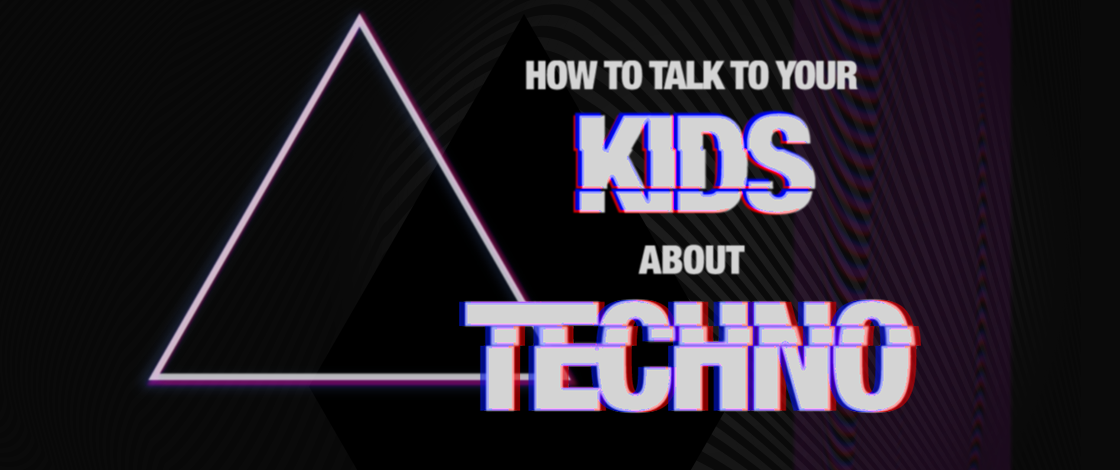 Techno is one of the great American genres. Like many of the others—such as rock, funk, disco, boogie, R&B, jazz, and blues—it was born in chocolate cities by people of color, mostly men. And most of the real trailblazing happened in the '80s in the Midwest—specifically in Detroit and Chicago, as well as New York, L.A., Miami, and other cities around the world. But most of the conversation about classic techno revolves around a few guys in Detroit.
"Sometimes it's cold and clinical; other times it can be warm and soulful. The style is malleable, while the format—heads-down club music made in home studios on synths and samplers—hasn't changed much in the past 30 years."
Now, there's something to be said about the general spirit of Detroit techno: It's a very proud, DIY culture that prides itself on not needing the mainstream music machine to support it. Techno can thrive during moments when electronic music might not be especially trendy in American pop culture, and that's because of this independent spirit that is a through line in any scene that has adopted this ethos. The city's techno scene is a diaspora that covers many different styles and approaches and has spun off into countless different directions. There is no true techno monoculture, even though for the purposes of explaining the basics, it often can come across that way.
That said, the popular narrative is that a bunch of young Michiganders were being turned on by the sounds of the Electrifying Mojo, a bold and daring DJ (née Charles Johnson) who famously graced the Detroit-area radio waves from the late '70s through the '80s, influencing countless young producers. Mojo would play everything from Prince, Giorgio Moroder, Tangerine Dream, Devo, Kraftwerk, Funkadelic, the B-52's, the J. Geils Band, Yellow Magic Orchestra, and Afrika Bambaataa to symphonies, film scores, and spoken word. The format was open, but a lot of the music he would play included cosmic synthesizers and spacey electronics.
Teenagers like Juan Atkins, Kevin Saunderson, and Derrick May (together known as "the Belleville Three"), and others like "Flashin'" Eddie Fawkes, are commonly attributed with birthing the Detroit techno sound. It's a style influenced by Motown history, the DIY spirit of rock and garage, and the city's relationship to machines as the center of the automotive industry. Many of the Detroit techno kids came from solid middle-class families involved in the auto industry somehow, but as the '80s wore on, the economy of Detroit rapidly began to dissolve (which, in turn, surely had an effect on the sound of many of the records and artists coming out as the '80s took its toll on Detroit).
Juan Atkins was one of the early prolific producers in the scene. As one-half of Cybotron, he produced tracks that straddled the line between electro and what would become techno. Atkins later started recording as Model 500, a solo artist, and started his own label, Transmat, by the mid '80s to release his and his friends' work.
Atkins would be known as the "originator" and "godfather" of the scene. His records started breaking the Chicago market, where house and proto-house were simultaneously in this early gestation period as well.
Kevin Saunderson was known as "the Elevator." His most influential records came under the name Inner City, with tracks like "Big Fun" and "Good Life," which were both huge commercial successes and in some ways bridged a gap between vocal house and techno influences. Like many of the first-wavers, Saunderson still tours and DJs regularly.
Derrick May was the third of the Belleville Three; his tracks "Nude Photo" and "Strings of Life" would become instant dancefloor classics. If you spend enough time on a dancefloor, you will hear "Strings of Life," and that's a good, necessary thing.
By then, of course, techno had become increasingly popular in cities with voracious musical appetites—like London, Berlin, Amsterdam, and Tokyo. The records these young men were making in Detroit were getting rinsed out in clubs around the world, as nightclubbing transitioned out of disco and into a brave new world where house and techno ruled.
That's what's commonly referred to as the first wave (though many purists hate the idea of saying there were concrete waves of producers). Meanwhile, other young producers in Detroit were catching this techno bug—from Carl Craig to Richie Hawtin to Theo Parrish—and started releasing records and DJing. The Detroit sound would travel to Europe and find a particularly inviting space in Berlin, whose club (and label) Tresor became a second home for many of these Detroiters.
Also, as the '80s turned into the '90s, acid house in both Chicago and the UK became an overlapping sound that both influenced and was influenced by the Detroit techno sound.
The second wave, of course, begat the third wave, and so on and so forth.
Anthony "Shake" Shakir, Moodymann, Underground Resistance, Kenny Larkin, Stacey Pullen, Jeff Mills (aka the Wizard), Mike Banks, Robert Hood, Theo Parrish, Octave One, and countless other folks make up the wide and uncompromising sounds that we mean when we talk about Detroit techno. Some artists are a little funkier (Moody), some more militant (UR), some more esoteric (Mills); it really all depends on what you're in the mood for. But there is no homogenous Detroit sound. Instead, it's this sliding scale of varying human and mechanical inputs. Sometimes it's cold and clinical; other times it can be warm and soulful. The style is malleable, while the format—heads-down club music made in home studios on synths and samplers—hasn't changed much in the past 30 years.
Most of the first-wave techno DJs and producers are still active in one form or another. The Detroit Electronic Music Fest (formerly Movement and Focus) is the annual homecoming and excuse to showcase the best that techno (and anything techno-adjacent) has to offer. Though the festival itself has blossomed into something way wider than strict Detroit techno, the after-parties have become the stuff of legend. It's a place where the greatest in the world come together to show their best to arguably the oldest and most educated techno crowds around. Every true techno fan must attend at least one before they die, and here's a stirring oral history (perhaps the best ever written in the annals of dance music) as to what this music means to the people there.
If you've got the techno bug, the only cure is to make the pilgrimage once in your life.
---
Share
---
Tags
---
You might also like