How to Talk to Your Kids About Electro
In the hyper-categorized world of dance music, genres can lead to endless hours of debate. That's particularly true for electro. The synthpop song that someone describes as electro probably isn't, and that '80s track someone describes as old-school hip-hop may, in fact, be electro. This one abbreviated form of the word "electronic" has taken a lot of sonic twists and turns throughout the last few decades.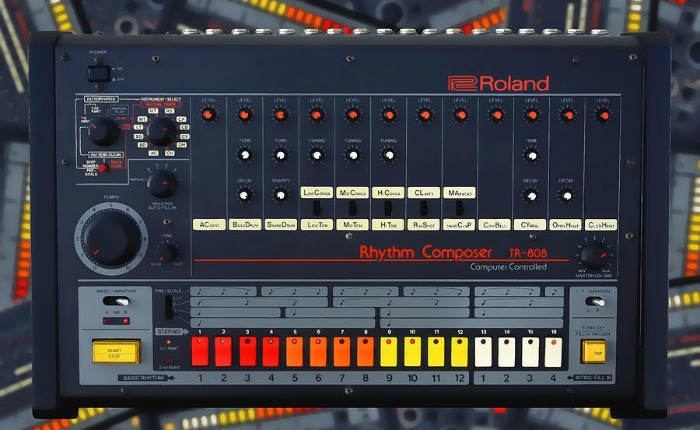 Here, we'll try to explain it. 
One could define electro as, quite simply, music inspired by Kraftwerk. Of course, a lot of dance music genres can trace their lineage back to the German synth pioneers. It's more accurate to say that electro is the junction where Kraftwerk meets hip-hop. The starting point for us is hip-hop pioneer Afrika Bambaataa. 
Bill Brewster and Frank Broughton's fantastic history of the dancefloor, Last Night a DJ Saved My Life, includes a section about the making of Bambaataa's classic track "Planet Rock." In it, the authors note that this seminal slice of hip-hop vinyl, produced by music icon Arthur Baker, was likely the first appearance of a drum machine within the genre. Specifically, they're talking about Roland's TR-808, which became the backbone of electro, as well as other styles of electronic music from that era. The song borrows heavily from Kraftwerk. It also picked up Babe Ruth's influential track "The Mexican" and David Vorhaus' ORCH5 sounds for the Fairlight synth; but the nods to Kraftwerk, particularly "Trans-Europe Express," drive the song. 
Bambaataa is one of the forefathers of hip-hop and, and even back in the early '80s, the New York DJ was heavily influential across the US. "Planet Rock" wasn't just a song for parties; the 1982 cut turned up on radio, too, and undoubtedly influenced a slew of other up-and-coming artists. 
Electro took shape among Bambaataa's fellow New Yorkers. There was Hashim, the alias of young producer and party promoter Jerry Calliste, Jr., who created one of the most commonly cited examples of the genre. On "Al Naafiysh (The Soul)," Hashim kept the melody simple; the pop-lockin' beat, highlighted by a bass-y electronic purr, took center stage. Man Parrish's track "Hip Hop, Be Bop (Don't Stop)," with its cut-n-paste vocal style, reinforced the message that electro is hip-hop. It was music for breakdancing. His track "Man Made," which weaves a story of robots taking over the world, emphasized the Kraftwerk influence. 
In Los Angeles, the Egyptian Lover got all Kraftwerkian with "Egypt Egypt," which riffs off of "Tour de France." L.A. Dream Team hit with "The Dream Team Is in the House!" The party-starting MC stylings and an homage to the Gilligan's Island theme song kept the track lighthearted. 
Cybotron's Juan Atkins and Rick Davis made "Clear" Detroit's contribution to electro. They went for a slightly more minimal sound than what was common in the genre. Undoubtedly, that track went on to be an influence on Detroit's techno scene. 
Early on, electro extended beyond hip-hop. Arthur Baker lent the breakdance-friendly synth sound to a number of artists. With the fantastic 12″ version of New Order's single "Confusion," the style hits the post-punk crowd. On "I.O.U.," a hit for the British dance group Freeez, electro morphs into freestyle.
Elsewhere, early 1980s roller-rink jams like Shannon's hit "Let the Music Play" and Debbie Deb's "When I Hear Music" are more electro than disco. While electro may just be a blip on hip-hop history, it went on to become a big influence on other styles of dance music. 
In the latter half of the 1990s, electro made a comeback thanks to producers from techno-leaning backgrounds. In Detroit, Dopplereffekt built off a Cybotron foundation, adding cheeky vocals and tech-y themes to the mix. Le Car's sound was a bit more punky, bringing to mind early Human League and the original industrial music group, Throbbing Gristle. 
In Europe, DMX Krew experimented with straightforward electro tracks, but he played with synthpop, too. His best work, like the 1998 track "Come to Me," was more Depeche Mode than Afrika Bambaataa. Around the same time, Dutch producer I-F released "Space Invaders Are Smoking Grass," sounding like a direct descendant of Hashim with a computer mumble and slap of a beat. 
For the artists of the late 1990s, electro came to be a place where hip-hop met synthpop and was filtered through the techno world that developed after that. Nowhere is this more evident than in "Frank Sinatra," a collaboration between DJs Miss Kittin and the Hacker. Kittin provides the vocals for the track in a deadpan style that recalls Mute Records founder Daniel Miller, aka the Normal, on "Warm Leatherette" and A Number of Names' proto-techno tune "Shari Vari." The giggle in the middle of the track harkens back to "Situation," a hit for Yazoo (known as Yaz in the US). 
A couple years later, everything changed again. Larry Tee, a DJ and promoter with New York club-kid roots and ties to RuPaul, coined the term "electroclash." The word was used in connection with his 2001 music festival, which brought together artists like Detroit Grand Pubahs, Peaches and Fischerspooner. The following year's event featured electro original Arthur Baker with Felix da Housecat, Scissor Sisters and more. For a brief period, electroclash became a buzzword. It was a catchall term for the artists who were influenced by electro, along with those who were into '80s-sounding synthpop, plus the house and techno folks who were doing things a little outside of the ordinary. Artists typically featured on those genre-introducing compilation CDs included Green Velvet, Ellen Allien, Zombie Nation and Vitalic. DJ Hell's International Deejay Gigolo Records became the benchmark for the sound. For plenty of people, though, the term "electroclash" didn't sit well. It didn't help that Tee was said to have trademarked it. Electro came back as shorthand. 
"This is not electro!" was a common complaint on pre-Friendster internet forums. In a way, though, it was. At the time, I was DJing at a now-defunct West Hollywood club called the Parlour, and this new/old sound dominated my sets. "Frank Sinatra" was one of the big hits, but so was "Egypt Egypt." Maybe that wasn't the case everywhere, but in L.A.—where locals grew up listening to electro, synthpop and freestyle on the radio—people knew their shit. 
In the clubs, we could see a new scene develop around the music as well. The younger folks—those who were in their late teens and early 20s—were embracing '80s fashion influences as well. New romantic-style glamour made a comeback as young women and men experimented with exaggerated makeup and Human League haircuts. Tight pants, skinny ties, and spiky heels were all part of the look. Ironic '80s seeped into wardrobes, too, as sweatbands and aerobics-style outfits turned up on dancefloors.
The look and sound of this new scene hit indie clubs, where Miss Kittin tracks bled into New Order and Pulp tunes. It thrived inside the loft parties popping up across Downtown Los Angeles. Even goth crowds could get into the dark, synth-y vibe of electro redux. Crowds swelled when DJs like Felix da Housecat and live performers like Peaches came to town. 
The influence of turn-of-the-century electro/electroclash seeped into other styles of music, from indie rockers like the Faint to Rihanna. Of course, it hit the point of parody as well. Check out The Mighty Boosh episode "Electro," which lampoons the kooky outfits and Human League ambitions that became associated with these scenes. 
Today, the sound has morphed into other genres. Despite the similarity in name, electro house is not one of them. It's too slick to show any sort of kinship with the analog-driven music of the '80s. It's too bombastic to fit in with the work of the turn-of-the-21st-century artists. In its current state, electro house is filled with grand peaks and intense drops. It's made for 10,000-person raves, and the electro revival existed essentially as a reaction to that.
Fans of the darker-sounding groups like ADULT. gravitated toward minimal synth or minimal wave, which is also derived from early-'80s, underground electronic music. Fans of DJ/producers headed deeper into house and techno and all their tributaries. 
The second-wave electro-heads moved on stylistically, but those influences can still be heard in their work. Felix da Housecat's 2013 collaboration with Romina Cohn, "I Just Want to Be a Lesbian," relies on a dark, throbbing bass and the deadpan delivery of minimal lyrics. More recently, the Hacker's remix of Dubfire and Miss Kittin's track "Exit" makes use of a familiar drum machine sound and cut-up vocals that sound closer to electro's original wave than the revival. 
However, the fact that dance music is now mainstream in the US can at least partially be attributed to the electro revival. The biggest example of that is Los Angeles. Prior to the electroclash era, L.A.'s dance communities were small and fragmented. Moreover, the only way you could get rock kids to enjoy electronic dance music was by playing '80s jams. After electroclash, however, we started seeing DJs exploring more genres and partygoers delving deeper into other styles of dance music. Los Angeles slowly morphed into a destination for DJs, and the locals became better known outside of the hometown scene. Some got famous. Steve Aoki is one of them. 
Maybe it was the throwback nature of electro's second hurrah that drew in so many different types of people, but one thing those artists did well was bridge gaps between genres. They essentially brought the '80s freaks, hip-hop fans, techno geeks and indie rockers into the same room and made them dance. That's something that can't be easily forgotten. Just remember, though, that it all starts with Kraftwerk and hip-hop. 
Follow Liz Ohanesian on Twitter 
---
Share
---
Tags
---
You might also like