The Crystal Method "Busy Child"
The birth of our underground brand Factory 93 not only brought on an adrenaline rush reminiscent of the renegade warehouse era of raving—on which Insomniac was founded—but it also had us thinking back to all the people, places and parties that made this whole operation possible. And with that came a burning desire to crack open our collection and dust off the classic records we couldn't live without. Through our From the Crates series, we'll be breaking out both seminal and obscure cuts alike, imparting some knowledge in the process.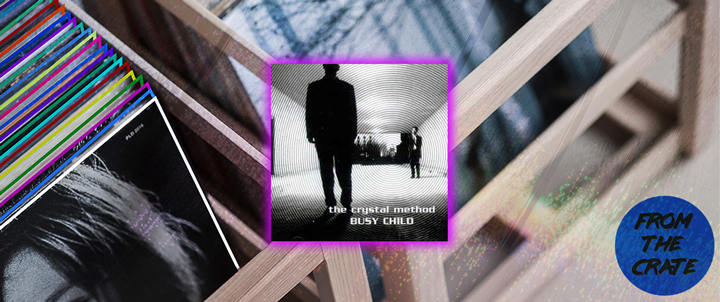 In 1997, an ad executive had a thought: Khakis will never look cool, but what if I can make them look awesome? What started as a hypothetical became a concept, and then a campaign, and leading into 1998, a national Gap ad was foisted upon the world.
Surprising no one, showing young adults rollerblading in khakis did not forever alter the trajectory of pants; a basic, beige life still does not rock. One facet of the ad's attempt at suburban psychedelia, however, did have a lasting effect: It introduced the world at large to the acid-dipped, U4IA-dripping big beat of "Busy Child" by the Crystal Method and the electronica wave of the late '90s (which helped lay the foundations for dubstep, trap, and much of today's EDM scene in general).
"I guess I didn't know," goes the Eric B & Rakim "Juice (Know the Ledge)" snippet that anchors "Busy Child" (a sample Kirkland said jumped out of his Walkman one day while he was vacuuming his house). And there were many that didn't yet know of this bombastic genre bouillabaisse, first coming out of the UK—but they would soon discover it.
"A lot of people started to recognize the track immediately, because you couldn't watch 'Seinfeld' on a Thursday night—the most popular television show at the time—without seeing this ad," recalled Scott Kirkland, half of the Crystal Method alongside Ken Jordan (who retired in 2016). "Then radio stations picked up on it, and by the end of '98, we were playing festivals after Green Day to like 50,000 people."
"But we'd put in the work, had toured since '95, and we didn't consider ourselves just a 'dance' act, so we were ready to ride the wave."
The transition to the latter half of the '90s was at times a cruddy Xerox of the first several years—a bleached zine dedicated to grunge imitators and pop-punk's embers. Nu metal still a couple years off, programmers started looking for proof that turntables were the new guitars and big beat was ready to blare from the underground, announcing a subculture's arrival like an air horn. If Underworld's "Born Slippy .NUXX" was electronica's art house hit, and Prodigy's "Firestarter" and the Chemical Brothers' "Block Rockin' Beats" its crossover hits, "Busy Child" was the mainstream blockbuster.
That didn't mean the Crystal Method were just two guys waiting to capitalize, bandwagon tickets in hand. Promo for the duo's first single, "Now Is the Time," went out in 1994. Their second single, "Keep Hope Alive," charted in fall '96. The spotlight hadn't so much been searching for the Crystal Method as it had been lurking like the sun on the horizon when "Vegas" finally dropped in September 1997.
"A lot of music—rock and beat-driven rhythms—altered our lives growing up, and we wanted to push that same feeling."
MTV's Amp, an electronic-oriented video show, released a compilation that same year that included the Crystal Method alongside all the artists above, as well as Future Sound of London, Orbital, and others. Kirkland and Jordan's love of chunky, aggressive samples and bass drops wasn't the product of wanting to be the American analog of an overseas phenomenon, however. People may have mistakenly assumed they were British initially (they'd even play one of their first gigs opening for the Chemical Brothers in L.A.), but their productions were an amalgam of their experiences coming up in the Southern California-Las Vegas region.
"After the late '80s, we were pumped to go to raves, find map locations, take influences from New Order and Depeche Mode and an attitude from Judas Priest and AC/DC… run synths through old pedals to add our own color, a harmonic glow, that top-end grit," said Kirkland.
"A lot of music—rock and beat-driven rhythms—altered our lives growing up, and we wanted to push that same feeling. Our singles would always have a more downtempo track as the B-side. 'Busy Child' was friendly for DJs doing a four-four mix, but also part of an album that could work for kids who had never had an electronic CD before. The biggest influence for 'Vegas' was Leftfield's 'Leftism'—we loved the intense use of bass and percussion, the way the tempos slung around—so a song like 'Busy Child' has a loop that's tight, funky, really compact, and then there are the strings in the back to add a little drama. We wanted the album to include things you could listen to anywhere."
Like a porn magazine under the mattress, the liquid plastic bass of "Busy Child" was a peek into a world of flushed activity best kept from your parents. Complicating things, house and trance ruled the purist clubs, with breaks being more of a guilty pleasure. So, the Crystal Method went straight populist.
"We worked our asses off, testing things out, taking the show into small venues—all live shows, no DJing—and capturing the momentum we were feeling," said Kirkland. "This helped songs like 'Busy Child' get traction."
The duo would continue to tour relentlessly, including package tours, rocking the blocks off funk-soul brothers while shaking bassbins and the powdered sugar from funnel cakes before corporate sponsorships and Ferris wheels were common. They'd get tracks licensed to film, TV, and video game soundtracks and put out albums (the most recent being Kirkland's 2018 full-length, The Trip Home). They have operated throughout periods where the big beat era has been critically reviled and subsequently reevaluated. Say what they will about those times, it's hard to deny the Crystal Method's place in establishing party music's commercial viability and its visibility as a mainstage spectacle you could enjoy throughout an arena—even in khakis.
---
Share
---
Tags
---
You might also like