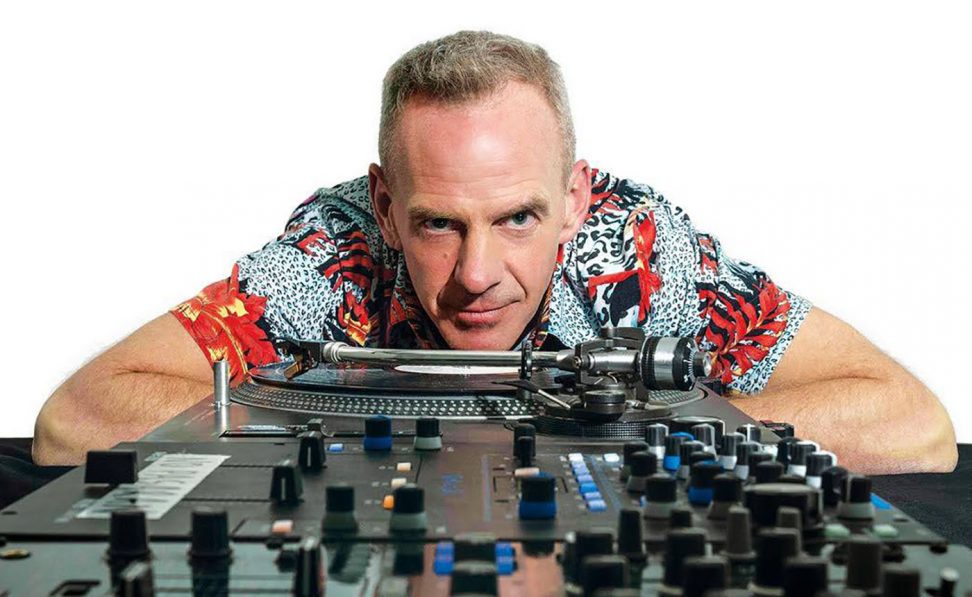 This musical chameleon grew up in Surrey and began to DJ when he moved to Brighton to study for a degree. After playing bass guitar with the Housemartins, he had his first success as a solo artist with a remix of Erik B And Rakim's "I Know You Got Soul" which reached number 13 in the charts in the late 80s. In the 90s, he formed Beats International, who achieved a UK number 1 in February 1990 with "Dub Be Good To Me", and later Freak Power (with Ashley Slater), who reached number 2 in the UK charts in March 1995 after their "Tune In, Turn On, Drop Out" single was featured in a Levis jeans commercial. Cook has achieved most success producing dance music under a number of different names, and in his roles as a club DJ and in-demand remixer. In 1994, he turned to house music as Pizzaman and had a number of Top 20 hits including "Tripping On Sunshine' (Loaded Records). At the same time he began to write in a style that later became known as big beat, and to purvey this sound at the Big Beat Boutique (from which the movement took its name). Following the success of the club, he signed to Damian Harris" newly formed Skint Records as Fatboy Slim and released "Santa Cruz" as his first single.
He subsequently became big beat's best-known and most successful artist with a number of hit singles including "Everybody Needs A 303", the album Better Living Through Chemistry and various remixes including Wildchild's "Renegade Master" (Hi-Life) and Cornershop's number 1 single "Brimful Of Asha" (Wiija). He has also recorded for Southern Fried Records as the Mighty Dub Katz, notably "It's Just Another Groove" and "Magic Carpet Ride". In 1998, his success continued with a Fatboy Slim single "The Rockafeller Skank" and Freak Power single "No Way", recorded with just Ashley Slater. In October, he was honoured with the UK's Muzik magazine's award for best producer. In January 1999, the Fatboy Slim single "Praise You" topped the UK chart, while You've Come A Long Way, Baby consolidated its crossover appeal and enjoyed transatlantic success. In February, he won a BRIT Award for best producer, and in August married Radio 1 DJ and television presenter Zoe Ball (their son, Woody, was born the following December). He also won three MTV Video Awards in September.
Cook's success lies in his ability to blend funky breakbeats with the most catchy melodies and riffs, and he has reached a wider audience than many DJs by combining elements of rock and dance music. "Everybody Needs A 303" mixes a funky bass guitar riff with various analogue effects and "Song For Lindy" features slide guitar, busy percussion, tubular bells and house-style piano, while "Magic Carpet Ride" has a ska-edged feel with its guitar and horn hook. In this way he has coloured his music with a variety of styles and been broadminded enough to look further than the "old-school" hip-hop and acid jazz clich's which pervade much of the scene. While he admits his music is simple, cheesy and obvious, describing himself as "just a party fiend who nicks bits of other people's records", his light-hearted attitude and unashamedly amateurish approach, which also pervades Skint, could prove more important in the long run than the sound itself. His high-profile marriage to television and radio personality Zoe Ball, has ensured tabloid coverage for his every move during his present popularity.
---
Share
---
You might also like