Desert Dawn Dancers: Colonizing the Future Under a Full Moon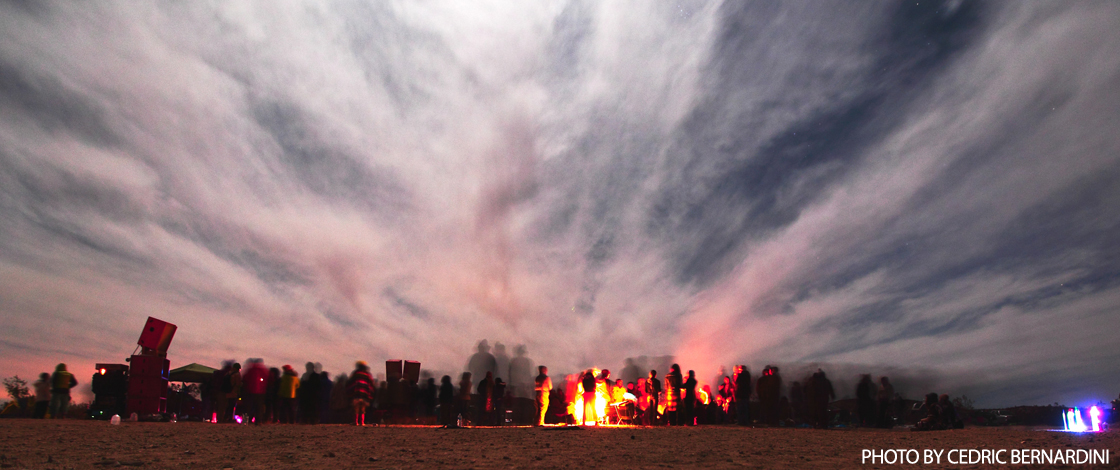 The desert is the landscape of the moon; it's stark and otherworldly. When you walk its rocky paths into crumbling hills or onto a dry lakebed crater, each footstep reflects a journey between past and future. From ancient migrations over dunes and canyons to an astronaut on a moonwalk, time contracts into a conscious present, expanding all around you. Its pale, full moonlight illuminates faces and bridges you to the eternal. You hear the scurry of a rabbit chase and the laughter of friends. You see clearly—and yet you're in a dream.
And then, the speakers wake up. Bass as big as the sky pulses over the sand. Shapes jump out like animals or shift into cathedrals of fire, the longing thoughts of robots, the drum circle of wandering nomads. Everyone runs to dance. This is the beginning; this is being alive. Welcome to Moontribe…
Born out of necessity and adventure, the desert collective known as Moontribe has thrown its mysterious "Full Moon" rituals of electronic dance music nearly every month for 23 years. From the same cultural ferment of Los Angeles' early-'90s rave scene, it has paralleled Insomniac's world-changing mission—renegade allies in the techno-humanist frontier.
"We don't have budgets. We go based off donations. We don't do large-scale productions," says Brian Golub, who records and performs as Brian Seed—who went to his first Full Moon in September 1994 and became a resident DJ a year later—describing Moontribe's stripped-down alternative. "It's still there. It's still vibrant."
Brian was an Insomniac kid before he discovered Moontribe. A regular of Pasquale Rotella's raves in the early '90s, his friend Tao Wysocki dragged him out to the desert to hear what Tao called "spiritual techno."
"He said it was like a techno church, with this spiritual house music," Brian recalls. "I didn't know what to expect. But I never heard it described better after hearing it."
Often held hours outside Los Angeles in secret locations far away from the city, off dirt roads and empty highways, Moontribe was a refuge for the techno faithful. At a time when the L.A. rave scene was in danger, many ravers had to go out to the desert to play, hear and dance to the music they loved.
Kick-started by early founders Treavor Walton (now half of Desert Dwellers), DJ Daniel Chavez (today known as D.Complex), Heather Schwarz, John "Cheese" Forbess, Jason Villalobos and Electric Skychurch—and soon joined by rave maven Jon Kavulic, DJ John Kelley, Dallas Swendeman and Gena Womack—they helped plant the cacti seeds to a kind of ever-raving resistance.
"I had not spent a lot of time in the desert," says John Kelley. "I wasn't acquainted with the beauty of it, really. That hit me square in the face. That first night—that flat lakebed, and the openness and freeness and the stars—and then in the morning, seeing the beauty of the sunrise… Nature's powerful."
Invited to be Moontribe's second resident DJ by Daniel, John would help innovate a psychedelic breakbeat sound while Daniel blazed psytrance and acid jazz. Brian would add his own flavor later, extending the depth and flexibility between John and Daniel's desert styles.
"I learned from Daniel and John," says Brian. "We had to be able to play any slot at the party and musically have it make sense. We didn't plan; we just brought a lot of records and played what made sense at the time. If somebody had played the most intense, hard set at night, you had to bring the balance to that—you had to bring the light."
That dynamic ethos sparks fire. One of Brian's favorite memories is an infamous Full Moon from September 1995 at Cuddeback Lakebed, when a group of Moontribers brought out a giant alien puppet hovering 20 feet above people's heads as the sun rose.
"People were just going nuts," he says. "The alien was in black and purple robes. Its skin was silver, and it had this huge alien head. It was almost floating. Where its feet would be, was all of our heads. It was bobbing to the music. It was really fun."
"When the energy is really good, you feel really electrified by the crowd," says Christina de al Fuente, who goes by Dela and plays out as "dela Moontribe." "You all work together to make it happen. Everyone's got to be on—the stars right—for those Full Moons when the dancing is so good people can't leave the dancefloor."
Like a lot of Moontribe DJs, Dela gravitates to bass, often playing funky downtempo, dubstep and drum 'n' bass in her sets, pushing heavy bass as a theme. "There's something incredibly soothing to me about bass," she says. "I've always loved thunder and lightning and earthquakes and crashing waves."
"The desert is a naturally meditative space," she adds, noting that having just one dancefloor focuses everybody's attention. "The moon reminds me of my place in the universe all night long—so much sense of stillness and timelessness. I feel like I can always play more raw and intense music in the desert because it has space to be felt in a different way."
Along with DJ Bradley Smith, known as "Brad Moontribe," and DJ Chadwick (Chadwick Huffman), they've helped lead Moontribe's evolving sound for well over a decade. Brad, a philosopher and writer by nature (see his Foreverbecoming.net) who is known for his highly eclectic tastes, piecing together records like words in a sentence to a greater story—ranging from heady-booty electro to tribal tech-house—describes a kind of deep time.
"Going to a beautiful, open geography on the full moon and linking up with that month after month, you do actually get into a natural rhythm," he says. "You start to notice things about the natural world."
Half of that rhythm is the sun's counterpoint to the moon. "It's a deep transformation from dark to light," says Brad. "Our being resonates with that light after the dark. You see people walking away from the party in small groups, sitting on hills or dunes and watching the sunrise, having really tranquil moments—or they're on a dancefloor, really ecstatic."
"Many people saw their first sunrise at a Moontribe," he continues. "I mean, really saw it, really watched it unfold."
Darkness to dawn, day to night, is the microcosmic journey of life and death. Chadwick, a native of Central California and the Bay Area, came face to face with an old trauma on the way to his first Moontribe in 1999 in King's Canyon. "We drove right by the campsite," he says of the location where, at 18 years old, he'd seen his aunt get bucked off her horse to her death. "I looked and saw the spot where it happened and went on to meet who would become my new family right up the road. I fell in love with Moontribe immediately."
"This whole psychedelic, spacey thing, the aliens coming—versus this more tribal, rootsy thing—was something I answered for myself," says Brad. "Are we here because we're trying to connect with the ethereal alien thing, or are we grounded here on Mother Earth? It's the latter. There's a little bit of this other thing, but we're trying to do something real and tangible here. We're not trying to lose our bearings."
"To me, that is the tribal experience," says Chadwick, who plays hard techno to ambient. "If you go back and look at the old tribal dance ceremonies and drum circles, those drums were state-of-the-art technology: stretching an animal skin over a hollow piece of wood and making rhythms on it. That was state of the art. That was as good as it gets."
"I don't feel like I'm returning to something," he adds. "I feel like I'm continuing that same tradition of taking the best technology we have and taking it out somewhere, where we can all use it freely and be together and experience music and life together."
One memory in particular sticks with Moontribe. When a dear friend died tragically, its community helped mourn and celebrate his life by spreading his ashes on the dancefloor while the sun rose over the desert.
"I will always remember the persistent formation of a large eye in the sky when we celebrated and memorialized Jack's passing," says Brad. "It was cloud-like—like threads of a cloud. It was a true family coming together. It felt like Jack was looking down on us."
"It was a giant ring, like a rainbow around the sun that was out all day long," says Chadwick.
You can run your fingers along a face in much the same way you can gaze upon the moon or explore its dreamscapes. Every full moon is different but the same—the way light and darkness play together.
One of the neat contradictions of outdoor raves is the contrast of a highly technological soundtrack in a primal setting—and yet it makes perfect sense. It's space upon space, light and darkness folded in infinite surprises.
"There was this tetrad of full lunar eclipses, four in a row, that were blood moons," says Dela of more recent Full Moons. "Something happened at each of those parties that was more chaotic and higher energy. It makes you appreciate other special things that happen in the sky."
"It was nice just to be able to see your records without hardly any aid at all," says John, remembering the first impact Full Moon had on his playing. "It seemed like the perfect mood lighting. You could see the crowd very well. You could make out faces, or hints of faces."
"Putting someone at the front of that, establishing some kind of a hierarchy—I've had people think that because I was a DJ or a part of Moontribe," he says. "But the truth was that it was against the deifying of DJs and 'God is a DJ.' I thought that was against the whole thing in the first place. Rave in the beginning was about an urban electronic folk music. And we were natural electronic folk."
Pasquale, who went to Moontribe in its genesis days, booked many of Moontribe's DJs at early Nocturnal Wonderlands and Electric Daisy Carnivals. John, Brian, Dela, Chadwick and Brad will help open EDC this Friday on its 20-year anniversary as the moon waxes full, helping represent the scene's desert roots.
"I've always been really grateful that Pasquale wanted to include us as part of the tapestry," says Brian. "It's super honoring that he wants us to come back and be a part of it now."
"It was so intimately tied up with all of that unleashed energy that was in L.A.," echoes Brad. "The EDC thing has made me really think about all the close ties and all the tremendous energy and vision that was alive at that time. The fact that EDC exists is not because of Moontribe. But it's part of that era, and obviously there's a connection, and it's pretty damn rad."
The moon is the desert, and the desert is the moon. We breathe. We wonder. We walk the same dreams. We see ourselves in the other. Sun. Earth. Moon.
Catch the Moontribe DJ crew playing in the Kalliope-ArtCar all night long on Friday at EDC Las Vegas. Check here for set times.
---
Share
---
Tags
---
You might also like