Metronome #018: Panic Bomber
Insomniac's Metronome series features mixes from some of today's fastest-rising electronic stars, as well as championed legends. It takes listeners deep across a wide range of genres, movements, cultures, producers, artists and sounds that make up the diverse world of electronic music.
Moving from the sunny shores of Miami to NYC can be a risky move, but Panic Bomber has taken it in stride and has used his new surroundings as motivation to reenergize his career. What started as a vocally driven, cosmic disco project has turned into a full-fledged jacking house juggernaut.
This classically trained musician has been expanding his palette by exploring different avenues of creativity, and his recent productions have shown that he's settling into a new sound. For this edition of the Metronome mix series, lock in for an hour-long workout courtesy of Panic Bomber.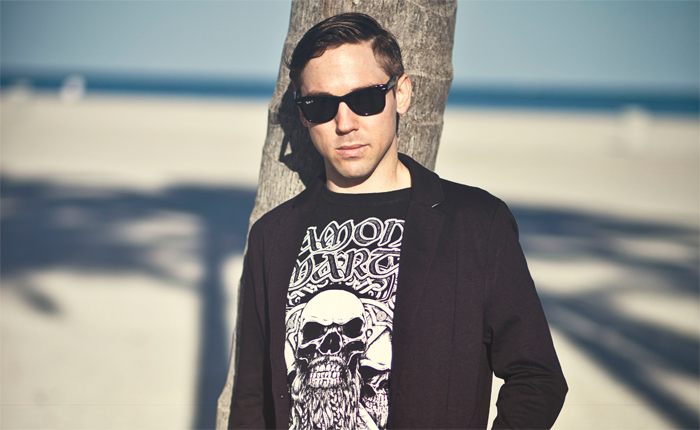 You've recently moved from Miami to NYC. How's the transition been going?
New York is an interesting city. There's so much music history that came from here, but because it has such a high rate of turnover, you don't really get a sense of nostalgia in the same way that you might in Memphis or Nashville, for example. I try to stay close to the parks, because as cool as big-city life can be, I still need greenery to feel at home.
What are the best and worst parts of living in NYC?
The snow and the snow! I still get excited every time there's that crazy, fluffy white stuff falling from the sky. But man, the ice and cold mess it leaves behind make the little efforts that much more time-consuming. It's a little daunting to get out to the clubs at night when it's that freezing.
I heard you've been working with orchestras lately? What's that all about?
The New World Symphony in Miami commissioned me to write some original music, to perform as a soloist for a composer writing for DJ and orchestra, and to also play DJ sets with the actual orchestra. They've asked me to do it twice now; the second time will be coming up on March 13. It's a pretty incredible opportunity, and I feel remarkably honored to have the privilege of working with some of the world's best musicians. I'll be releasing some recordings from the events later this year. Working with traditional instruments and performers is an avenue I'm interested in exploring more—especially since you keep getting older. But clubgoers stay the same age, so you need to be able to stay on your feet in the quicksands of time if you want to be a working musician for your whole life.
Are there any techniques you can take from your classical training to implement into your dance tracks?
I grew up playing and studying classical piano. While it's not something I often think about consciously, it definitely affects my writing. A lot of dance tracks are dead boring and lack a harmonic base altogether. I'm drawn to music that has more of a musical root. I think modern producers can learn a lot from traditional music because it can help with an inherent sense of harmony and motion and in taking risks. Just because you put a chord progression in your DJ track doesn't make it pop music, so you don't have to be afraid to experiment. Many people these days might think of classical music as old and stuffy, and there is some fair criticism to many composers having stuck to too many rules. But the same can be said of the contemporary dance scene. I find harmonic, melodic and temporal motion exciting. Moral of the story: Take risks and stay musical.
Any artists in particular you've been loving recently?
I've been pretty impressed with everything Ellum has been releasing for a while now. They definitely know how to keep it moving forward. And I'm very happy to see Audion back with some releases. But mostly, I've been going back and listening to older material recently. I hear a lot of chart-driven mixes these days—and of course, you've gotta stay current—but I'm taking a little time to pull up favorites and tunes that I might have missed the first time around.
What's next in the world of Panic Bomber?
I'm staying super busy in the studio. I've got some tracks coming out soon that I'm very proud of—somewhat of a new, focused direction for me. And of course, I'll be back in Miami for WMC 2015. I'm looking forward to the long nights!
Track List:

Franz Schubert "Piano Trio in Eb, Op. 100"
Nhar "Moonhole"
Sound Stream "Love Jam" (Maceo Plex Remix)
Michael Jansons "Incc'D"
????? ????? (Panic Bomber Remix)
Rich Wakley "Represent" (Hauswerks Remix)
Luke Walker "Represent"
Matrixxman "Sermons"
Henry Kane "The Unitz"
Panic Bomber "Still on It"
Breach & Midland "Somewhere"
Copyright "Submarine"
Great Good Fine OK "Too Much to Handle" (Panic Bomber Remix)
Olivier Giacomotto "Postgalactic"
VCS2600 "Initialize the Telepod"
Jay Tripwire "Move Your Body Feel Like This"
Cubicolor "Moments"
Follow Panic Bomber on Facebook | Twitter
---
Share
---
Tags
---
You might also like