Insomniac's Metronome series features mixes from some of today's fastest-rising electronic stars, as well as championed legends. It takes listeners deep across a wide range of genres, movements, cultures, producers, artists and sounds that make up the diverse world of electronic music.
In a world obsessed with diversity and representation, Los Angeles duo Rawtek (Levi Jackson and Daniel Medina) pack a planet's worth of sonic influences into their trademark Lionsound. Filtering their fascination with timeless African, Latin American, and Caribbean rhythms through a litany of modern genres like ghetto tech, drum & bass, and breakbeat lenses, Rawtek's Lionsound is not for wallflowers. Loud, hard, and in your face, Lionsound demands that you get on the floor or get out of the way.
Their attitude, energy, and technical prowess have earned them props from Diplo and Skrillex and landed them on rosters at Mad Decent, Dim Mak, and Barong Family. We caught up with them before they storm the stage at Escape: Psycho Circus in a few days to find out what went into their mix for Insomniac, what deep cuts and new talents we should be listening for, what some of their favorite places around the world have in common, how their latest batch of Baile funk tracks is coming along, and how things went on their first trip to ADE recently.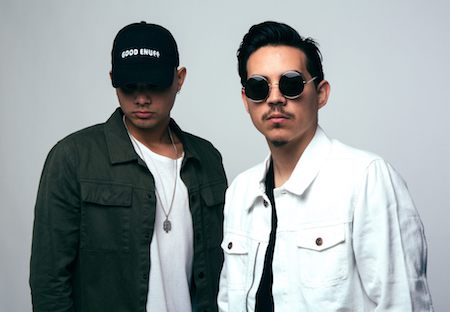 What are some good spots in L.A. to catch live shows of some of the music that inspires you?
We love to go to Control at Avalon, Create, and Exchange. They usually have some of the best up-and-coming producers, as well as the big names. L.A. is truly spoiled when it comes to the amount of inspirational talent that plays here each and every month.
What are some favorites in other countries that you enjoy visiting whenever you tour?
We have had the pleasure of visiting some amazing places. In our opinion, L.A. is hard to beat (in the US), as far as the amount of cultured food it has to offer, but Miami really kills us with the Central/South American foods. We always look forward to grabbing food down there. We definitely plan to try an immense amount of different foods from different cultures wherever we may go in the future. As far as nightclubs, our favorite venues are definitely any that have an outside or possibly tropical vibe.
How do communities you're inspired by musically around the world feel about you incorporating their sounds into an American pop aesthetic?
We've been getting an immense amount of love whenever we put out a new song that might have a new twist to a certain style or sound. We love to blend different styles of "world music" into modern dance music. All of the different percussive rhythms of different cultures really inspire us in our productions. For instance, Baile funk music from Brazil has such a raw energy to it rhythmically that we immediately fell in love with it and began incorporating it into our sound. Also, salsa, cumbia, dembow, dancehall, reggae, etc. are styles that appeal to us very naturally. We just love to take our spin on them, while respecting their overall authentic nature.
Is there a regional style or sound you have had a hard time incorporating into yours? What has been the most surprising style that won you over?
We love to mess with different drum patterns and see how they'll fit into our aggressive style. If a certain style might not fit, then we generally don't like to force it. So far, everything we've been trying to make lately has been coming together very nicely. The most surprising style would probably have to be Baile funk. It's really damn fun to mess around within that style.
Lionsound has its roots in reggae/dub. What are a couple of deep cuts that you would recommend people look into?
"Lionsound" is a term that we definitely got from the reggae/dub scene. Levi's dad is actually a local dancehall/reggae DJ in L.A. and has played that style of music for his entire life. Levi grew up listening to reggae through his parents, which really explains the love for that Caribbean sound. But we took Lionsound more to describe our aggressive "tropical" style when we began producing.
If people are interested in reggae, it's extremely vast and goes back to the '60s or so, so you'll definitely have fun digging. Growing up, Levi had a big love for the old-school style of reggae found in artists like Barrington Levy, Gregory Isaacs, Half Pint, etc.
A lot of "world music" has a political edge to it. Would you say yours does, as well? Or are you trying to keep things all about the party?
We generally like to keep our music more about having a good time. We just want to make an alternative style of electronic dance music that people can enjoy at any club, festival, house party, pool party, or wherever. If people can hear our stuff and it helps them escape any struggles or hard times, then we feel like our job is being accomplished. Mixing up our work with any political edge feels like it would just complicate our goal to make people enjoy their lives and have fun with the people around them.
What are some unexpected influences that don't turn up in your music, but you like in your personal life?
We're both heavily inspired by art—painting, graffiti, and sculptures—anything of that nature. That sense of creative output really speaks to us on a personal level. Before music, we were both heavily into drawing and painting. With Rawtek being about the music for most, it is also about the artistry for us, so most of our art and style comes directly from us.
Anyone who didn't make it into this mix that you would like to shout out?
Wanna give a shout out to Levi's dogs, because dogs are your best friends. But in all seriousness, keep an eye out for Juyen Sebulba, Stoltenhoff, Herve Pagez, Vlien Boy, Fight Clvb, Nonsens, Donald Bucks, Rell, Purowuan, Funky Craig, and soooo many more. There's so much insane up-and-coming talent out there right now, it's ridiculous.
Always. Support. Your. Friends.
Also, check out Sango's music. Really would love to work with that guy, one day. That dude is so dope.
You recently posted that you're working on some new Baile funk edits and tracks. How are those coming along?
We've got a bunch. Maybe we'll put out a free pack or something, once they're all done. We haven't been sharing a few of them with anyone yet, so we're keeping them tight for now. 🙂
You just got back from Amsterdam. How'd it go? What are some highlights from this year's ADE for you?
ADE was truly an incredible learning experience for us. Definite highlight would be hanging with the Barong Family and meeting a bunch of other producers we've looked up to for so long. Everyone was so genuine and inviting, so it really made the whole trip one we'll always remember. All good vibes and crazy music. Also, it was our first time in Europe, and the city was truly beautiful. We got the chance to do as much exploring as we could during the days to fulfill our sense of wanderlust.
Track List:

Party Favor "Wawa" vs. Rawtek & Stoltenhoff "Tacos in LA" (Rawtek Mash Dem)
Le Boy & Boaz van de Beatz "Mami Chupa" (Vlien Boy Bootleg)
Zomboy "Get With the Program" (Eptic & Trampa Remix) vs. Excision & Space Laces "Throwin' Elbows" (Rawtek Mash Dem)
Reid Stefan ft. Awsumo & Ultra Cat "Hands on My Knees"
Stoltenhoff "Kush Cologne"
Space Laces "Bugbass"
Rawtek "Guava"
Wiwek ft. Finess "Savage"
Kayzo "Whistle Wars"
Ivan Dola "Lento"
Hechizeros Band "El Sonidito" (Steve Aoki & Reid Stefan Remix) vs. Beyoncé "7/11" (Rawtek Mash Dem)
Donald Bucks "Pampit"
D-John "Mira Mami"
Rawtek "Killa Sound"
Juyen Sebulba & Captism ft. Snappy Jit "Choo Choo"
Mike Cervello & the Galaxy "Confessions"
Rell the Soundbender & Rawtek "Baja"
MC Bin Laden "Bololo Haha" (Banginclude Remix) vs. Skrillex & Habstrakt "Chicken Soup" (Rawtek Mash Dem)
Rawtek & Juyen Sebulba ft. Keno "Rock High"
Rawtek "House of Zulu"
Rawtek "DA!"
Rawtek & Herve Pagez "Beleza"
Valentino Khan ft. Keno "Hello"
Vlien Boy "Sola Te Dejare" (Trapchata Ed!t)
Fight Clvb, White Gangster, & Gualtiero "MIN"
D-dots ft. Metric Man "Para Loca"
Donald Bucks "Tah-Um" vs. Menasa & Cesqeaux "Wickedest Wine" (Tumbala) (Rawtek Mash Dem)
Heartbreak & Munchi "Boneknuckles" (White Gangster Edit)
French Montana ft. Swae Lee "Unforgettable" (J Hus Remix) vs. Tropkillaz "Aceita" (Rawtek Mash Dem)
Rawtek ft. Godwonder "Mami Muevelo"
Yellow Claw & Juyen Sebulba "Do You Like Bass"
Flosstradamus & Troyboi "Soundclash" vs. Gent & Jawns "Collecta" (Rathero Flip) (Rawtek Mash Dem)
Snails & Space Laces ft. Sam King "Break It Down"
Bailo & Killkid "Exceso"
Hudson Mohawke "Cbat" (Boombox Cartel Remix)
Lil Jon & Skellism ft. Terror Bass "In the Pit" vs. Donald Bucks "Take Off "(Rawtek Mash Dem)
Cardi B & Vlien Boy "Bodak Yellow" (Benzi & Chuwe Edit) vs. Rawtek & Nonsens "Muzzle" (Rawtek Mash Dem)
Don Omar ft. Lucenzo "Danza Kuduro" vs. Juyen Sebulba & Stoltenhoff "Get Your Ass Up" (Rawtek Mash Dem)
Travis Scott "Goosebumps" (Tisoki Flip)
YFN Lucci, Slander & Stoltenhoff "Everyday We Out" (Benzi Edit)
Major Lazer ft. PartyNextDoor, Nicki Minaj "Run Up" (Vybz Kartel Remix) vs. Kzeero "Tapatio" (Rawtek Mash Dem)
Menasa & Cesqeaux "Tur Hende Hisa Man"
Rawtek & Tropkillaz ft. MC Tchelinho "Loco"
Cesqeaux "Back Up" vs. Dillon Francis ft. G-Eazy "Say Less" (Eptic Remix) (Rawtek Mash Dem)
Ricky Remedy ft. Taranchyla "Take It"
Juyen Sebulba "Baerobics"
FlipN'Gawd ft. Happy Colors "Ponselo en la Cara" (Loojan Remix)
Hydraulix "Head Bang"
Yellow Claw ft. Yade Lauren "Love & War" (Stoltenhoff Remix) vs. Datsik & Excision "Redemption" (Rawtek Mash Dem)
Alvaro & Reid Stefan "MTTS"
Party Favor ft. Rich the Kid "Whole Lotta Money"(Rawtek Remix)
Davido "Skelewu" (Major Lazer & Wiwek Remix) vs. Joyryde "I Ware House" (Rawtek Mash Dem)
Garmiani ft. Julimar Santos "Fogo"
Follow Rawtek on Facebook | Twitter | SoundCloud
---
Share
---
Tags
---
You might also like