Insomniac's Metronome series features mixes from some of today's fastest-rising electronic stars, as well as championed legends. It takes listeners deep across a wide range of genres, movements, cultures, producers, artists and sounds that make up the diverse world of electronic music.
When you think of Chicago, tropical breezes and laid-back vibes aren't the first things that come to mind, but this three-piece outfit from the Windy City is definitely trying to change that. Autograf launched onto the scene last year after their chilled-out remixes of artists like Marvin Gaye and Stevie Wonder racked up millions of plays.
Since then, they've flipped tracks by Lorde, Pharrell, and most recently ODESZA, and they're beginning to rise above the pack in a genre that's become rather congested.
Needless to say, their Metronome mix is quite a treat. It's definitely one of the grooviest ones that we've had the pleasure of hosting, so sit back and relax to the sounds of Autograf.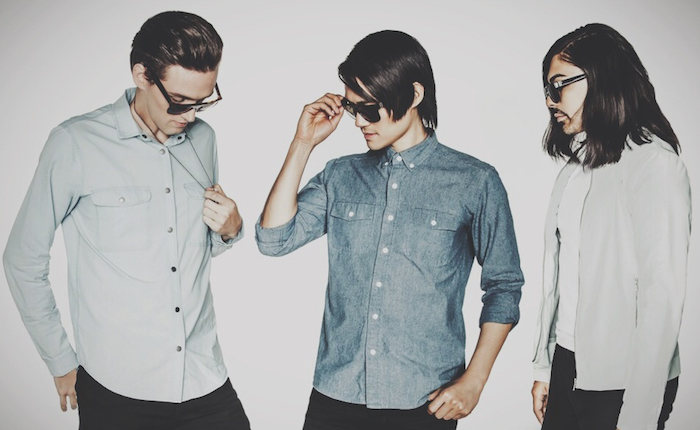 You guys are in the midst of your tour. How have things been going? Favorite stops?
Louis: It's going pretty amazing. This past weekend's show at U Street Music Hall in D.C. sold out, and I was really surprised by that since nine months ago, nobody really knew who we were. Now, the people at the shows know our songs and are even singing along.
Jake: I'm not really used to having all these people come out to see me. It's a bit strange and unnerving.
Live shows can definitely be more hectic than a DJ set. Have there been any hiccups yet?
Jake: Yeah, especially when Mikul is spilling drinks all over the gear.
Louis: Dude, that's an inside joke nobody will get. Basically, me and Jake think it's funny to blame Mikul for anything that goes wrong, even if it's totally our fault. [Laughs] So yeah, our inside joke; one that Mikul is not even in on. Sorry, dude.
Mikul: Ummmmm…
Once the tour ends, are you guys going to take a vacation or get back to the studio?
Louis: We're playing in Mexico this weekend. The first show is in Mexico City, and then another in a beach town called Zihuatanejo where they're putting us up for a bunch of days on the beach. Then it's on to sunny San Diego, so I guess the tour is the vacation?
Jake: We're really spoiled here. But yes, it's straight back to the studio. I spent all winter building the studio in the backyard, so you better believe I'll be locking myself in there when we're not on the road.
Mikul: The studio is so soundproof that you can hear every bodily function. It's weird and unsettling to hear your insides do whatever it is that they do.
Do you take a different approach to making originals as opposed to remixes?
Jake: Yeah, very different. Remixes are like starting a painting and somebody has already mixed up the colors you're going to use. Originals allow you to be completely free and creative.
Tell us a bit about the mix that you've made for us.
Louis: It's just some chill, future vibes that we're feeling at the moment. I've always thought it's interesting how we always try to use words to describe something that should only be experienced through listening. No need to think about it so much. Just kick back, listen, and let the music take you on a ride.
Track List:

Catching Flies & Ifan Dafydd "Don't Know How"
Everything But The Girl "Temperamental" (Tom Flynn Remix)
Chet Faker "I'm Into You" (Monkeyneck Remix)
Marvin Gaye "Grapevine" (Autograf Remix)
Tube & Berger, Paji "Reliquia" (Original Mix)
Slow Magic "Waited 4 U" (Phantoms Remix)
Amtrac ft. POSSO "Don't Know"
Kill Them With Colour "Get High"
The Avener "Fade Out Lines" (Marcapasos Remix)
Lana Del Rey "Ultraviolence" (Crom & Thanh Remix)
Dirty South "Unbreakable" (Autograf Remix)
Follow Autograf on Facebook | Twitter
---
Share
---
Tags
---
You might also like