The birth of our underground brand, Factory 93, not only brought on an adrenaline rush reminiscent of the renegade warehouse era of raving—on which Insomniac was founded—but it also had us thinking back to all the people, places and parties that made this whole operation possible. And with that came a burning desire to crack open our collection and dust off the classic records we couldn't live without. Through our From the Crate series, we break out seminal and obscure cuts alike, imparting some knowledge in the process. 
Underworld's "Born Slippy" is a confusing song, because it's actually more than one song. Promo copies of an instrumental track called "Born Slippy" were sent out to DJs and influencers on promo in 1995.
It was confusing when a totally different tune with vocals called "Born Slippy (NUXX)" blew up all over the world (and hit #2 on the UK singles chart) in 1996 off the strength of appearing in Danny Boyle's smash-hit film Trainspotting. This is the song we will discuss further here.
Danny Boyle has called "Born Slippy" the heartbeat of Trainspotting, capturing the euphoric highs following intense lows in the movie. The song landed back in the UK charts when it was re-released with new remixes in 2003. Danny Boyle was inspired to cut a four-minute quickie version of the full Trainspotting movie for YouTube, which Rick Smith accompanied with yet another variation on "Born Slippy."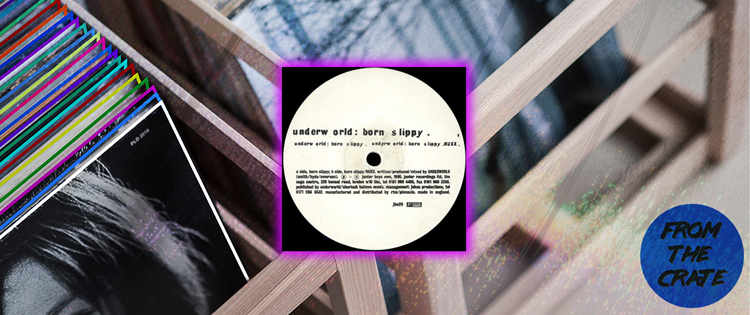 Karl Hyde has in recent years revealed some interesting details about the night that spawned "Born Slippy," as well as his evolving feelings about the song, which is best remembered for the "lager, lager, lager, lager, shouting" refrain.
"The first time we played it live, people raised their lager cans and I was horrified, because I was still deep into alcoholism," he admitted to The Guardian in 2006. "It was never meant to be a drinking anthem; it was a cry for help. Now, I don't mind. Why 'Born Slippy'? It was a greyhound we won money on."
Dip into the other lyrics, and that cry for help is more apparent: "Drive boy dog boy/Dirty numb angel boy/In the doorway boy/She was a lipstick boy/She was a beautiful boy/And tears boy/And all in your innerspace boy/You had hands girl boy and steel boy/You had chemicals boy/I've grown so close to you boy and you just groan boy/She said come over come over/She smiled at you boy…"
Hyde told BBC Radio 4 in 2013 that the night he wrote the lyrics, he was drinking at London pub the Ship and ran into famous English comedian Bill Bailey on the way out.
"He was a mate of a mate, and I just remember handing him a fiver and saying, 'Go on, get a round in mate,' and off I went into the night and wrote some lyrics."
Hyde has embraced the song as Underworld's calling card; his 2016 memoir is called I Am Dogboy: The Underworld Diaries. 2016 was a great year for Underworld, with their most recent album Barbara, Barbara, We Face a Shining Future earning a Grammy nomination for Best Dance/Electronic Album.
Smith has continued to work with Boyle (including as musical director for the Olympics opening ceremony in London in 2012). He served as both composer and A&R for the music in Boyle's 2017 Trainspotting sequel T2. Featured among the songs he created for the film is "Slow Slippy," a time-stretched and practically chopped & screwed version of "Born Slippy." There's a brief version in the actual movie and a complete version for the soundtrack called "Long Slow Slippy."
"There was definitely a melancholy—20 years have gone by. That was inherently there when working on the music," Smith told Noisey. "But it's not a melancholy born of a deep depression or bitterness. It's just that thing that happens as you get older and look back. And it often feels incredibly positive; it brings a warm smile to your face. I didn't struggle at all. As Underworld, we've been playing 'Born Slippy' live for 20 years, and the reaction from the audience is so strong it's almost overwhelming. It's never got tiring to perform or play. It's what it triggers in people."
It wouldn't be surprising if this isn't the last we'll hear from the "Born Slippy" movement.
---
Share
---
Tags
---
You might also like