'Night Owl Radio' 135 ft. Jack Beats and What So Not
There's still a grip of chatter bouncing around the walls of Insomniac HQ—for many reasons, including the ones we touched on here. Pasquale goes through his own festival recap on this week's show by dropping in a few Headliner shout-outs we captured at the party. Those clips are wedged between two sets of solid records that your host hunted down. Then he throws it to an act that made the crowd get jacked at Cheshire Woods.
At this point, UK duo Jack Beats needs no introduction whatsoever, having shaped the bassline-fueled house scene into what it is today. They brought some of that expertise over to Insomniac Records recently, with their multifaceted two-tracker called Vibrate. The titular offering makes its way into their Up All Night appearance, along with two other certifiable weapons.
Taking care of things on the guest mix front is Australian chameleon What So Not. He's been on top of the world since his debut album, Not All the Beautiful Things, hit the charts after dropping a couple of weeks ago. The 14-track package shows the full scope of his versatility, and he shows off that strength on an eclectic 30-minute session.
Night Owl Radio is available via iTunes, so get to subscribing on your iOS devices.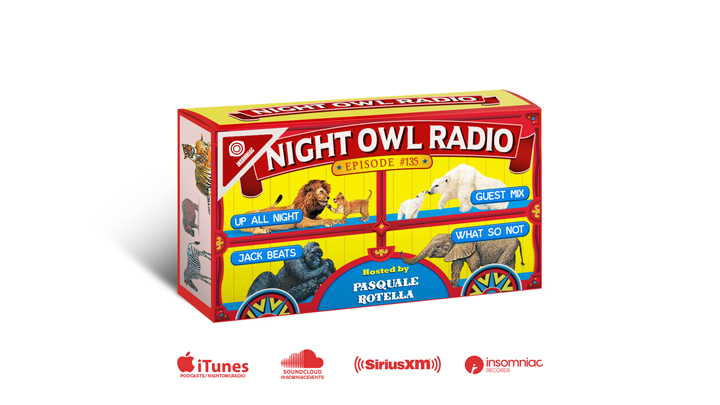 Night Owl Radio 135 Track List:

EDX "Anthem"
Ettica "The Light Within You"
CID "Werk"
Funkin Matt "AEON"
Plump DJs "Fired Up"
Matroda "Boom Bap"
Bart B More & Das Kapital "The Rooster"

Beyond Wonderland Headliner Shouts

Nic Fanciulli ft. Damon Albarn "Saying" (Kolsch Remix)
Calvin Logue "Warrior"
GAWP "Coolade"
Mant "E.F.F.E.C.T"
HANNS "Instincts"
Jauz, YOOKiE, josh pan "Dinner Chat"

Jack Beats – Up All Night
Jack Beats ft. Sir Michael Rocks "Vibrate"
Chris Lorenzo & Taiki Nulight "Don't Stop"


Octavian "Party Here"
Alison Wonderland "No"
Wilkinson & Sub Focus "Take It Up"
Pendulum "Hold Your Colour" (Noisia Remix)
Mefjus "If I Could"

What So Not Guest Mix

Carl Cox "I Want You(Forever)" 
---
Share
---
Tags
---
You might also like