Jack Beats Destroy the Decks on EDC Las Vegas 2018 Mix
UK bass masters Jack Beats are storming cosmicMEADOW at EDC Las Vegas this weekend with a vengeance. Known for mashing everything from house and techno to jungle and dubstep—and just about everything else in between and beyond—into a banging new sound, the duo recently dropped Vibrate on Insomniac Records. The EP will be among the deep cuts rumbling and wobbling through the desert air. Originally turntablists, Jack Beats (Niall Dailly and Ben Geffin) have been infusing a raucous slice-and-dice vibe into the world of bass-laden dance music since 2007.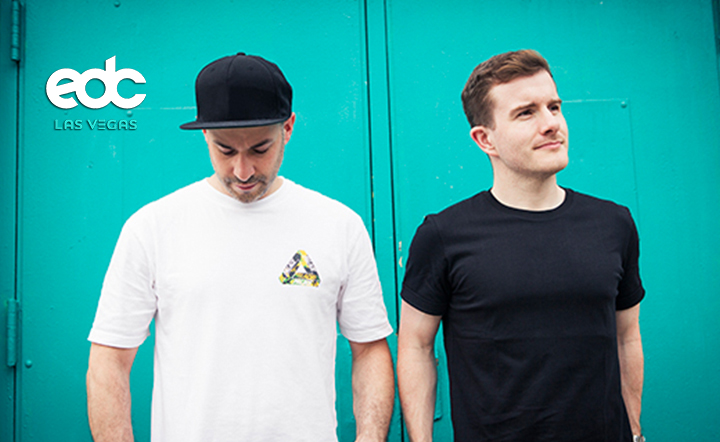 "That's the hip-hop side of us—because in that culture, if you weren't being original, if you were biting other people's ideas, you'd be out of a job," they say. A big part of innovation for them is their relentless appetite for sound, regardless of genres.
Their mix of sounds quickly got them noticed by the likes of Skrillex's OWSLA imprint and AC Slater's Night Bass Records, before Insomniac picked up the hybrid sonic mayhem the pair have been throwing down. It also earned them slots at Coachella, Glastonbury, Sonar, and of course, Electric Daisy Carnival.
"We began life as an underground crew, making tunes for Sunday night hardcore clubbers. Suddenly, it gets to this level, and it's shocking. But we've been around enough to know that we're here on the merit of what we've done. We're not trying to be something we're not."
Jack Beats just came off a US tour, hitting some of the more musical cities in the country, including Los Angeles, Chicago, San Francisco, and Dallas. When asked if the tour playlist is a hint of what's to come in Las Vegas this weekend, Ben says, "I've just had a big batch of tunes I'm circulating in the set at the moment, and trying various ones on every stop, so each city is probably getting something slightly different, I hope. I'm playing a lot of demos at the moment."
Even though it's easy to imagine DJs spinning platters 24/7, Ben says he was a little rusty before preparing an exclusive EDC preview mix for Insomniac.
"To be honest, this is the first live mix I've done for ages. I just plugged my SD cards into my setup in the studio, and also a USB loaded with some other new bits, and just did a one-take job. I do everything in Logic these days, so I just thought, let me be a real DJ for a minute," he jokes. Despite the diversity of styles they pull from, some sounds are unlikely to find their way into the mix. "We'll draw from anything, but don't expect a country album."
Another thing we shouldn't expect anytime soon is for the duo to launch another imprint. In a world awash with artist-owned labels, they are in no rush to get back in that business. "We had a label a few years back, but no plans to start another just yet."
What they are working on is a fresh set of collaborations, with Zinc, Taiki Nulight, AC, Dillon Nathaniel, and Born Dirty—to name a few. Whichever direction they take, they do plan on staying true to their hip-hop and turntablist roots. "That side of DJing will always influence our work, both in and out of the studio. Hopefully you can hear a small thread of that in the mix."
Jack Beats EDC Las Vegas 2018 Mix Track List:

Distinkt "Rave Culture"
Jack Beats "Pump"
Born Dirty "Face"
Bang Tidy "Phone Line"
South Royston "Another Night"
Suga7 "Thief in the Night"
Boys Noize & Virgil Abloh "ORVNGE"
Sly-One "Frontera"
South Royston "Bad Format"
Kendoll "What to Say"
M3rc "Motorboat"
Jack Beats & Zinc "Raise It Up"
Taiki Nulight "Proxy"
Franklyn Watts "Dan$e"
Taiki Nulight "Double Agent"
Jack Beats plays cosmicMEADOW at EDC Las Vegas, which takes place Friday, May 18, through Sunday, May 20, at Las Vegas Motor Speedway. A limited number of VIP passes, shuttle passes, and Camp EDC RV spots remain for EDC Las Vegas 2018.Grab your passes now!
Follow Jack Beats on Facebook | Twitter | SoundCloud
Follow HARD on Facebook | Twitter | SoundCloud
Follow EDC Las Vegas on Facebook | Twitter | Instagram
---
Share
---
Tags
---
You might also like