The Best of Beyond Wonderland SoCal 2018
Our systems are still overflowing with endorphins after an incredibly successful Beyond Wonderland SoCal. For its eighth installment, our annual gathering in the spring brought out a lot of what we love about our vibrant community. There were Headliners with mile-wide smiles, fantastical performers at every turn, jaw-dropping production and art, and countless sets that made us dance like crazy.
We could go on and on about what made our two-day SoCal soiree something we'll keep close to our hearts until the end of time. If you're in the mood to run through the highlight reel, then you're in the right place. From a crazy basshead marriage proposal to surprise cameos, these were the best moments of Beyond this past weekend.
The Weekend Starts at the Wide Awake Art Car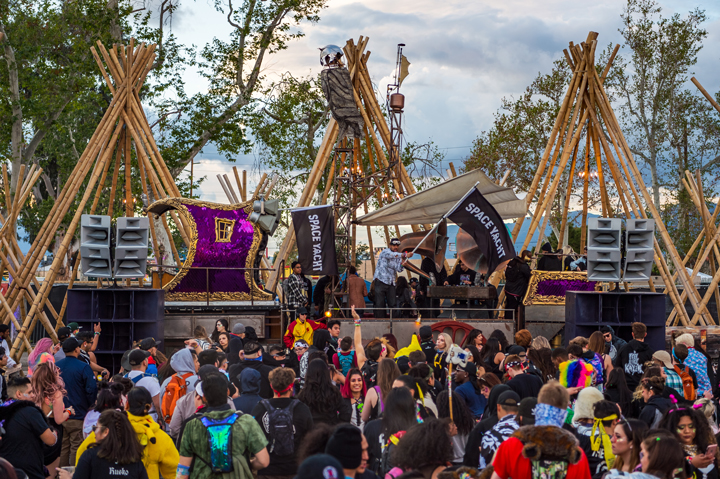 It's been about one month and some change since we first kicked off the Weekend Starts Here, a weekly pre-party livestream meant to get those juices flowing every Friday evening. The signal gets transmitted straight from Insomniac HQ, but the squad didn't want to sleep on the opportunity to go live at Beyond. The Wide Awake Art Car was rigged with GoPros and gave the viewers at home a little FOMO by streaming a small segment of the Space Yacht lineup. Mark Starr and Tony Quattro were the ones some of you probably spotted on the screen, as they went into back-to-back mode and broke out the heavily bumping grooves. Naturally, it was probably nowhere near the real deal of being there in the flesh, but it was a nice treat nonetheless. —Sam Yu
Cloudy With a Chance of Good Vibes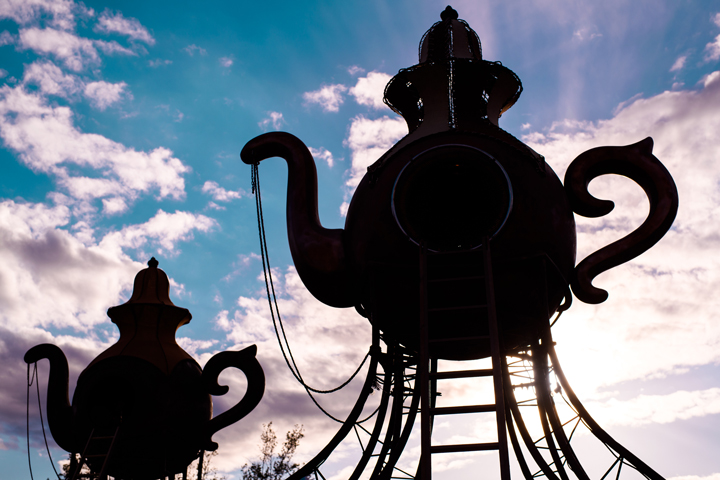 It was impossible not to constantly check the forecast in the week leading up to the festival. Everyone swore it was going to come down like cats and dogs, but surprisingly enough, the rain clouds danced in the distance long enough to keep the majority of the first day nice and dry. It almost felt like we were in the eye of a gentle storm, with the sun beaming through the small patch of clear sky immediately overhead. The rain did in fact creep up on us eventually, but it was during the last leg of the first night, so the slight downpour didn't seem to rain on anyone's parade. —Sam Yu
FISHER… Not Kidding, Ever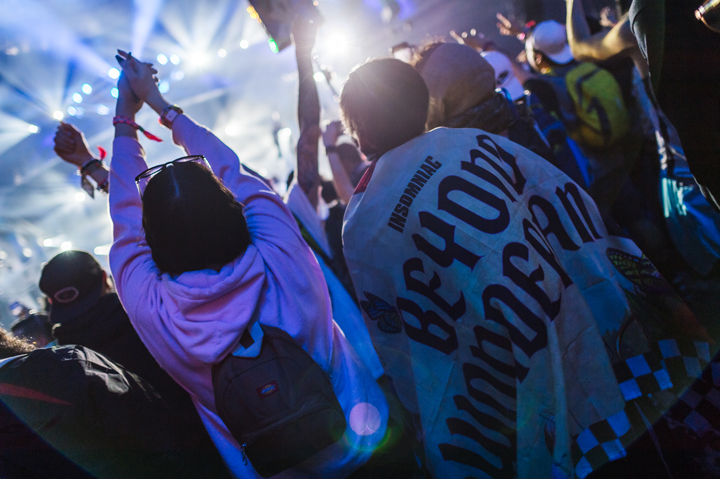 Ever seen old-school concessionaires at baseball games toss bags of peanuts into the crowd—over the head, behind the back, 10 rows deep into the loge? That's what FISHER does, but with good vibes. Throughout his set in Caterpillar's Garden on Friday night, the always animated DJ and producer of tracks like "Ya Kidding," Stop It," and "Crowd Control" had the crowd perpetually hyped as he sipped his bottled lager and flung tune after tune onto the dancefloor. Dude always gets the party started. Make sure you tune in to the newest episode of our Golf Cart Confessions series—air date TBA—because he clearly knows how to close the party out, too. —Rich Thomas
Marriage in the Black Tiger Sex Machine Church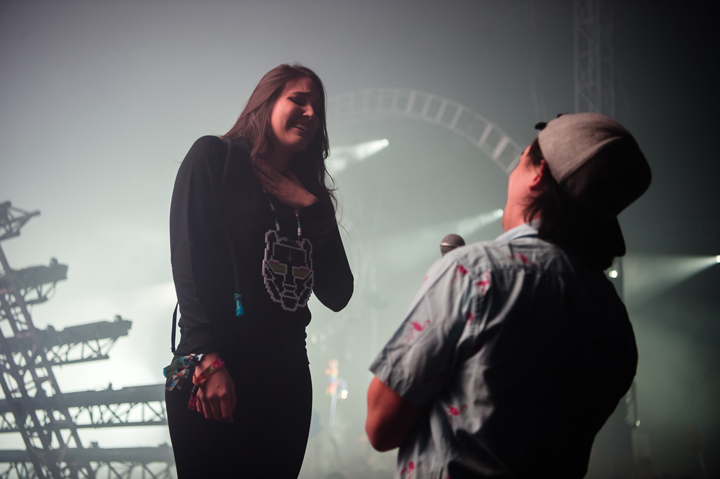 Well, not technically a marriage, but it was a marriage proposal nonetheless. Paul and Amelia, both massive BTSM fans, entered a meet-and-greet contest. When they weren't chosen, Paul informed the group that he was planning on proposing to his longtime girlfriend, and would they be amenable to his popping the question onstage. BTSM obliged, and after the group stopped the set and had the lights turned up in Mad Hatter's Castle, Paul dropped to one knee and asked Amelia to be his wife. "This is the first wedding proposal in the BTSM church," said BTSM's Marc-André Chagnon, "and it won't be the last!" Serious feels. —Rich Thomas
SAYMYNAME's Surprise Cameos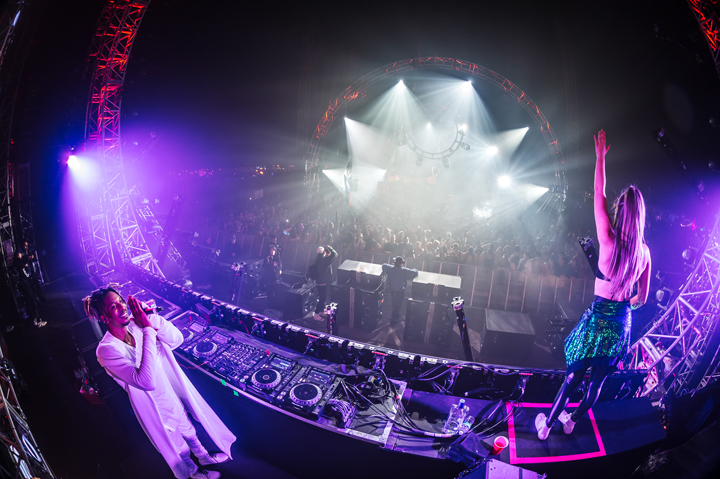 The beauty of being an artist whose home is a stone's throw away from the venue is that your entourage likely comprises a few friends who can double as surprise guests. SAYMYNAME didn't really have to lean on any of the homies to spice up his already out-of-control hard trap set, but the Los Angeles–based producer went ahead and dipped into a few cameo appearances. He brought GRAVEDGR to test out a new collab he's been keeping under wraps with the enigmatic act. Then, he fired up the mic and let Feli Ferraro go to town on the vocals for "I Can't Escape," his skittering co-pro with Slander. He saved the best for last—as one tends to do—and introduced his own sister, who had never been to a rave in her life. Getting the onstage treatment is not a bad way to spend your first time. —Sam Yu
Art by Eddy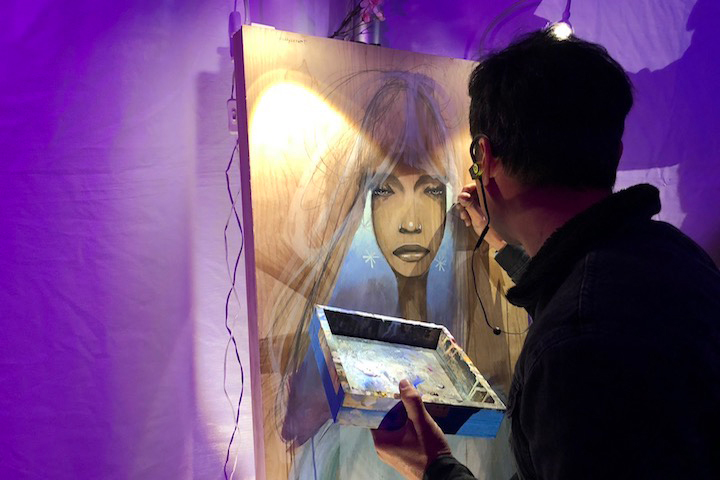 If you rolled through the VIP area at Queen's Domain during the weekend, you probably came across a few artists doing live painting. One of them was Eddy Lee, who created beautiful works of art atop wooden canvases. Live painting has long been a staple of the Insomniac festival experience—and early rave culture—and watching these artists bring their creations to life while the music inspires them was a great way to chill out and vibe with the surroundings while not on the dancefloor. —Rich Thomas
Hammock Hangs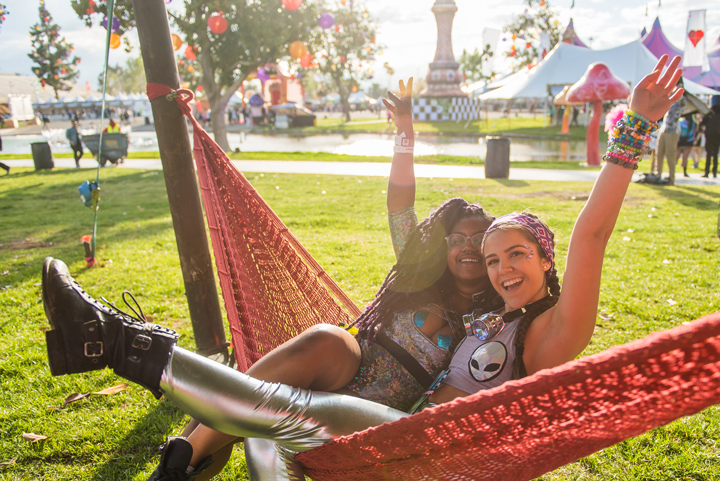 Everyone knows there is absolutely no parking on the dancefloor, but that's not to say you shouldn't take a break every so often and kick up your feet. Just outside of Cheshire Woods was a small family of red hammocks set just far enough into the distance that the music wouldn't drown out any casual conversation. Some people made use of the space to find some alone time, while others opted for a hardcore cuddle sesh with two or three snuggle-buddies. Whatever the case, it was easily one of the coziest spots all weekend to let it all hang out. —Sam Yu
A Warm Cup of Tea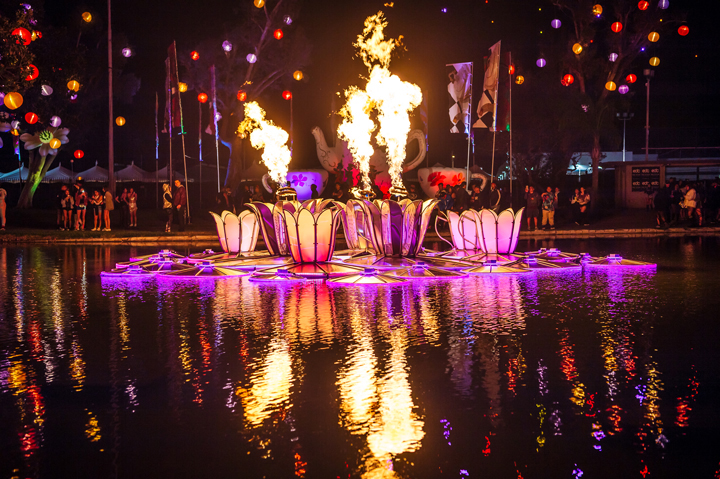 It wouldn't be a Wonderland party without a proper tea setting, and there were a couple of different installments playing on this fact. The Lost Tea Party was a huge smash. The three-piece teapot caravan was conveniently parked in the heart of the venue, allowing small groups to climb up each of the pots' ladders and not only get a spectacular view of the show, but also lounge in style inside their uniquely lavish interiors. While people queued up to give that installation a go, just over yonder were Lilycups, a set of floral-inspired tea cups floating atop the pond on lily pads. Not only did these metallic vessels change colors to create a spectacular neon-powered light show, but they would sporadically spit out pryo and make the space warm and toasty. —Sam Yu
Two Sides of Bassrush
The headbangers of today might know Bassrush only in its current incarnation: the large-scale, vibrant community that would do anything to break their necks. The squad paid its dues to get to where they are now, and having a massive stage wasn't always in the equation. We got to see both sides of the coin this weekend, as they hopped from the larger-than-life setup to the more intimate, lo-fi operation. Friday was rammed like no other with the insane production of Mad Hatter's Castle at their disposal, with a solid spread of drum & bass and hybrid low-end architects in tow. On day two, though, they commandeered the Beyond Wench and gave the crowd a glimpse at how things were back before the movement was at critical mass. —Sam Yu
Mind-Blowing Visuals at K?D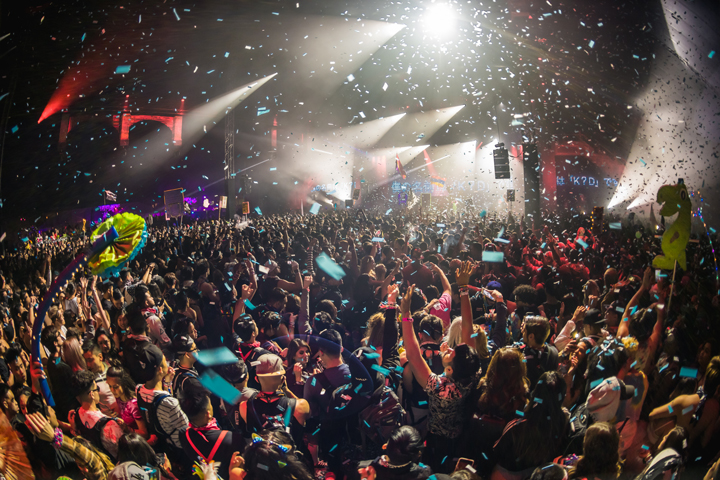 Many people are worried about when the bass will drop, while others are more concerned with melodies. K?D has more than enough of those to go around, and his music somehow feels simultaneously robotic and yet human down to the core. It lends itself perfectly to the futuristic AI realm, which he happens to explore through the imagery for his releases. The visuals he had blasting behind him during his set were a complete extension of that, and it felt like we were suspended in a world of fantasy. We couldn't help but think that maybe, just maybe, this kid might be the missing link between man and machine. —Sam Yu
Insomniac Records Levels Up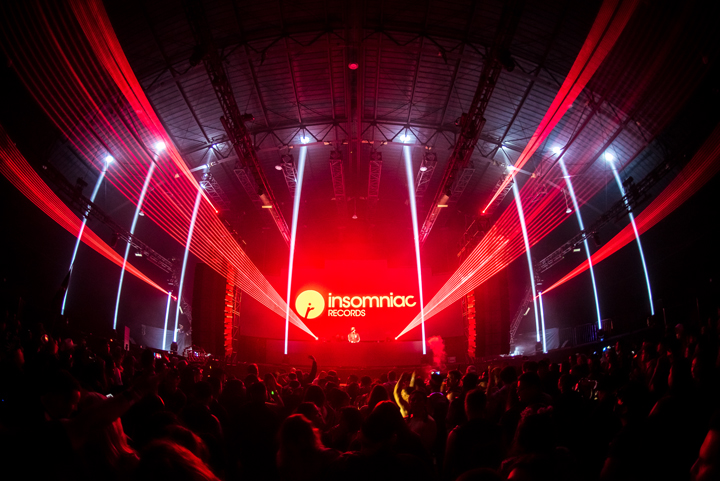 Just one year ago, our in-house Records crew was low-key enough to squeeze its fan base into the intimate space known as the Upside-Down Room. Times have changed, and the label has outgrown the bite-size stage. They upped their game this year and got some prime real estate at Cheshire Woods, a much larger area that almost wasn't enough to hold the numbers they were pulling throughout their two-day takeover. All of the homies who have stuck by their side and put out work on IN / ROTATION and the main imprint were getting busy behind the decks. Bijou kept things ghetto fab with his strain of G-house, Jayceeoh put the hurt on the woofers by flexing his low-end boom, and Redlight zoomed through those bad-man basslines he's notorious for putting forth. The place was slammed, making us wonder how much room we need to reserve for Insomniac Records this time next year. —Sam Yu
---
Share
---
Tags
---
You might also like