Metronome #046: Sultan + Shepard
Upcoming Event
Insomniac's Metronome series features mixes from some of today's fastest-rising electronic stars, as well as championed legends. It takes listeners deep across a wide range of genres, movements, cultures, producers, artists and sounds that make up the diverse world of electronic music.
Since day one, diversity has remained the key ingredient in the Sultan + Shepard canon, be it future house bounce, hands-in-the-air electro house birthed for the mainstage, or dulcet progressive house harmonies. Their style sees them experiment across sundry genres with panache and ease via crossover collaborations and exploring sounds outside of dance music, evolving the duo from an explicitly electronic act to bona fide songwriters. Their pop-based melodies have seen them collaborate with electronic megastars (Dillon Francis and David Guetta) and indie darlings (Tegan and Sara) and also earned them their first-ever Grammy nomination for their remix of Bruno Mars' "Locked out of Heaven."
It's no surprise every major dance label has welcomed Sultan + Shepard with open arms, with everyone from Mixmash, Doorn, Protocol and Spinnin' knocking on their doors. Their most recent home, Armada Music, just released their latest track, "Bring Me Back" featuring R&B vocalist Kreesha Turner, marking the latest chapter in the Sultan + Shepard journey. Its swirling piano chords create the basis of a progressive house beauty, with Turner's longing vocal driving it all home.
In their Metronome mix, Sultan + Shepard flex their steez and stamina and provide a breath of fresh air with a grand zest for the good life.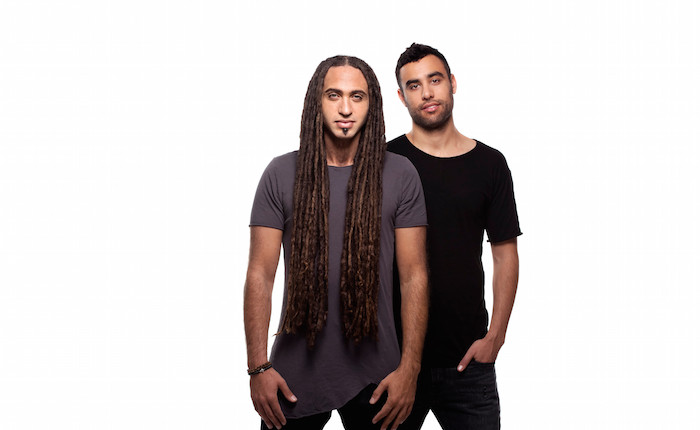 Your new track, "Bring Me Back" with Kreesha Turner, seems like the perfect end-of-summer song. What was your favorite memory from this summer?  
One of our favorite days was a doubleheader we did on Ned's birthday, where we played Cabana in Toronto, which is an amazing daytime pool party with a view overlooking the whole city. Then we flew out to Vegas to play OMNIA at night, and it was a packed house. We had a big cake and recorded our set live on the radio in Toronto, and then our friends flew out with us to Vegas, and we partied the whole night. It was a perfect Sunday funday!
You've worked with dance music heavyweights like Dillon Francis and David Guetta. How do you manage to express yourself artistically when working with artists who have a signature and established sound? 
Besides being DJs and producers, we are definitely songwriters at heart, primarily because we both play instruments. When we work with other artists we love and admire, one of the things we can bring to the table is our ability to help structure songs melodically, and often it's a really nice fit. It's incredibly exciting to work on a demo and then see it come to life when you're working with great producers like David or Dillon. We love all of the aspects of collaborating and are really proud of those records.
You've also worked with non-electronic artists like Bruno Mars, Whitney Houston, and Tegan and Sara. What do you think about pop and hip-hop's influence on electronic music? We've seen a lot of genre-crossing collaborations in the last few years. Is this a positive pattern that helps more people become exposed to electronic music?
Hip-hop and pop music have always had a relationship with dance music, going back to disco and the roots of house and hip-hop—check the early Sugar Hill Records, Queen Latifah and the Jungle Brothers—but also with major pop artists like Madonna, Depeche Mode and many others.
Right now, the difference is that it's the first time DJs are being seen as pop stars, rather than just behind the boards or turntables; that is good overall, but it has some problems. It does definitely make the scene grow as a whole, and now it's solidified as a real genre, but it's open to some of the same downfalls that pop music and hip-hop have had over the years. Namely, when lots of money is involved, lots of people get involved for the wrong reasons—to make a quick buck—and that erodes the quality. One of the nice things about dance music when it was strictly underground and alternative was that everyone was involved because they were really passionate about it. That kept the quality level of the music high and the feeling that you were part of something special.
But overall, we're happy that it's evolved to this point, because we've gotten to work with such great artists—not just as remixers or producers, but as artists. It feels really great to share a song with other artists you really admire and have become friends with. As long as people continue to try and make the highest quality music with as much passion as we did when there was no money involved, then things will be okay for electronic music.
On top of touring and producing, you've also started your own podcast, On the Road Radio. What artists have you been playing lately?
We love getting fresh, new music. We've been playing a lot of stuff from Kryder, ODESZA, Michael Calfan, Galantis, Oliver Heldens and a lot more. We also interview a lot of our artist friends and ask them about their life on the road. We've had Tegan and Sara, Laidback Luke, Fedde Le Grand, Dillon Francis, Nicky Romero and lots of other people on the show. It's great to hear what their tour life is like.
How do you prepare for a radio show, compared to a live show? 
There's a lot of deeper, more eclectic stuff we can play on our radio show that we can't really play live. The radio show is more focused on a listening experience, so we always take that into consideration when we're putting together the show. But we also like to include some of the live edits we made for our club shows, just so people get a little taste of how we play live.
Can we expect your sound to change at all, now that you're releasing music on Armada? 
A little bit. I think "Bring Me Back," melodically, is very much what we do, although it has more of a house touch; Armada was quite open to that. But we have an upcoming release with Nadia Ali on Armada that is very song-oriented and deep and very organic feeling, so that is quite different, actually.
What's next in the world of Sultan + Shepard?
Besides the Nadia Ali collab, we are also working on a record with Showtek. They're such great guys and are amazingly talented, so we're excited about working with them. We can't wait for everyone to hear what we have in the works, 'cause it's different for both of us!
Track List:

Lucas & Steve, Matt & Kendo "You and I Know"
Croatia Squad "Back to Life"
Diplo & Sleepy Tom "Be Right There"
Digital LAB "Work It"
Don Diablo ft. Emeni "Universe"
Mor Avrahami vs. Ido Shoam/Martin Solveig & GTA "Intoxicated Bateria" (Sultan + Shepard Mashup)
Sultan + Shepard vs. Whitney Houston "It's Not Right, but It's Okay"
Quintino "Devotion"
Shelco Garcia & Teenwolf "Stuck in My Head"
Sultan + Shepard ft. Kreesha Turner "Bring Me Back"
TLC vs. Sultan + Shepard "No Scrubs in the Night" (Sultan + Shepard Mashup)
John Dahlbäck "Raven"
Dillon Francis & Sultan + Shepard ft. the Chain Gang of 1974 vs. Pierce Fulton vs. Walk the Moon "When We Were Kuaga Shut up and Dance" (Sultan + Shepard Mashup)
Follow Sultan + Shepard on Facebook | Twitter | SoundCloud
---
Share
---
Tags
---
You might also like