You can almost hear the angst and oppression of the New Jersey ghettos when the nuclear beat of Jersey club pounds against the dark basement walls of the city. Much like its sibling sound in '80s Baltimore club music, Jersey club was born of and for the streets. Its essential sonic framework blends classic and urban hip-hop, electronic house, and R&B hits in a truly unique mashup built around choppy, quick-hitting triple kick-drum patterns, a looped repetition of short vocal samples, blink-and-you'll-miss-it beat transitions, and unpredictable song transitions, all at the relentless speed of 130-140 BMPs.
Originating over 15 years ago in Newark, NJ, Jersey club is just now experiencing global recognition beyond the Brick City, largely propelled by rabid internet fandom, ubiquitous SoundCloud presence, and major tastemaker media coverage. While a current wave of modern electronic producers—including Trippy Turtle, Cashmere Cat, DJ Yolo Bear—have taken the sound to mainstream audiences, the sound of Jersey club's yesteryear still thrives today via the Brick Bandits Crew, a collective of artists and producers responsible for creating the movement.
Leading the pack is Newark native R3LL, often considered the essential sound of Jersey club. As an original Brick Bandits Crew member and one of the pioneers of the sound, R3LL has almost singlehandedly taken Jersey Club from a local trend to an international phenomenon. His debut EP, Directions, made him a breakout star, receiving universal acclaim and placing him as the definitive mainstream crossover Jersey club solider. He's remixed everyone from Disclosure, Hannah Wants & Chris Lorenzo, and Keys N Krates; he's collaborated with many acts outside his direct music realm, including Sinden and Riddim Commission; and he's been supported by a who's who of electronic artists: Diplo, Annie Mac, AC Slater, and more. With the recent launch of Brick Bandits Records, R3LL and his crew are ready to take Jersey club to unprecedented levels and to reach the massive crowds it rightfully deserves.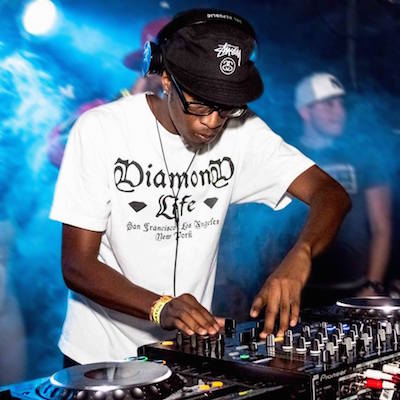 Jersey Club is new to a lot of recent electronic music fans. Give us a bit of a history lesson on the genre.
Jersey club music originated within the nightclubs of New Jersey during the '90s in the city of Newark ("Brick City"). It was pioneered by DJ Tameil, DJ Tim Dolla, Mike V and DJ Black Mic of the Brick Bandits Crew, who were largely influenced by the Baltimore house scene of the '80s. Jersey club is based on a 4/4 time signature and falls in the 130-140 BPM range. Vocal chops, loops, and shuffled triplet 808 kick patterns.
As a member of the Brick Bandits crew, you helped establish and popularize the Jersey club movement over 15 years ago, but it wasn't until 2014 when the genre gained popularity and mainstream media attention. To what do you credit this skyrocketing rise in Jersey club awareness?
There were so many factors that helped Jersey to eventually gain traction; it was a perfect storm. I would have to credit everyone before me, as well as my peers now, for not giving up and just churning out consistently great music. There was a new song every day, so the content just kept coming and coming.
Before jersey club started to gain popularity in mainstream media, it was only popular within certain areas of Jersey and other local towns. Maybe that lack of pressure gave us a certain creative freedom; we didn't have to focus on anything, but the music and having fun for ourselves.
It's obvious that the sound has now exceeded the city limits of New Jersey and America. What role did the internet have on popularizing Jersey Club on a global scale?
Without the internet, Jersey couldn't have exploded the way it has. We don't make big radio records, so by sharing music across social media—particularly SoundCloud—and really forward-thinking music blogs, it allowed us to build a national and then international fan base. I personally noticed a big shift when SoundCloud introduced the repost function. Providing people with the option to share this music across their own timelines gave us a huge boost, as more and more people started to latch onto the sound. Jersey club is such a contagious sound; we just needed to get the word out there. Every day it continues to grow like a virus, spreading all over the world, and it's amazing to watch.
What I find most interesting is Jersey Club is one of the few electronic music genres that features lots of black artists as well as black fans. Is this a geographical factor? Or this more of a culture issue?
Jersey was a localized movement for so long, so you have to look at the demographics of a city like Newark. Jersey grew because it provided a form of escapism for local, poorer communities. The music, the choreography, and the social aspect became a way of life for lots of people. The Brick Bandits collective was founded as an alternative to gang culture, with very strict rules and codes of conduct.
The black community is severely underrepresented in electronic music in terms of both artists and fans. Is Jersey club black music?
Jersey Club isn't just black music; it's certainly not made with race in mind. When I make my music, I'm thinking about the dancefloor going crazy regardless of race, background, etc. I want it to appeal to all. The predominant originators in the scene may be black, but maybe that's more a geographical issue. Just look at the new producers in Jersey. Cashmere Cat and Trippy Turtle are middle-class, European white dudes. It's just music to dance to and have fun, no matter the color of your skin.
We see lots of white European and white American acts lifting the Jersey club sound and adapting it to their own: Cashmere Cat, Trippy Turtle, Ryan Hemsworth, Hoodboi. What's your honest and true take on this? Don't be shy.
The reach these guys have is tremendous and the audiences they're exposing Jersey club to help the genre continue to grow and evolve, which is healthy. No one should try and claim ownership on a sound; music is meant to bring people together, and growth and adaption is inevitable. Cashmere Cat is to Jersey club what Hudson Mohawke was to trap or Skrillex to Dubstep. Also, it's a two-way street; our sounds have inspired these new producers and their adaptations have personally inspired me to develop my own sound and explore new creative avenues.
It's sometimes easy to forget that dance music is black music that started in the Chicago warehouses and Detroit techno bins. Continuing on the above question, do you fear Jersey club is at the risk of cultural appropriation?
I do think it's a shame that the wider industry—labels, promoters, media, etc.—focus their attention on the bigger artists, who inevitably overshadow the original purveyors, and the up-and-coming talent in Jersey, who almost singlehandedly created this sound and movement and got it to a certain level. I guess it's just the way that genres evolve, but it does feel unfair that the original producers and DJs don't benefit from the same opportunities as those who have since appropriated the sound; there should be more involvement and respect for the originators.
In any genre, as its popularity grows, there becomes a separation and an underground scene to counter the more commercial end of the spectrum. The underground scene will always be alive and well in Jersey and will stay true to its roots with healthy integrity, regardless of what's happening anywhere else in the world. After all, we have been doing this for 15 years now.
Congratulations, you and your crew have finally launched Brick Bandits Records. In what ways will the label celebrate the past history of Jersey club? And in what ways will it progress its future?
The launch of the label allows us to take full control of what we release. It gives us the platform to provide everyone in our crew, and others geographically out with Jersey, the opportunity to put out good music, whether it's straight-up jersey club or not. The freedom of having our own label will allow us to showcase new sounds and be really experimental and creative. Ultimately, it will allow us to show people what's really going down in Jersey, on our terms.
Brick Bandits Records allows you the opportunity to collaborate with artists and producers beyond the Jersey club genre. How will these collaborations and sonic experiments affect your personal sound, the development of Brick Bandits Records, and the overall evolution of Jersey club?
Personally, I'm inspired by lots of dance music, not just Jersey. I want to incorporate a nod to these other genres in my music, mostly because I really like how it sounds, but also because it helps Jersey to crossover and enhance the genre—hence my EP title Directions. Directions was a bit of a new experiment for Jersey, but it was, thankfully, really well received. I'm sure that will inspire the A&R policy of Brick Bandits Records and the evolution of the Jersey sound in some way.
Where does Jersey club go from here? 
The only way for Jersey club is up. The last year has been incredible. We've seen so much international love for real Jersey pioneers: Sliink, Nadus, UNiiQU3, and myself, among others. I've just come back from a tour of Europe and Japan, which I would never have thought possible, even a year ago.  More and more people are getting hooked on Jersey all over the world, and it's amazing to see it spread globally. We've also seen major labels hitting up producers for a slice of the Jersey sound. It feels like the tipping point for Jersey's mainstream crossover. We've seen it happen before with dubstep and trap. Jersey is perfectly positioned to be the next big dance music genre.
Track List:

/ˈl o͞ o s i d/ ft. Michele Wylen "Voltage"
Foamo "Running"
Maya Jane Coles "What They Say"
Joziff Jordan "Looking 4"
Joziff Jordan ft. Rachel Clark "On My Mind"
Anna Lunoe "BDD"
Agent K, Curtis B "Hit You Wit It" (KMFX Remix)
DJ Fixx "Got That 808"
Patrick Brian " ____DRINK_EDIT"
KW Griff "Bring In The Katz" (Sinjin Hawke Edit)
Major Lazer "Bubble Butt" (DJ Sliink X Big O Remix)
Justin Timberlake "My Love" (Playground Mob Remix)
Hardrive "Deep Inside" (Mike Gip Remix)
Robin S. "Show Me Love" (Mike Gip & Jayhood Remix)
Three 6 Mafia "Stay Fly" (Y2KOALA Remix)
Chris Brown "Loyal" (Hoodboi Remix)
Lido "Money" (R3ll Remix)
TR!CK$ ft. CHLO "Lov3"
A$AP Ferg ft. A$AP Rocky "Shabba" (R3ll Remix)
DJ Snake & Lil Jon "Turn Down For What" (R3ll Remix)
Grandtheft & Smalltown DJs "Flying"
Nadus "Nxwxrk" (R3ll Remix)
R3ll "Ponanay"
R3ll ft. Fluke Nukes "Skylines"
R3ll ft. Tr!ck$ "Booty Go"
Ghost Town DJs "My Boo" (Wave Racer Remix)
Cashmere Cat "Rice Rain" (R3ll Remix)
S-Type "Billboard" (Lido Remix)
Follow R3LL on Facebook | Twitter
---
Share
---
Tags
---
You might also like