Insomniac's Metronome series features mixes from some of today's fastest-rising electronic stars, as well as championed legends. It takes listeners deep across a wide range of genres, movements, cultures, producers, artists and sounds that make up the diverse world of electronic music.
His story reads like a dream come true for any budding music producer out there: plucked from relative obscurity with no social media imprint or massive social following—not even a SoundCloud account where would-be suitors would be able to download or stream the sounds the young Canadian artist was cooking up in his lab. The one they call Bensley went from zero to a 100 almost overnight, when Andy C and the legendary RAM Records imprint responded to a demo he'd sent in to the imprint on a whim.
Only 19 years old and far outside the usual hotspots associated with drum & bass, he crafts a sound that continues to defy easy categorization. While still built upon the DNA of drum & bass in all its glory, this unique sound—merging jazz, ambient, classical, funk, left-field, and pop influences—surfaced on his debut Next Generation album and instantly elevated Bensley's name across the globe.
The mere fact that the young producer came out of the gates with an album project so soon after the release of his first single, "Fandango," was impressive on its own. But as time has since proved, Bensley continues to push the boundaries of the genre as a whole, while continuing to evolve and mature as an artist, holding fast to a sound all his own.
With his latest single, "Under the Sunshine," laying down the celestial vibes for the late summer crew with inimitable style, there's no denying that Bensley is the perfect artist to tap for the wide-ranging statement that a Metronome mix is capable of. With that in mind, check Bensley's "Under the Sunshine" single (out now!) via RAM to warm things up before we dip into the full-on experience of Bensley's 17-track mix—after a short Q&A that fills us in on the past, present, and future of the young artist.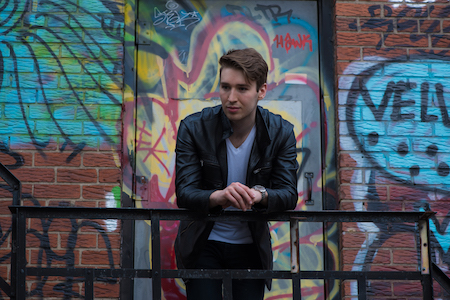 What kind of music do you remember hearing around the house when you were growing up?
From what I can remember, my dad was playing a lot of tunes from '80s bands. My mum was more into classical, and we had a piano in the house that I'd always hear that sort of music from as well. I can't say that any of this was hugely prevalent in developing my current tastes, but it did teach me to be a music lover from a young age.
Tell us about your own experiences as a budding musician. At what point do electronic music, DJing, and production enter the equation?
I started playing the saxophone and studying music theory when I was in the 6th grade and joined my high school jazz and concert bands a few years later. That was around the time I got into electronic music and was interested in producing. Another few years later, I signed to RAM and had to learn to DJ in order to play shows!
At what point did drum & bass specifically enter your world? What was it about that sound that pulled you toward it?
I got into drum & bass through dubstep—a transition prompted by my first festival, WEMF, when I was 16. I was exposed to so much good drum & bass there, seeing DJs like Andy C, Friction, Noisia, Pendulum, and Loadstar! Experiencing it in a live setting made it click with me. Some gateway tunes I rinsed back then were Netsky's "Iron Heart," Pendulum's "Witchcraft," and Sub Focus' "Rock It."
What was it like growing up in Canada? How do you think being outside the usual loop of New York, L.A., London, etc., influenced the development of your sound?
I've always lived just far enough out of the city of Toronto that I never had any real connection with the local scene. I wasn't old enough to attend shows before signing with RAM, and I never knew anyone else who was into drum & bass as much as I was. I guess being isolated like that helped me create music that wasn't influenced by what other people in the scene were doing!
We imagine that a lot of your personal history influences the intricate melodies and chord structures you build into each tune. Is music theory something that budding producers out there should take seriously if they want to follow in your footsteps, even if they don't go to a "school"? Where would you suggest a beginner go to get started with music theory?
I don't think music theory is crucial if you want to pursue electronic music as a profession—just look at the jump-up scene! However, it does help with coming up with original and meaningful musical themes. A good place to start is with ear training—being able to identify chords and intervals when you hear them. There are lots of good free websites for this.
With such a unique sound, and being fairly new to the game compared to some of these geezers, is there a lot of pressure (internally or otherwise) to "conform" and appeal to what might be considered a mainstream drum & bass sound or audience? How do you take inspiration from the genre while still holding your own?
There's definitely some pressure there, especially since I'm in a scene that unfortunately benefits whoever makes the most formulaic tunes. Recently, I've been experimenting with a more aggressive club sound in a few of my tunes, but I try to maintain balance by branching out in other styles as well! Usually the things that make my sound unique work their way into any style I experiment with, whether I realize it or not.
Let's jump into the Metronome mix! For those who may know your work as a producer only, what kind of vibe/experience/journey should they expect when they hit play?
This mix is a bit different from ones I've done before. I decided to showcase a lot of recent dancefloor tunes for the first half and transition into my originals for the rest. I was just on a different vibe when I did this. Hope you like it!
Track List:

Bensley "Under the Sunshine"
Urbandawn ft. Keeno "Still Breathing"
Jack Ü ft. AlunaGeorge "To Ü"
Netsky "Secret Agent"
The Upbeats "Mediums"
Frankee "Skuttle"
Mind Vortex "Shall We Begin?"
Friction ft. Doctor "Mad in the Jungle"
Urbandawn "Foley Funk"
Smooth "Disco"
Bensley "Tiptoe"
Bensley "Outsider"
Bensley ft. Skyelle "One Last Chance"
Bensley "Slither"
Chase & Status ft. MC Fats "Step Away"
Bensley "Fool's Gold"
Bensley "Kilauea"
Follow Bensley on Facebook | Twitter | SoundCloud
---
Share
---
Tags
---
You might also like