Metronome #109: Phlegmatic Dogs
Insomniac's Metronome series features mixes from some of today's fastest-rising electronic stars, as well as championed legends. It takes listeners deep across a wide range of genres, movements, cultures, producers, artists and sounds that make up the diverse world of electronic music.
This being the global community that it is, we often keep up-to-date with a wide world of musicians. But as much as we follow the US, the UK, other European countries such as Italy and France, and the mecca that is Berlin—and we even a venturing fascination with Asian countries such as China, South Korea and Japan—there are more vast swaths of the planet we hear less from here. One such massive force is Russia—an enormous, advanced, diverse and complex nation—but one that also has a long and excellent history of dance music and culture.
Enter Phlegmatic Dogs, the Russian duo of Mr. Frenkie and Dima Demian, who have been making huge waves from their suburban Moscow base. Joining forces in 2010, the two moved from warm, house-filled vibes to down-and-dirty bass sounds that have garnered a fanbase on an international scale. Most notably, they caught the ear of AC Slater, boss of booming L.A. party/label Night Bass. Two EPs later (Weegle and Keepmastik), the duo has become permanent family to Night Bass and its followers. Today, we sit down with the Dogs and do a little catching up. In return, they gift us with a low-end mix of Olympic pool stature.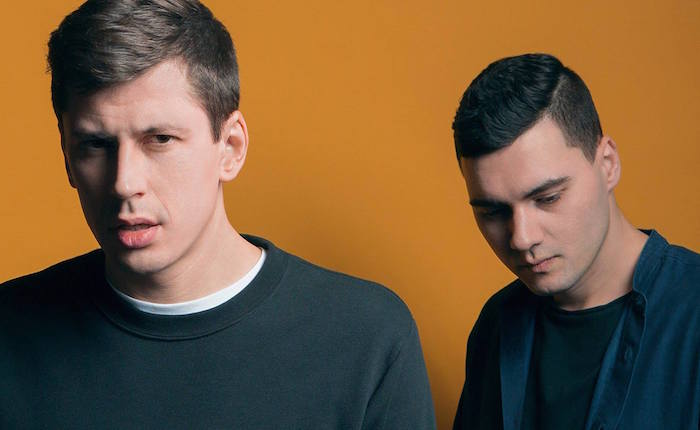 Was there any particular story behind you two meeting up and deciding to start this project in 2010? Where did the name come from?
Demian: I met Slava when I was in his city during my DJ set. It was just a talk about music, life, and interest in each other. We became friends and started to make music. Our first works were very different; we called them "chicken house." It was too freaky for the house scene, but we were trying to find our shit. It was great to exchange experiences, because we worked in different styles of music.
We had too many names [we were considering]. All of them were really different. We were different, too, and liked different things. We often argued in real life. For example, Slava likes blondes, and I prefer brunettes. So, we didn't know which name could be better for us. But we are the same in one thing: We really love dogs.
Tell us about your production backgrounds and other projects. Slava, you seem to have an active public appearance. You've spoken on your love of hip-hop and history with drum & bass production. What about you, Demian?
Slava: I worked with music all my life. Mr. Frenkie is the project of my life. Yes, I am a drum & bass producer mostly, but I always was in love with house music. That's why meeting with Demian became a new story of Phlegmatic Dogs.
Demian: Many years, I worked as a resident of one of the biggest nightclubs in Europe, called Zona Global Club (Moscow). This work gave me many local gigs in Russia. We had some club projects and parties around that time. But all of this is in the past. Today, we spend much time in the studio.
What is the local scene like where you're at, and what are some of the parties/places you play?
Dogs: There are no places in Moscow where you can listen to bass house for real. Sometimes special events make offers for us, but not often. The bass house community is not developed in Russia right now. It's full of Russian commercial radio dance or techno events.
Your latest EP, in particular, was a smooth combination of contemporary dance music and classic sounds (mostly in the house to UKG spheres). What are some of your favorite classic tracks/artists?
Slava: There are too many big names in my head. Perhaps I will choose a little from those I call idols: the Chemical Brothers, Dom & Roland, the Crystal Method, Kemal (Konflict), and DJ Krush.
Demian: Let's take my top five I grew up with: Switch, the Streets, Chemical Brothers, Audio Bullys, and Crookers. And of course, all classic hip-hop scenes like AIM, NAS, Nicolay, Rae & Christian, and many others!
Do you see yourselves hitting the road any time soon, and even possibly coming to the US? Would you be into hosting some of, say, the Night Bass crew in Moscow?
Dogs: Of course, we are working in this direction! This year, we have plans to visit several cities in the States, Australia, and Europe. Dogs will occupy the planet soon. 😉
A lot of big names are very into your music right now. With that kind of fire under you, what do you have planned next?
Dogs: We just finished some remixes for our friends from the US and started to work at new releases. We will also introduce a new collaboration with PROXY soon. And this month, we will start our monthly Dogs Selektah short mixes on our SoundCloud page.
Tell us a bit about the hefty mix you've laid down here today.
Dogs: This is the 45-minute short mix with tracks we will use this spring, for sure. These are new tracks and good, forgotten old stuff that we like. Just listen, and make it louder!
Track List:

Distal "One Up" (Roska Remix)
Murder He Wrote "Watch the Tempo"
Jay Robinson and JM "Hussle"
AC Slater and Taiki Nulight "Psycho"
Billy Kenny and Maximono "Get Off"
AC Slater "Head Knockin"
Phlegmatic Dogs "Keepmastik"
Tchami "Siaw"
Bart B More and Steff Da Campo ft. Simon Franks "Jump!"
Young H and Dread MC "Strip Again"
Sirmo "Badman"
Petey Clicks "Home"
Volac "Do Ya Thing"
Andy George "Big Dipper"
Deadbeat UK "Good 2 Me"
Bromley ft. Dread MC "Gwan Wid It"
Follow Phlegmatic Dogs on Facebook | Twitter | SoundCloud
---
Share
---
Tags
---
You might also like