Insomniac's Metronome series features mixes from some of today's fastest-rising electronic stars, as well as championed legends. It takes listeners deep across a wide range of genres, movements, cultures, producers, artists and sounds that make up the diverse world of electronic music.
The perpetually sunny weather of San Diego may have something to do with the bright swagger that comes through in Hotfire's beats. Yet we're almost certain that, even in the coldest of climates, they would still bring the flames. Sascha Nowlin and Eric Yandall joined forces in 2010, bonding over a shared love for bottom-heavy grooves and sexy beats. In no time, they poured everything they had into their joint project, which has been tearing up the charts and cutting up the dancefloor. With a clear nod to the classic house sound and a love for low-end funk, the boys have a bass-heavy sound that exudes just the right amount of restraint to keep the groove poppin' with the perfect balance of class and cheeky fun.
Last year was a breakout one for the duo. After kicking off 2016 with the release of their Tough Break EP on AC Slater's Night Bass imprint, they kept the steam going with even more sizzling beats signed to powerhouse labels such as Sweat It Out, Punks, and Medium Rare, as well as a monster remix of Don Diablo's "You." Along the way, they managed to squeeze in a North American tour with a stop at EDC, where they slayed their set aboard the Boombox art car.
Their crackin' collab with Sinden, "Twiddle," was just unleashed as part of the Sinden's House Line compilation on Insomniac Records, and we thought it would be the perfect time to have a chat with the rising stars and snag a mix from them, as well. Of course, they threw down a fine selection of sub-flexing grooves.
We talked to Hotfire about how they met, the rave scene in their native San Diego, and their relationship with Night Bass and Sinden.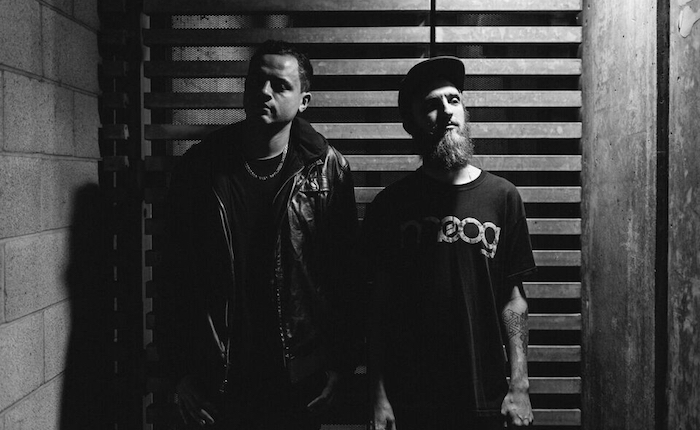 You guys adopted the Hotfire name after already playing together under your separate aliases. How did you initially hook up, and what inspired you to start working together?
Eric: We linked up initially at an underground event. I noticed a wine box strapped to Sascha's back with his face stenciled on the side. I had to have a swig, and the rest is history!
Sascha: We had kinda seen each other around in the scene growing up and trying to get more gigs playing similar types of music, so it was only natural that we would end up hanging out more. I think the pivotal point in our friendship was at Eric's graduation party at his house. We set up a pair of CDJs in his mom's kitchen and got a PA system bumping outside. We went back-to-back for hours playing weird house tunes while a bunch of friends partied till sunrise!
Can you pinpoint when you fell in love with dance music?
E: I remember getting my first mix CD when I was about 12; it was this UKG compilation. I became obsessed with the raw energy. I listened to that thing on repeat. I fell in love with the intensity of it all—the dark, moody tones and bouncy grooves. I grew up listening to tunes by people across the pond, and as soon as I found out that there were parties where people like me could go and just dance, I was hooked.
S: I used to skate with my brother and his friends when I was little, and one of them gave me a house music compilation CD. I was instantly hooked, and it was crazy, because I never knew something like that existed. Once I started hitting the underground raves, I couldn't imagine getting involved in anything else—it was such a sick vibe.
Can you talk a little bit about your music background? Did you guys grow up in musical families?
E: I grew up in a relatively musical environment. My father was the first person to introduce music to me as a performance art. He'd play guitar in our living room until the wee hours of the morning, just because that's what he loved to do. I went to my first concert with my uncle and parents to see the legend Prince (RIP); that experience, to this day, puts the funk in my soul.
My parents put me through piano lessons in the first grade, and I went on to join band in high school. Yep, I was a band geek and on the drumline. It wasn't until I got my hands on my first DAW (Sony Acid Pro 4) that I really decided I wanted to start taking music production seriously.
S: My dad was a radio host for a rock station in San Diego, and my brothers played in bands as long as I can remember, so there was always some type of noise in the house. My older brother always showed me obscure bands and piqued my interest in producing early on, as he was the first person to show me Fruity Loops on our mom's old Gateway PC.
You've both been fixtures in the San Diego dance scene for a long time. How have you seen it evolve since you started performing?
Both: Back when we were still starting out, there wasn't a huge variety of DJs coming through the city. We were underage and couldn't go to clubs, so we would play the underground warehouse parties where we could. We finally caught a break when we were offered a slot at the legendary Voyeur nightclub. Some of the biggest names at the time were playing there, so that was a huge opportunity for us.
As years have passed, the city's dance music scene has exploded into this melting pot, and now we see the dopest tastemakers coming through every weekend. It feels like we've seen the city blossom for dance music, and it's really cool to look back at being a part of that. Coming from renegade raves to festival stages in our own city has been such a mind-blowing experience.
You guys are featured on Sinden's new EP. How did you hook up with him?
Both: Oh, you mean "G"? We linked up with the mysterious master himself at a Night Bass party and bonded on our shared love for fidget/blog house, or whatever we're calling it nowadays. Later on, Sinden hit us up to get in the studio, so we drove up to meet him. He was super down-to-earth with us and made us tacos. We got to hang out with his pups Bijou and Lilou, and he showed us his sweet collection of gear. We started playing around, making some gritty sounds, and started bouncing around the studio—and thus "Twiddle" was born.
You guys are also part of the Night Bass crew. How do you see Night Bass contributing to the wider dance music culture?
Both: All of the artists involved have a unique sound. The fusion of all these sounds, from London to L.A., is what makes Night Bass special. It sets a good example for anyone trying to be themselves yet still fit in somewhere. There's nothing but good vibes at any Night Bass party, and that definitely carries on with the crew long after the night is over. Fun fact: AC Slater asked us if we wanted to meet up for tea in L.A., then asked us to do our first EP on the label and play his Night Bass party the following month. What a gentleman, that one!
You guys played EDC last year. Can you tell us a little bit about your experience there?
Both: EDC is unreal. We've both gone as attendees since '09 consecutively, so going as an artist was such a crazy humbling experience. The Boombox stage we played at—run by Cats & Boots Records—is always on point. They let us keep playing as the event was shutting down, and we rolled out playing tunes into the sunrise. It was wild—not only to be able to perform, but also to be able to meet artists that we look up to that were familiar with who we are. It's always been such an inspirational event for us, so being part of it kind of just leaves you speechless.
Track List:

Ciszak "I Want"
DEL-30 "Judgemental"
Sooney "Back to the Music"
Rare Candy "Speed of Sound"
LondonBridge "Sound of the Underground"
Chris Gresswell "Ventriloquist"
Sinden & Hervé "Body and Soul"
Sinden & Hotfire "Twiddle"
Hotfire "Shook"
Mike Metro & Torren Foot "Crenshaw"
Martin Ikin & Low Steppa "Kontrol"
Codes "Bring tha Bomb"
The Potato Heads "No Control"
Dilligas "Jack"
Hervé ft. Phizzals "My Love" (Maximono Remix)
Funky Fool & Soul Surgery "Honeybadger"
Hybrid Theory "Gucci Coat"
Petey Clicks "Awake"
Mikey B ft. Ray Dee "From Me"
Jaded "In the Morning" (VIP Remix)
FELIX & Rrotik "Boom, Boom, Boom"
LO'99 & Marshall F "Fallen"
Petey Clicks & Hotfire "U No I"
Jay Robinson "Rubber Dub"
Volac "Shit Man"
DJ Dan & Fleetwood Smack "Do 2 U"
Follow Hotfire on Facebook | Twitter | SoundCloud
---
Share
---
Tags
---
You might also like