Metronome #060: Louisahhh
Insomniac's Metronome series features mixes from some of today's fastest-rising electronic stars, as well as championed legends. It takes listeners deep across a wide range of genres, movements, cultures, producers, artists and sounds that make up the diverse world of electronic music.
Don't call it a rebrand. She may have axed the "!!!" from the end of her moniker, but this vehement producer is still the same forward-thinker she's always been. Many have referred to her as the "Queen of French Techno," but in her heart, she will always remain a brave warrior who is heralded for slashing away at the formulaic and giving hell to genre roles in dance music.
Never compromise. Never surrender. These words were likely reiterated in her mind as she took each step on her way to the top of the underground kingdom. Brought up alongside the all-dude Bromance roster, Louisahhh would rather not be labeled as one of the guys. She's very vocal about the disparities between male and female in our industry, but equal opportunity isn't the reason she's come all this way. With thick skin as her armor and dark, edgy productions her sword, and a battle-cry on the mic you'd easily follow into war, her highness wholly deserves the techno throne.
With the launch of her own RAAR Records with frequent combatant Maelstrom, the NYC-bred proves her only priority is the sanctity of unadulterated arts of all forms. The label is laying it on all the table, as it releases sounds banks, beatapplellas and more that will be packaged with poems or visual works goes to show she's on the side of the creative soul.
It's crystal clear Louisahhh is in this for all the right reasons, why is why she won't be usurped any time soon. As she continues making strides as rave royalty, we tapped her for an hour-long mix to see where she's currently at musically. The verdict is: she still has it.
I noticed you dropped the exclamation points from the end of your moniker. Was there any specific reason for wanting to do so?
I chose my name when I was 18 years old, and I just turned 30. I am in a super different place, and while I am still "a warrior, shrieking with delight," as my biography reads, I am also a grownup. I don't feel like I need to shout to be heard these days. It's not so much a conscious rebrand as an evolution of both my person and my persona.
"Our demographic isn't necessarily crust punks drinking 40s in Tompkins Square Park, wearing Subhumans patches on their bondage pants."
You've recently launched your own label alongside longtime collaborator Maelstrom, and the imprint has been framed as a techno label for punk rockers. Can you walk us through why this has been your decided demographic?
RAAR's mission statement is "A techno label for punks, a punk label for techno-heads."
Maelstrom and I founded the label with this attitude of truly making it a labor of love. We don't want to please anyone; we are doing this because it's necessary in order to put the work we feel is important right now into the world. This self-supporting model is super punk-rock; we don't need to answer to anyone or cater to a broken system. Our releases are pressed to vinyl, because the object is important in establishing worth in a tangible way, but all music is also available for pay-what-you-want, digitally, in addition to sharing open-source extras: sound banks, weird versions, beatapellas. Our demographic isn't necessarily crust punks drinking 40s in Tompkins Square Park, wearing Subhumans patches on their bondage pants (though we will certainly not turn anyone away who wants to support us); it's more people who are fed up with modern techno being an exercise in branding, who are disillusioned by the present structures of power in dance music and are interested in shaking things up.
If you were to create a Venn diagram, what bullet points would be living in the overlapping section between techno and punk?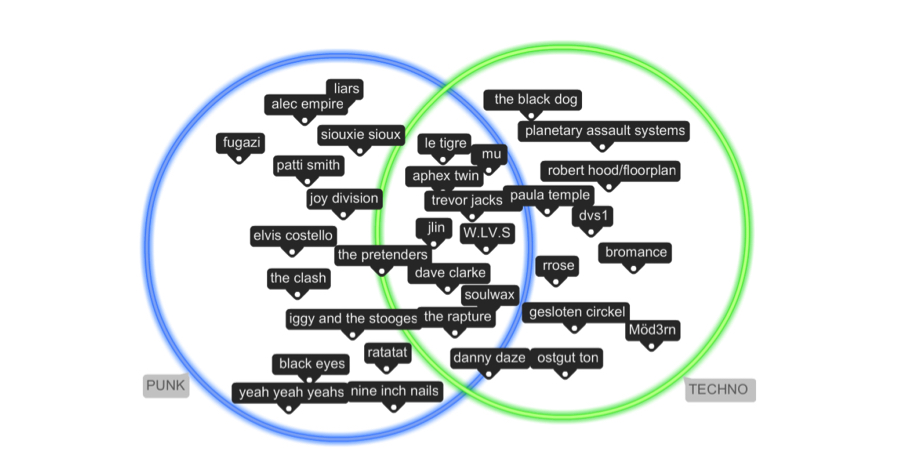 The imprint has seemingly rolled out a welcome mat for the punk crowd. Do you think that open-door philosophy is reciprocated to techno heads from the punk scene?
I think genres are a stupid construct meant to segregate "scenes." I believe in people finding their own lane, of course, but I don't believe it has to be limited to a little niche with gatekeepers delegating who's in and who's out. To be honest, I think the music on which the punk movement was founded in the 1970s is dead; in fact, most music with actual instruments is kind of archaic—not that I don't really love a lot of it, but it is not music of the future, certainly.
All that being said, the energy and ethos behind what makes something "punk" is important, perhaps now more than ever. Maelstrom and I played at a club in Sydney last summer, and it was a super fun night, but looking around I was a bit disheartened to see everyone was really beautiful, young, and "cool." This is not who I was growing up; this is not who saved my life when I was a weird, self-loathing teenager; this is not who taught me how to be who and what I am and made me okay with it. I think it's important, in the most punk-rock way possible, to make room and celebrate the freaks, the weirdos, the people on the margins. It is the responsibility of any subculture that claims "underground" to hold space for those of us who don't fit in anywhere else, so there is still somewhere that is free, still an envelope outside of "cool" that can be pushed, still a place to nurture the upsetters. This is what RAAR is for. I recognize that a lot of these statements I'm making (or the way in which I'm making them) are possibly the product of the amount of coffee I just drank; that's not an apology, but it's an invitation to prove me wrong. Come at me.
The label kicked off with the Roijacker project, with an intimidating list of collaborators sharing a single studio space. What sparked the union of this super-group, and how often do you aim to put out new shit from them?
As legend has it, Maelstrom was talking to Dave Clarke (the Baron of Techno) and asked if he had any work that he might be interested in releasing with us, and Dave mentioned this insane super-group that he, Black Asteroid and Mr. Jones had been working on. Apparently, the music was so abrasive that other labels were afraid to release it, so we thought it sounded perfect for us. We're not sure what the release plans are for Roijacker, because I know everyone involved is incredibly busy, but I can almost certainly say that any music they want to release with RAAR, we'd be happy to be the stewards of.
I read an interview where you claimed to have suffered from stage fright, but this was back when you were in a band. What is it about being behind a DJ setup that has helped calm your nerves, especially considering the focus is turned completely on you in such scenarios?
When I first started DJing, it felt like a much more anonymous endeavor; it was maybe the last vestige of DJs not being rock stars. Instead of staring at you, people would actually be dancing with each other and interacting; there wasn't such spectacle involved. When I first started, I was playing zero original music, because my forays into production happened after I had been a DJ for six or seven years, so this alleviated a lot of pressure. It felt like being just a channel, sharing music I loved.
At what point did you realize the band situation didn't add up, and producing techno and DJing made more sense in your head?
The first moment I started DJing, I realized it was a totally different thing for me than performing on a stage. I felt a lot more available for inspiration and less terrified, because it was much easier to kind of guide the energy in the room, create a vibe. I was also not playing techno at all, per se; I was playing a lot more of the "punk" side of the Venn diagram pictured above.
Share a few words on your mix, please. Do any of the tracks or transitions carry extra weight for you here?
I was feeling particularly aggressive when I was recording this, as you might hear. It's been a rough month, and the creative life and emotional state are inseparable, for me. The mix is cathartic and powerful—even irreverent at times—but ends in a really fragile way. It feels very genuine, and I am grateful to have been a channel for it.
Track List:

Headless Horseman "Bridge of Dismay"
Unsubscribe "Bend Down"
Electric Rescue "TT 139 R"
Maelstrom "Diameter of Recess"
Surgeon "La Real Pt.1"
Erasmus "Ti Ricordi Di Mi"
Syclops "Where's Jason's K"
Executive Slacks "The Bus"
Levon Vincent "Woman Is the Devil"
The Black Dog "Heavy Industry" (Shifted Remix)
Sleeper "Structure 3"
RRose "The Surgeon General" (No Child Left Behind)
The Original Drug Dealer "Fail Youth New Mix"
AX/P "Mutiny"
Mike Parker "GPH17B2"
Technobox Room 506 "Schmiddster"
DJ MML "Communication Therapy"
Elad Magdasi "Finger Tip" (Matrixxman Remix)
Sufjan Stevens "Fourth of July"
Follow Louisahhh on Facebook | Twitter | SoundCloud
---
Share
---
Tags
---
You might also like