Insomniac's Metronome series features mixes from some of today's fastest-rising electronic stars, as well as championed legends. It takes listeners deep across a wide range of genres, movements, cultures, producers, artists and sounds that make up the diverse world of electronic music.
Continuing their meteoric rise to the top, the New York duo known as YOOKiE continue to crush on all fronts. Whether it's collaborating or remixing the likes of Slander, NGHTMRE, Dillon Francis, Skrillex, or the Chainsmokers—on through to their own bassbin-rattling originals—YOOKiE have been snapping necks and twisting skulls without pause in a nonstop assault on the senses.
Better known to their friends and fam as Anthony and Chris Alfaro, the straight-up legit brothers have not only made their love of music a family affair, but through an almost obsessive work ethic continue to push each other to continually elevate their sound. With their latest collaborative heater "Genocide" still punishing dancefloors worldwide, there's no denying that even when the crew is locked in the studio with another heavyweight producer (Kompany, in this case), the results are still distinctly their own. From cinematic atmospheres to crisp and crunchy percussive elements bouncing off an unholy bassline, YOOKiE prove that everything they touch is dancefloor gold.
We sat down with the long-haired headbangers to get a glimpse at the past, present, and future of all things YOOKiE before dipping into an epic Metronome mix that's sure to have you and the squad amped for their appearance at Escape next weekend.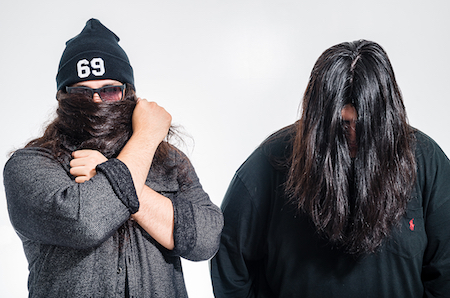 Let's go back to your roots. What kind of music do you guys remember hearing around the house when you were growing up? Are there any musicians in your family? And let's be real, did you guys have long hair even back then?
Anthony: We were born with a head of hair just like this. Also, we used to spend a lot of time at the carnival growing up, so we would just listen to the carousel, and those very sounds from back in the day are what inspire us to make music today.
Chris: I played the trumpet, but then I didn't like waking up early to go to the school band practice, so I stopped.
Anthony: I play the guitar, too.
At what point does electronic music—and bass music, in particular—enter your world? What was it about that sound that pulled you in?
​Anthony: It just sounded so futuristic and next-level and nothing like we were used to. ​The sound was crazy as fuck, so we submerged ourselves into the culture and scene, and now we're riding this wave, making other waves, just chillin' in a sea of all these lovely people.
Which came first: DJing or production? Who are/were some artists you looked up to when you were coming up?
Anthony: Production, for sure. Some artists we look up to are Skrillex, ​Big Chocolate, Flosstradamus, Baauer, and RL Grime.
You guys were all about this life at a young age. Did you always think you were going to make it in the music world? If for some reason shit didn't work out, what would you guys be doing as day jobs right now?
Anthony: We never had the option of a fallback plan. We were just so focused on accomplishing what we wanted to do, that it's not something we have thought about, really.
Chris: It was never not going to work out. We had the attitude that no matter what, it's gonna work out. This is what we're doing. If it's not electronic music, it would be something else with music.
I'm assuming you guys are not twins, but when we hear of brothers working together in the studio, we can't help but think there's some extrasensory communication going on. Is that the case? Do you guys have a secret language that only you can understand?
Anthony: Absolutely not. ​We just know how we function and how each other work. We basically have the same ideas. Chris will say something, and I'll be like, "I was literally going to say that." When we have ideas, the challenge is figuring out how to verbally communicate them. But nah, no secret language—that would be cool, though.
Speaking of secrets, what do you see as the secret to your success?
​Anthony: If we told you our secret, then…
Chris: … we'd have to kill you.
Anthony: If you wanna do this, then you have to be selfish with your time. You have to really focus on honing your craft. It's not just like an overnight thing that's gonna happen. You're not just gonna pick up an instrument and be mad good at it; you're not just gonna open up a laptop and produce a #1 hit. You have to really practice your craft, and that's the only way you're going to get better. Basically, dedicating your whole life to music has been what's helped us.
This past year has been a mad blur, no doubt, as you guys continue to crush it in the studio and on the stage. Have you had a chance to let it all sink in? What are some of the main highlights that stand out for you?
​Anthony: It hasn't really sunk in yet, 'cause we're still constantly doing stuff. But when I think back, I'd say that some highlights were definitely playing Webster Hall in January. ​To be honest, the whole year has been one giant highlight of our life.​
Chris: Going to Australia was kinda crazy; hype to be going back in November.
We have to geek out a bit on the sound design on "Genocide." Give us a sense of how that tune came together, and drop just a little taste of the kind of advice you'd give to someone coming up, hoping to follow in your footsteps in crafting their own tunes.
​Anthony:​ "Genocide" was an idea that Kompany had, and I took his synths and basses and basically like resampled them and modulated them in this way where the pitch was shifting and stuff.
I like resampling because that's a way to get a unique sound, where most people just use Serum or something, and it just ends up sounding like a lot of other things that are out. My main suggestion to people, if they want to sound unique, would be to try to master the whole resampling technique. Other than that, it basically comes down to experimenting and trying new things.
Let's jump into this mix. For all those heads out there that have yet to catch you live, what should they be expecting?
Chris: Lots of songs they haven't heard before, weird sounds…
Anthony: A lot of energy. And yeah, don't expect to hear 150 BPM the whole set, 'cause we like to go all over the place​. I hope they're ready for some… stuff.
Any last warning to the masses before we catch you live and in the flesh at Escape?
​Anthony & Chris: Decalcify your pineal gland before it's too late​.
Track List:

YOOKiE x PhaseOne "ID"
Dubloadz & Virtual Riot "Don't Get Spooked"
Yo Majesty "Club Action" (ATLiens Edit)
Kendrick Lamar "Humble" (Skrillex Remix)
Excision & Space Laces "Throwin' Elbows" (Wooli Edit)
Excision "Generator" (Eliminate Remix)
YOOKiE x Wooli "Voodoo"
YOOKiE - ID
Mastadon "Casket"
Zomboy "Likehttps://www.insomniac.com/ a Bitch" (Kill the Noise Remix)[Kill the Noise VIP]
12th Planet & Barely Alive & PhaseOne "Send It"
Eliminate "Snake Bite" (VIP)
Riot Ten "Rail Breaker" (YOOKiE Remix)
Badklaat "Knuckle Sandwich"
YOOKiE "Intruder Alert"
Skrude - ID
Nitti Gritti "Lights"
Carbin x AFK - ID
Dion Timmer - ID
Slander "Dead" (YOOKiE Remix)
Skrillex "Scary Monsters and Nice Sprites" (YOOKiE's "This Kills It Live" ViP)
Skrillex & Habstrakt "Chicken Soup"
Luude "Don't Leave Me" (Quix Edit)
k?d X Medasin "1234"
Kovalenco Gennadi "Moda"
Excision & Dion Timmer "Mirror" (Kai Wachi Remix)
Valentino Khan "Hello"
YOOKiE x Jameston Thieves - ID
Sex Whales - ID
Flakxx x Aryaxz "Bad Render"
Herobust & Monxx "Giant Squiddim" (Bandles Remix) w/ Svdden Death "Prismatic"
Ivory "93 Style"
Kompany - ID
Kompany x Basstrick - ID
Nitti Gritti - ID
YOOKiE ft. Brewski "Drip"
Black Tiger Sex Machine & YOOKiE "Lions"
Slander & YOOKiE "After All" (YOOKiE ViP)
Follow YOOKiE on Facebook | Twitter | SoundCloud
---
Share
---
Tags
---
You might also like