Metronome #101: Klingande
Insomniac's Metronome series features mixes from some of today's fastest-rising electronic stars, as well as championed legends. It takes listeners deep across a wide range of genres, movements, cultures, producers, artists and sounds that make up the diverse world of electronic music.
When Klingande released his breakthrough hit "Jubel" back in 2013, it swooped in like a breath of fresh air. While pairing acoustic instruments with house elements has been done before, it was his use of live sax and piano that allowed him to connect with an entire generation of dance music heads who had not yet been exposed to the soulful side of house music.
Alongside contemporaries like Kygo and Klangkarussell, the young producer's deft ability to fuse the euphoric drive of dance music with the rousing mass appeal of sing-alongs has garnered him hundreds of millions of plays and a multitude of fans throughout the world under his "melodic house" aesthetic.
Encouraged by his parents to pursue a classical education in music theory, young Cedric Steinmyller instead followed his blossoming love for dance. After returning to France from his time at the revered Point Blank Music School in London, he set himself on a direct trajectory to join a lineage of French producers who have cracked the code of creating timeless music.
His creativity has expanded far beyond the studio with stage shows that incorporate the same crossover vibe of his recordings. As Klingande throws down on the decks, he is joined onstage by live saxophone, strings, guitar and drum players, as well as a host of vocalists, which adds an organic vibe to the spectacle that is his performances. He has set himself leagues apart from other artists and still manages to evolve with every performance and release.
We caught up with Klingande to chat about joining the scores of other groundbreaking French artists who came before him, his love for DJing, and what inspired him to be the first artist in history to livestream a music video.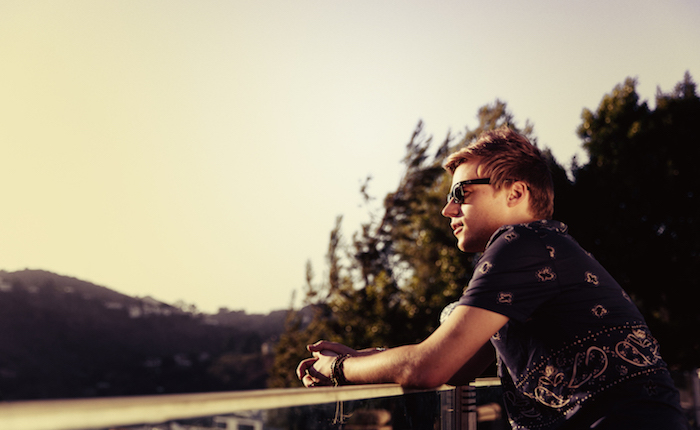 France has a long history of exporting successful dance music acts. What do you think makes an artist able to move into worldwide acceptance?
I think what makes French producers so successful and helps them to spread over the world is their ability to play with samples and create real gimmicks in house music. From the Supermen Lovers, Daft Punk to David Guetta or Bob Sinclair and more, they all played with samples and added these gimmicks to it that everyone remembers and sings. It's also important to notice that electronic music is one of the only universal genres spreading throughout the world, cultures and people really easily.
Love is a central theme in your music. Do you think that has helped to create a stronger emotional connection to your listeners?
I'm not sure. Of course, it's a central theme in the songs, but the melodies behind it create more emotional connections, I guess. If you look at "Jubel," the lyrics are not the most important part, and people still have this song in their heart.
Your video for "Somewhere New" was the first-ever video to be recorded as a livestream on Facebook. What inspired you to go with that concept?
We were thinking about doing something new. I said from the beginning in this project that I didn't want a classic girl/beach/summer video, and we looked for different ideas. In the end, the team from At Night Studios came to us with this livestream video project. I wasn't sure if it was realistic at the beginning, but I decided to do it anyway, for the challenge.
You always aim to bring organic elements into your music. Do you ever see yourself producing a full live show without a DJ as the centerpiece?
I think a lot about it, but I love DJing; I really like that. And If I choose to do a full live show, I'll be like a lot of other acts—that's how I feel. The real difference when you see Klingande is that you have me as a DJ, and that's what I do best: working with musicians. That's why my show is so special.
Talk of a Klingande album has been thrown around almost since you first emerged. What would an album look like, in terms of style and diversity of sound?
Yes, I talked a lot about it. I know one day I'll come out with an album. That's what I'm working on this year: different songs, different vibes. I'm working with different musicians, producers, singers, etc. I think there will definitely be different inspirations in my album, and different experiments with music. I can't tell you more, because I'm working on this and I don't know which songs and projects I'll keep in the end.
Track List:

Captain Cuts "Love Like We Used To"
Sons of Maria "Take It to the Beat"
Alok & Bruno Martini ft. Zeeba "Hear Me Now"
Destiny's Child "Say My Name" (Matthieu Koss Remix)
Cyril Hahn ft. Hoel Ford "Last"
Rihanna "Needed Me" (Laibert Remix)
Michael Calfan "Over Again"
KDA ft. Tinashe "Just Say" (Cassius Remix)
Cazzette "Static" (Matthieu Koss Remix)
Vintage Culture, Selva, Lazybear "Why Don't You Love"
Oliver Heldens "I Don't Wanna Go Home"
POOLCLVB "Always"
Dia Frampton "Golden Years" (KC Lights Remix)
Martin Solveig ft. Ina Wroldsen "Places"
UnoMas (MIA), Teo Mandrelli & Damon Grey "I Believe"
Throttle "Hit the Road Jack"
Follow Klingande on Facebook | Twitter | SoundCloud
---
Share
---
Tags
---
You might also like