The birth of our underground brand Factory 93 not only brought on an adrenaline rush reminiscent of the renegade warehouse era of raving—on which Insomniac was founded—but it also had us thinking back to all the people, places and parties that made this whole operation possible. And with that came a burning desire to crack open our collection and dust off the classic records we couldn't live without. Through our From the Crates series, we break out seminal and obscure cuts alike, imparting some knowledge in the process.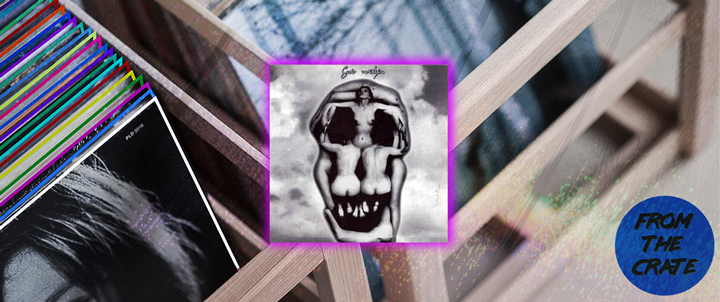 Scott Hardkiss' debut single under his God Within guise is a time capsule of early-'90s San Francisco rave culture. "Raincry" was released on white 12-inch vinyl with a provocative center label and cover, both extracted/sampled from In Voluptas Mors, a 1951 collaboration between photographer Philippe Halsman and surreal legend Salvador Dalí, featuring seven nude models painstakingly posed to create a composite human skull.
The cover art for "Raincry" stood out from the dance music marketplace as much as the music did, floating on its own planet of transportive creativity, and it remains one of those special vinyl releases that leaned away from the pack. And it absolutely reduced people to puddles of emotion on the dancefloor. "Raincry" was an ambassador of an emerging San Francisco sound and ethos to the rest of the world.
The first limited-edition vinyl release features the 10-minute "Raincry (Submerged)" on the A-side, but many DJs gravitated toward the shorter and punchier "Raincry (Spiritual Thirst)" on the B-side, which made it onto the Hardkiss Delusions of Grandeur collection, which was first released in 1995 and then remastered and re-released in 2015. The Spiritual Thirst version gives you the central vocal that conveys a million feelings with one epic "oooh yeah"—lifted from movie music God Hans Zimmer's "The Rainmaker," which came out the year before on The Power of One soundtrack.
"I found the vocal sample on a movie soundtrack in a CD store in the Richmond District in San Francisco," recalls Robbie Hardkiss, who remains Scott's brother in sound, along with Gavin Hardkiss. "I was pretty excited to use it but came home one day to Scott and Gav working in the garage on our three pieces of gear (an EMU sampler keyboard, a turntable, and a little Roland sequencer) and using that vocal sample. I was a little pissed off inside but never said anything. Plus, it sounded so great, and I could never have done what Scott did with it, so I got over that pretty quickly. They also sampled one of the opening chords on Orbital's 'Belfast,' and Roger Daltrey singing 'Love Rain on Me' from the Who's Quadrophenia—not an entirely legal production."
"After getting the song started… Scott and Gav went to work with the Ultraviolet Catastrophe guys on it in their garage studio in Silicon Valley. It should be known that Jeff Taylor and Jon Drukman [of UVC] played a big part in the gorgeous production of that record. We were babies as engineers at that time. They had a lot of gear and knew how to use it. Scott 100 percent wrote that song and fully led that production, but those guys helped Scott get those gorgeous synths sounding like they do."
"Jeff really sweated the details on the mix. He listened over and over, scribbling notes on a yellow pad. He would get up early before work to tweak the mix, even without the Hardkisses present."
"I had bought a 30-second sampler for like $3,000, and I loaded it up with some samples that Scott had found," Gavin Hardkiss remembers. "The vocal came from the CD of the soundtrack from the Power of One, which Robbie owned. There was some loopy sound effect that we grabbed from one of Jon Williams' records. The strings came from an Orbital record. Scott was a master of arrangement, and we crafted a simple sequence without too many bells and whistles. So, we had this demo, and the guys from Ultraviolet Catastrophe opened up their studio to us and helped mix the song, adding those lovely arpeggios and a solid final mix. Scott knew what he wanted, and we spent hours at the studio in Belmont, making the break louder and fine-tuning sounds that only he could hear."
"Jeff, Mike, and I had formed the Ultraviolet Catastrophe in 1992 and wanted a place to pool all our gear to create one big electronic music studio," Jon Drukman explains. "In 1992, this was not a common or easy thing. We found a house in Belmont with a finished garage—the ideal setup for our studio. Belmont is a sleepy little town 30 minutes south of San Francisco, and making all these DJs and artists travel down to the burbs was vaguely hilarious to us. We did three singles with the Hardkisses there. On 'Raincry,' I remember encouraging Scott to be more hands-on. At one point, he asked for a bongo part. I loaded the sound, and where previously I would have just played some ideas in for him, this time I said, 'You do it.' He rose to the challenge. Jeff really sweated the details on the mix. He listened over and over, scribbling notes on a yellow pad. He would get up early before work to tweak the mix, even without the Hardkisses present. It takes a lot of work to make a track sound as effortless and inevitable as 'Raincry' does. I'm happy it still means a lot to people 25 years later."
"When we got it on vinyl as the fourth release on Hardkiss Music, the response was beyond anything we could have expected," Gavin says. "And the song sounds impeccable 25 years later."
Scott Hardkiss (born Scott Freidel) passed away in 2013 at age 43 of a cerebral aneurysm, but he left behind immortal music infused with pure passion.
---
Share
---
Tags
---
You might also like