How to Talk to Your Kids About Trance
Trance music is still one of the most common and universal forms of modern dance music, even though it largely eludes mainstream recognition. It's a style that's burned hard and long for going on 30 years now, and it's graduated to become sort of the classic rock of big-tent dance music.
Like the pills with which its forebears were often associated, trance is pure, concentrated melodrama in electronic music form, meant to stir you and twirl you before ultimately melting your heart into one big PLUR'd-out sunset.
At times saccharine and at times more psychedelic or dark, trance is almost always a bombastic affair. There are many substrains of trance, but I'm here to talk about the down-the-middle, true blue trance trance. Uplifting trance—as it's often referred to—is space opera, melodramatic to the core, yet populist and inviting. It's all-ages music gushing with a spectrum of uncynical emotions.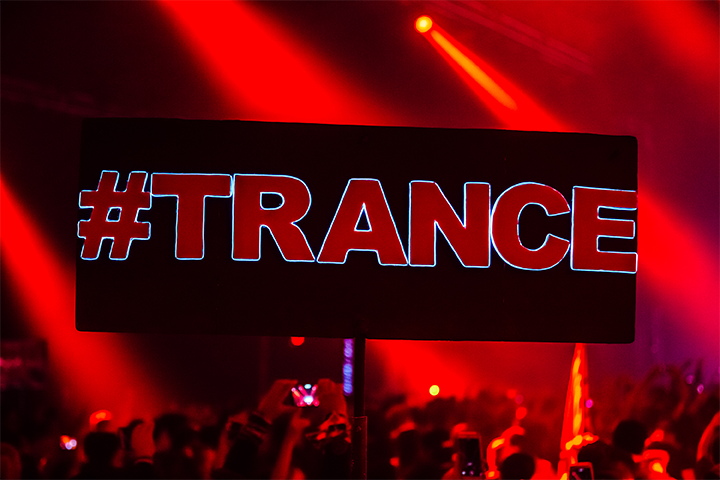 We now have household trance names like Armin van Buuren, Paul Oakenfold, Paul van Dyk (there are many Pauls in trance, FYI), Markus Shulz, and everything in between. Rarely subtle, trance is athemic by definition. It's bursting with melodies you can hum along or fist-pump to. There has become a sort of formula to what we call trance now. Its detractors are bored by this, but its fanatics have drawn very clear lines between the classical's mathematical construction and the compositions at play in trance.
Beyond the theoretical, trance is functional music. It's music for raving, born out of early raves and later brought to big-time parties and festivals. It's big, fat theatrical music that serenades your inner theater kid—or just your inner kid. It's typically a bit faster than your average house or disco, with BPMs anywhere in the 120–150 range.
Trance was born after disco became house, and later, techno. Its emergence in the late '80s coincides with the birth of Balearic, rave, and the second summer of love in the UK. Proto-trance cuts like the KLF's 1988 "What Time Is Love (Pure Trance)" showed this beautiful, intense promise of what trance and progressive house would later touch on. Acid house and even Belgian new beat were likely influences on the early wave of trance sounds that were rolling out in the late '80s and early '90s.
By the end of the 1990s, trance—like tech culture behind it—was experiencing a monumental boom in mainstream culture around the world. The superstar DJ, essentially birthed from the rave scene, continued growing in the trance scene to gargantuan scales, with DJ fees reaching absurd, unsustainable heights.
Dance 2 Trance was a trance duo making tunes in a reunified Germany. Their 1991 track "We Came in Peace," a celestial bit of early trance, is still cited as one of the scene's early classics and features a sample of astronaut Neil Armstrong talking about the US's agenda in the space race—but flipped to be more abstract. This was on the more ambient, more mellow side of trance.
A year later, Germany's Jam & Spoon would drop several seminal trance 12-inches with tracks like the romantic, piano-touched "Stella" and a blistering remix of "Age of Love" by Age of Love. The latter in particular showed the dynamic, dramatic possibilities and did so with a killer arpeggiated bassline and angelic disco choir, which conjur that Outrun-like vibe of hauling ass down the Autobahn, pushing 110mph. Classic.
As the decade wore on, German producers were still leaders of the trance explosion, with the likes of Dr. Atomic's "Schudelfloss" and Energy 52's "Cafe Del Mar" lighting up raves the world over and inspiring the spread of this sound across Europe, the States, and Asia, most famously.
In 2014, FACT called this primitive phase of trance "the three years or so when trance's identity gradually emerged from the drug-doused experiments of a bunch of Frankfurt techno-heads, British new-age cowboys and various wideboys on acid were fervid times, with an awful lot going on that people are probably best off forgetting."
Things started to get smoother and more refined (and less feral) in the mid to late '90s, as technology improved—and became more affordable—and producers generally became more sophisticated and capable of achieving a polished sound. Likewise, melody became ever more prominent.
Melody in trance is generally a big deal. The whole "uplifting" part? That comes from dramatic chord—and often key—changes. Trance DJs popularized the practice of mixing in key, which means you mix in the same key or use specific other keys to jump to, in order to achieve harmonious blends. This lends transitions between songs an exaggeration or pronounced shift in mood. Here's the basic theory behind that. If you wanna be a deified trance lord, you must learn how to mix in key.
So, a whole new slew of trance DJs and producers started to crop up across Europe. (Meanwhile, Goa trance developed a few thousand miles away on its own psych-y path, but that's a story for another day.) Vocals started cropping up in trance—and not just samples, but full verse-chorus-verse sort of compositions—gaining an ever-increasing prominence in the genre. Lyrically, there's not much to separate trance from general top-40 pop lyrics, in that they both go for big, universal themes that match the galactic scale of the music.
Check out Armin van Buuren's "Tuvan":
Or "Forever Today" by Tiësto:
Paul van Dyk's "For an Angel" is still one that delivers goosebumps:
As the '90s progressed, titans like Sasha, Digweed, and Paul Oakenfold would emerge, as well as W&W, Cosmic Gate, and Ferry Corston. This is the golden era of trance, as this wild dance music gradually moved from the underground fringes to the foreground of the mainstream. Think of Darude's unavoidable and seminal hit, "Sandstorm," which became a crossover monster.
By the end of the 1990s, trance—like tech culture behind it—was experiencing a monumental boom in mainstream culture around the world. The superstar DJ, essentially birthed from the rave scene, continued growing in the trance scene to gargantuan scales, with DJ fees reaching absurd, unsustainable heights. But the superstar DJ market crashed at the end of the decade under its own enormous, top-heavy weight.
The mainstream moved on from trance in the early '00s—at least here in the States—and while still hugely popular throughout the '00s in America, it existed on the fringes in many ways. The trance festival circuit was healthy at this time, but some of the glut of the '90s still left a bad taste in some people's mouths. That is, of course, until the emergence of EDM in the US around 2012, which turned mainstream American music on its head and included a trance renaissance we're still enjoying.
Yet trance never went away. As the millennium turned, plenty of new jacks were ready to inject fresh blood into the scene. Above & Beyond—British threesome Jono Grant, Tony McGuinness, and Paavo Siljamäk—emerged at this time and haven't looked back since. Tracks like their breakout "Volume 1" and "Air for Life" established them as new heavies in a scene the press had written off but would plow forward regardless. Helping keep the torch lit during this more dormant period, Above & Beyond's radio show Trance Around the World lasted nearly a decade before turning millions of millennials on to this ever-evolving sound.
Trance was a utopic soundtrack to our tech-friendly, optimistic, increasingly globalized world at the end of the last century and is still a gateway sound for many to get into electronic music at all.
---
Share
---
Tags
---
You might also like