EDC Debut: Hermitude's 20-Year Journey to cosmicMEADOW
Many artists made their debut on the EDC Las Vegas stage last year. In the EDC Debut series, we relive the stories of their first time Under the Electric Sky.
In the more than 20 years that producers Angus Stuart, aka El Gusto, and Luke Dubber, aka Luke Dubs, have spent working together, they have logged countless hours in rehearsal spaces and recording studios as they crisscrossed the world's stages. While their journey as creative partners has landed them in their current project as the duo Hermitude, their longstanding musical bond began more than two decades ago. Both Stuart and Dubber experimented in various jazz and funk bands, eventually rising through the ranks of the underground hip-hop and beat scenes in their native Australia. And last year, their ongoing sonic evolution finally led Hermitude to their debut on the EDC Las Vegas stage.
In a saturated culture where everyone and their mother is a DJ, Hermitude stands apart armed with a live canon: their array of synths, samplers, and drum machines at the ready to twist and smash their own original productions and remixes together on the fly. Oh, and there are turntables up there, too. On the final night of EDC Las Vegas 2016, they wove a web of bass-forward, beat-heavy bombs that caught thousands of Headliners in their snares. Fresh and forward-thinking, with just a hint of nostalgia and analog warmth, their sound hit the EDC masses for the first time ever.
We caught up with Hermitude to relive their debut at EDC Las Vegas and to talk about their inaugural experience Under the Electric Sky.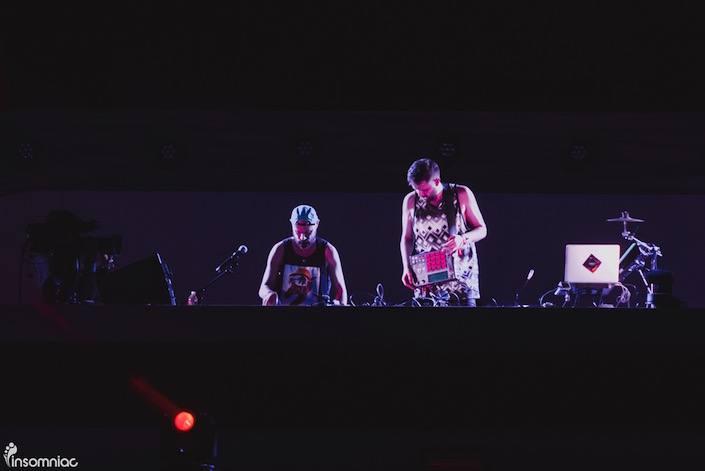 You have been performing together for over 20 years. Was there something decidedly different about your debut performance at EDC Las Vegas?
We were definitely a bit nervous playing EDC, as it's probably one of the biggest shows we've ever played. But we just went in there with the same mindset we have for all our shows: "Let's rock the shit outta this gig and hope the people go crazy and enjoy themselves!"
The beat scene in Australia has exploded over the last few years. The EDC lineup was full of Aussies in 2016. How did it feel to be one of many bringing the Australian sound to the States?
It was amazing! It felt a bit like a hometown reunion backstage [laughs]. Seeing all of our mates coming over and smashing festivals in the States really makes us feel proud.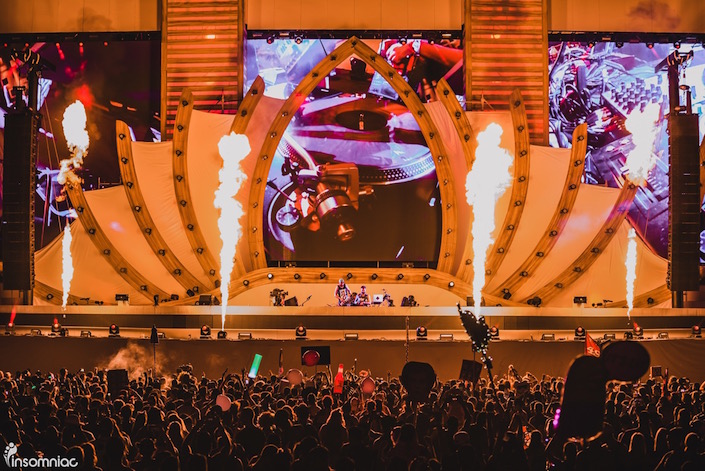 After more than two decades performing together, have you developed an unspoken creative language?
Yup, definitely. [We have] so many coded hand gestures, eyebrow twitches, and subtle head nods that we rarely speak to each other at all.
What you're doing onstage is different from a standard DJ set. You're playing all of your own tunes live. How does that change the way you approach a performance? Does the process differ depending on where you're performing?
We have a pretty good idea of what we are going to play before a show, but having a bit of live instrumentation gives us flexibility to extend sections and be spontaneous. Our headline shows give us the opportunity to play some of our more chilled material, as we have more time to play. At festivals, we keep the energy high and tight.
It's been almost two years since the release of your last album, Dark Night Sweet Light. Can we expect another album anytime soon?
Yes, indeed. We'll definitely have some new music coming your way this year.
Follow Hermitude on Facebook | Twitter | SoundCloud
EDC Las Vegas 2017 takes place Friday, June 16, through Sunday, June 18, at Las Vegas Motor Speedway. For more information, visit the official website.
Follow EDC Las Vegas on Facebook | Twitter | Instagram
---
Share
---
Tags
---
You might also like