'Night Owl Radio' 278 ft. Matrix & Futurebound and Nitepunk
Upcoming Event
This week, Matrix & Futurebound select their Up All Night tracks and Nitepunk is on the decks for the exclusive Guest Mix!
Night Owl Radio is available via iTunes, so get to subscribing on your iOS devices.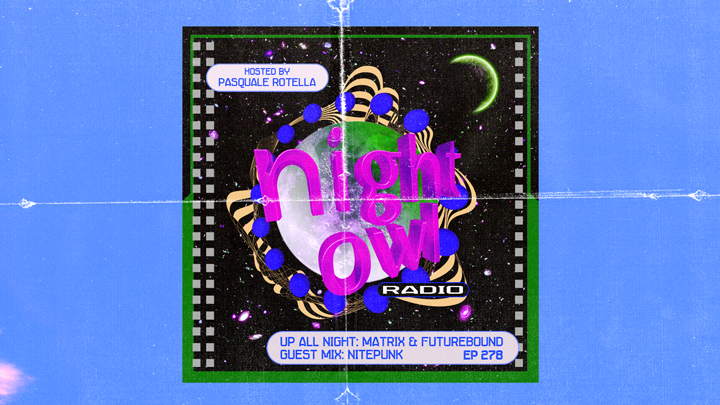 'Night Owl Radio' 278

Oliver Koletzki & Niko Schwind "Lights of Denebola" (Sam Shure Remix)
UFO Project, Leo Wood "New Dawn" (Truth x Lies Remix)
Malaa & Habstrakt "Riot Gear"
Dave Summit "Breathe"
ZIOS "Mind Blank"
Return of the Jaded "Automate" (Kyle Watson Remix)
Eli Brown "Fading to Black"
Wax Motif & Corrupt (UK) ft. Scrufizzer "All Black Everything"
Morelia "Damage Control"
Arnold & Lane "I Wanna Party"
Roger That "Penetrate"
Alan Fitzpatrick & Rebūke "Ultimate Distortion"
Plastic Robots, House Divided "The Faith"
Dking & Gorillowz "Back to the Club"
Justin Martin "Hope"
Vush "The Track"
Deed "Level Up"
Crazy Fluke "Obey" (Iglesias Remix)
Cousn "Movement"
Solardo x Rowetta "Enough"

Matrix & Futurebound - Up All Night
Sub Focus x Wilkinson ft. PAWWS "Ray of Sun"
SLANDER & William Black "Back to U" (Matrix & Futurebound Remix)
CamelPhat ft. LOWES "Easier"

Nitepunk Guest Mix
Subscribe to the Insomniac Events YouTube channel now.
Nitepunk's "Flow," out on HARD Recs, is available here.
Matrix & Futurebound's remix of "Back To U," out on Gud Vibrations, is available here.
Follow Matrix & Futurebound on Facebook | Twitter | SoundCloud
Follow Nitepunk on Facebook | Twitter | SoundCloud
---
Share
---
Tags
---
You might also like