Metronome #052: Zonderling
Insomniac's Metronome series features mixes from some of today's fastest-rising electronic stars, as well as championed legends. It takes listeners deep across a wide range of genres, movements, cultures, producers, artists and sounds that make up the diverse world of electronic music.
While the world is looking to future [insert genre name] to keep the dance music ball rolling, not much new ground is being broken on that front. But rather than give in to new fads, Jaap de Vries and Martijn van Sonderen (who is connected to drum & bass powerhouse Noisia) are more interested in creating a sound all their own.
The Dutch duo known as Zonderling is in the zone, racking up crazy amounts of recognition after putting the tired formula of modern dance music into a test tube to experiment with unfamiliar and peculiarly approachable productions. It's working better than they might have predicted, with commercial circles latching on to every bit Zonderling has put out.
In the heat of the single they've put out on Spinnin' Records, we tapped Zonderling to kick us down with an exclusive mix to hear what they're all about. This is the idiosyncratic, off-the-chain offering they hit us back with.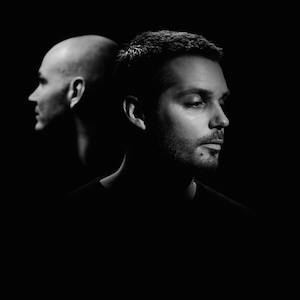 Your latest single, "Crazy for You," has been blowing up the charts. Is there a real-life person who inspired the creation of the track? Is there a backstory here?
To be very honest, we haven't collaborated on the lyrics with Bishøp. We just fell in love with the demo version of the vocals and took it from there. So, you'd have to ask her if she had someone specific in mind. I (Martijn) like to think the track is about my wife and daughter, of course. 🙂
It took a couple of years before you decided to step out from the shadows to reveal your identities. What factors compelled you to pull the curtain?
We didn't feel like we'd found the direction that we were looking for musically until recently, and this was a way to operate under the radar a bit. Now we're very happy with the way it's going and are proud to represent it as it is.
Your bio says you have created your "own version of current dance music." What are you trying to do differently from most modern-day producers?
We are trying to create a sound that can work for both the listening audience that pays attention to technical and musical details of the productions, as well as for the people in a club that just want to dance, without compromising too much on either side. We get a lot of comments saying that our sound is very recognizable, even though it's changing constantly. That's a good sign!
Old-school techno has been cited as one of your strongest influences, with those weird bloops and bleeps adding character to your productions. Which classics would you say have left the strongest impression on you?
I wouldn't necessarily say old-school, but Stephan Bodzin's "Tron" and his whole Liebe Ist album have been major influences. So has a lot of Eric Prydz's work.
Does Martijn's involvement with Noisia and his affinity for D&B ever seep into the studio, or does he want to keep the two projects completely separate?
Technically it helps, but these are definitely two separate projects in terms of musical approach. There aren't a lot of D&B DJs playing Zonderling tracks—or house DJs playing Noisia records, either.
Zonderling means "stranger." What statement were you trying to make with the name of the project?
We were never really part of a very specific scene, so when you're taking a bit from everywhere and you combine it, you get something sounding different from the rest—a bit of an "odd one out" position. Now, we have to admit that with support of so many big-name DJs, it doesn't feel like we're that strange anymore, but we still try to come fresh and different.
Share some words on your mix. Do any of the tracks or transitions really stand out to you?
We're very happy with all of this selection! There's an unreleased remix in there we did of "Together" by the Magician, as well as a bunch of our own edits of tracks we're really feeling at the moment.
When can we expect a proper North American tour?
We will be supporting Oliver Heldens on his North American bus tour leading up to Miami Music Week, and we'll be doing some separate shows on the same run!
Track List:

Zonderling ft. Bishøp "Crazy for You"
The Magician "Together" (Zonderling Remix)
Bolier & Natalie Peris "Forever and a Day" (Zonderling Edit)
Falco Benz "Yeahyeahyeah" (Zonderling Edit)
LIMITS "Fading Away"
Gabriel & Castellon "Shut Your Eyes" (Zonderling Remix)
Watermat & Moguai "Portland" (Zonderling Edit)
Rob Pix "Jack That" (Tom Budin Remix) (Zonderling Edit)
Le Youth "R E A L" (Bixel Boys Remix) (Zonderling Edit)
Mike Mago & Dragonette "Outlines" (Zonderling Remix)
Zedd "Beautiful Now" (Zonderling Remix)
Nora En Pure "Got My Body" (Zonderling Edit)
---
Share
---
Tags
---
You might also like