Metronome #122: Mind Vortex
Insomniac's Metronome series features mixes from some of today's fastest-rising electronic stars, as well as championed legends. It takes listeners deep across a wide range of genres, movements, cultures, producers, artists and sounds that make up the diverse world of electronic music.
While discerning ears may be able to hear the classical training that both Laurie Carroll and Stefan Anfield have under their belts, there's no denying the timeless quality of the epic drum & bass the duo are responsible for creating under their Mind Vortex moniker.
Having linked up as teenagers over a shared love of music, the two quickly melded their minds into one and channeled their love of jazz, soul, funk, and classical music into the raw, turbocharged power of their dancefloor-driven drum & bass. With their Transformation EP still heating things up at festivals across the globe this summer, we thought we'd tap the duo for a heavy-duty Metronome mix of unholy proportions.
With a love for dark and stormy chest-thumpers and celestial hands-in-the-air dreamscapes alike, the duo chart a course in the mix that reveals the reason why they continue to stand out as the standard to which other artists are reaching for at RAM Records HQ.
Never satisfied with cookie-cutter dancefloor vibes, you can hear the way the duo are pushing the sound in unique and interesting ways on their Transformation EP, as bits like the title cut and "The Day After" combine epic, cinematic sweeps with high-energy, banging vibes, before bits like "Shall We Begin" and "Future Fold VIP" flip the script in unique ways and hit listeners with unexpected grooves that still pack some serious punch.
Don't just take our word for it—go ahead and turn down the lights, and leap headfirst into the exclusive Metronome mix below, as Mind Vortex take us on a mind-melting, immersive dancefloor experience in the untouchable way that only they can do.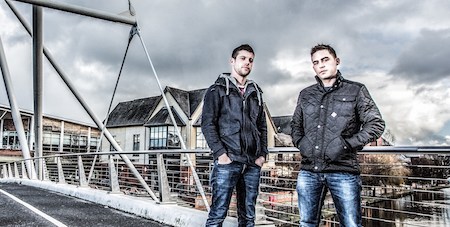 You both linked up when you were pretty young. Tell us the story of how you became friends, and at what point did DJing and production enter the equation?
We became friends at school, playing in bands together and sharing a similar musical outlook from early on, really. Drum & bass was really an evolution of that relationship; DJing came much later. We dabbled for fun, but it wasn't until there were solid tracks around us that DJing became a part of what we focused on.
The name "Mind Vortex" seems the perfect description of the kind of two-minds-as-one scenario we imagine going down in the studio between you two. Were there any other names under consideration before you settled on that one?
It was more of a description of what music did to our brains—especially drum & bass—and back then, we thought that was a pretty cool name for a duo. We didn't think of any other names, to be honest; we weren't thinking a childhood idea would actually become something.
You can obviously hear a lot of your early influences in the intricate melodies and chord structures you guys build into each tune (not to mention those epic intros!). Is music theory something that budding producers out there should take seriously if they want to follow in your footsteps? Where would you suggest a "beginner" to music theory should begin?
Theory obviously helps with making music; however, it's not essential. As long as you have ideas, then technology allows you to realize those ideas. But a good understanding of music and good composition would help to no end. Knowledge is power. There's plenty of music theory websites and YouTube videos out there to help and teach—search it out.
Now, if we told the average joe on the street that an artist cited jazz, soul, funk, and classical as their inspirations, there's no way they could imagine the end result being some of your most infamous bangers. Where does all the angst and raw power come from in your tunes? In other words, how did you not end up going down the minimal, deep, liquid side of things, production-wise? There must be hidden dreams of being a rock star in your youth that revealed themselves when D&B entered your world.
As kids, we learnt those disciplines, but at home, what was coming out of the speakers was a different story. Rock soundtracked our teenage years a lot, always yearning to captivate an audience and rock the stage like the greats we grew up hearing. At heart, we are rock 'n' rollers. We wanted to be them. I guess in a way, it became a self-fulfilling prophecy.
Your last release was a massive hit. It feels like you're turning up the heat once again this year with the new EP, and we're imaging an album on the horizon. Tell us what you've been up to in the studio and if there have been any transformations in your world between the last album and your current output. How are those changes reflected in this new batch of tunes coming through?
We actually don't overthink it too much. Our writing is a reflection of how and what we are feeling at the time. As we grow as individuals and experience life, so does the music we output change and evolve. We gain new skills, new tech, and this pushes the music forward.
Let's jump into the Metronome mix. For someone who has yet to experience the power of Mind Vortex on the decks, what should they be expecting when they hit play?
Country & western mixed with Celine Dion. Something to definitely play to your nan!
Mind Vortex Metronome Track List:

Mind Vortex "Future Fold" VIP
Mind Vortex "Against the Grain"
Jauz X & Netsky "Higher" (The Prototypes Remix)
Sub Focus ft. Stylo G "Lingua"
1991 "Witchdoctor"
Mind Vortex "Shall We Begin"
Ed Rush & Optical "Chubrub"
Sub Focus "Special Place"
Noisia & the Upbeats "Dead Limit"
Dirtyphonics "Teleportation" (The Prototypes Remix)
DC Breaks "Underground"
Turno "The Invaderz"
The Prototypes "Moscow"
Noisia "Anomaly"
Mind Vortex "The Day After"
Wilkinson ft. Matt Wills "We Will Be"
Netsky "Tomorrow's Another Day"
Doctrine ft. Shae Jacobs "Thunder"
Inward & Hanzo & Randie "Dirt"
Mind Vortex "Transformation"
Follow Mind Vortex on Facebook | Twitter | SoundCloud
---
Share
---
Tags
---
You might also like