Metronome #012: Yolanda Be Cool
Insomniac's Metronome series features mixes from some of today's fastest-rising electronic stars, as well as championed legends. It takes listeners deep across a wide range of genres, movements, cultures, producers, artists and sounds that make up the diverse world of electronic music.
In 2010, Yolanda Be Cool's track "We No Speak Americano" spread like wildfire to every corner of the world. In the four years since that universal hit, the Australian outfit is climbing the charts once again with their newest track "Sugar Man," an infectious house tune that samples the legendary musician Rodriguez.
In addition to putting out their own platinum records and touring the world, the guys have been instrumental in shaping the careers of Australia's newest talent through their involvement with Sweat It Out!, which serves not only as an outlet for new music, but also as a talent agency for some of the artists.
For their Metronome mix, Yolanda Be Cool showcase some of the label's latest exports, as well as some new heat from dirtybird top dogs Claude VonStroke and Justin Martin.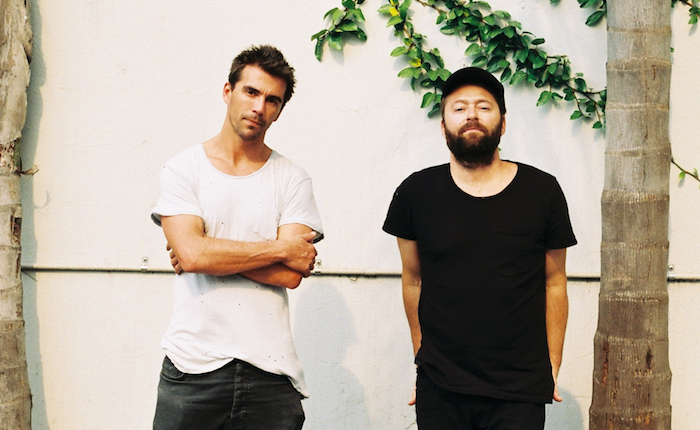 How's life down in Australia at the moment? Bronzing much?
We can't really complain. As much as we know how lucky we are to be able to get paid to travel the world to see so many places we'd never dream of seeing, there is no better place than Sydney in the summer. We feel very blessed to call Sydney home. We both live at opposite ends of Bondi Beach, and we start nearly every day with a swim or a surf, so you could say we get a bit of bronzing in. An arvo swim off the rocks at North Bondi or a surf around the corner at Tamarama doesn't hurt either.
It seems like you guys have another hit on your hands with "Sugar Man." How did the track come about?
Well, fingers and toes crossed. It's shaping up well in Aus and has been added to all the daytime radio shows here. It's currently sitting at #13 in the charts and has been the #1 most-Shazammed tune in Aus—so yes, good vibes here. Hopefully, we can send those good vibes overseas to the States and Europe. We'd be very stoked.
In terms of how the track came about, "Sugar Man" is actually the first track we have done with DCUP since "We No Speak Americano." You could say we took our time, but basically, "Sugar Man" samples Rodriquez. After sending each other countless sample ideas, this was the one that finally felt like it had the same magic as the last one. I guess the formula seems to be working so far.
The Sweat It Out! roster is one of the most talented and rowdiest bunch of artists around, with guys like Motez, Rufus and What So Not. Are there any new guys we should be familiar with?
Talented and rowdy—those are the credentials we look for. [Laughs] Rufus are working on the follow-up to their massive Atlas album, and everything we have heard tells us they definitely aren't going to be getting any smaller. Motez and What So Not are both sitting on some absolute killer tunes, so we are just working out the order to release them. As for new talent, there's so much. Keep an eye and ears out for a young guy from Byron Bay by the name of Robina; he is going to kill it. Go Freek is going to have a massive year, as is a very new Sweat signing—though no stranger to Sweat fans—Dom Dolla. Lyndon Kidd is another newbie that is set to do some cool things. Indian Summer, Cassian and Playmode aren't new, but they're definitely going to have a huge year. So are our Los Angeles buddies Overjoy. Last, but definitely not least, are Crooked Colours, who constantly impress us with the development of their sound. We think they will be huge very soon.
Australia has definitely become a major international player in the dance music community over the last couple of years. Is it something in the water
Good question. Definitely, it's a very supportive vibe in Aus. Pretty much everyone here in the scene are friends. Whenever somebody does well, it always feels like everyone gets right behind them and is stoked to see it happen, which is cool and maybe leads to everyone pushing each other forward. The internet probably hasn't hurt things either, because I guess by now it doesn't matter where you live, even if you are halfway across the world, like we are. You are just one SoundCloud upload away from worldwide exposure.
What's next in the world of Yolanda Be Cool?
The last collab we did with dcup took us four years to follow up, and we definitely aren't planning on waiting that long this time. We have two follow-ups pretty much finished and are constantly working on new ideas and looking for samples. We are also just putting the finishing touches on a record with a great friend of ours that sent a very drunken WhatsApp message, which we have turned into a tune and are really excited about. We also just finished remixes for our good buddies Worthy and Danny T, as well as one for Chuck Inglish and Chromeo.
Tour-wise, we are hitting the US for a tour in March, which will culminate in Miami for WMC and the annual Sweat It Out! Miami takeover with heaps of crew. After that, just more touring and more music for the rest of 2015.
Track List:

Drew Hill "Talk to You"
Wild Culture "The Tide"
Volac "Disco Tetris"
Volkoder "Invasores"
Claude VonStroke "Big Ten"
Rafael Carvalho "Jump Around"
Mass Prod, Marco D'Aquino "No Hummer Music"
Yolanda Be Cool & dcup "Makossa"
Want More "Be Bop" (Shiba San Edit)
Destructo ft. Problem "Dare You to Move" (Jack Beats Remix)
Justin Martin & Ardalan ft. Party Patty "Function"
Yolanda Be Cool & dcup "Sugar Man vs Mossi Mossi"
Cassian "Gone Deep"
Kyle Watson "Cymbal Play"
Odd Parents "Learn to Fly" (Maceo's Flight Home)
Follow Yolanda Be Cool on Facebook | Twitter
Follow Sweat It Out! on Facebook | Twitter | SoundCloud
---
Share
---
Tags
---
You might also like