Insomniac's Metronome series features mixes from some of today's fastest-rising electronic stars, as well as championed legends. It takes listeners deep across a wide range of genres, movements, cultures, producers, artists and sounds that make up the diverse world of electronic music.
When Dave Reed and Chad Cisneros first crossed paths trading production tips during a casual chat online, the thought probably never crossed their minds that they would eventually become one of the hottest tickets in dance music. Yet here they are, turning festivalgoers on to top-level prog house as Tritonal.
From URL to IRL, the Texas-based duo has come a long way. After a rebrand that saw them shift from ear-worming trance to a big-room banger-breeding mentality, they've managed to up the headcount to their already long list of devout disciples, or Tritonians, as Dave and Chad refer to them. Currently on the biggest tour of their career to date—Untouchable, which sprung from the chart-topping collab with Cash Cash—it seems as though they have all the steam they need to take this mainstage machine to the next level.
In this installment of Metronome, Tritonal lights the fuse on an explosive progressive house mix.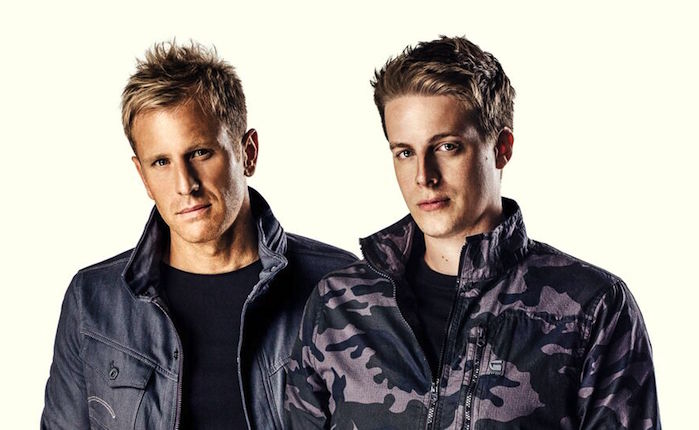 Walk us through some of the highlights of the Untouchable Tour thus far.
Dave: It's been amazing so far, actually! We're still in the thick of it with a little over a month left. Sure, there have been new experiences for us, like getting used to life on our own tour bus for the first time, fitting in time to sleep, shower and prepare for each journey. But the shows have been AWESOME! Every stop has been unique with some big and some smaller markets. We've been able to perform in new places such as Club Nokia LA, the Bomb Factory in Dallas, all the way up to Commodore Ballroom in Vancouver. We're really happy to say nearly every stop has been SOLD OUT!
The production for your show is traveling with you to each gig and features live visuals. Can you break down the setup for us? How much creative control did you have over this aspect of the show?
D: Great question. There is indeed a lot of gear that comes with us, which also includes quite a few stage hands (thankfully)! We've got cryo, a plethora of brand-new Chauvet lighting with strobes, the whole nine yards! Yes, our favorite part, we also have two main LED walls—one in front of the DJ booth and one big one behind, which we DO control from stage. Creatively, Chad and I are able to source our visuals, then arrange them for each track we play and have them blast across the LED walls. It's so liberating to have control of the content you play… and fun, too!
I noticed you and the team took a day hike at Banff National Park. On average, how many personal days are you afforded, and how else do you enjoy spending them?
Chad: That was our first time in Banff, and it was stellar—amazing release, and dope weather for a hike. We have been playing pretty much back-to-back every night on this tour. For instance, over the next 17 days we have 21 shows! Insanity—three days have back-to-back plays at festivals during the day and venue shows at night. When we started writing records, it was what dreams were made of; now it seems half surreal.
After a crushing collab with Cash Cash and the apparent rapport you've built with them while on the road, should we expect a follow-up track anytime soon?
D: Ah, thanks! We love those guys; they're awesome and incredible musicians. Perhaps we'll see something in the future 😉
You've mentioned there are 20 or so unreleased records already in the can—some even being road-tested as we speak. How many do you think will find their way onto the next album?
C: There's actually two that we're playing every single night! Both are no-brainers—both singles and both going on, hands-down. We don't really want to play out any more than that consistently, as they're still being tweaked.
Congrats on reaching the Tritonia 100 milestone. Does the hectic tour schedule interfere with the flow of producing the radio show?
D: Thank you, haha! This is actually super true! It does get a bit hectic. Let's be honest: We're barely getting wi-fi in some remote areas and we HAVE to get our show done in certain increments of time! However, we LOVE putting the show together each week and strive to do what we can while on tour. We took our radio equipment with us on the road so we stay on top of it!
Do any of the tracks or transitions in your mix really stand out to you?
C: We have a few mashups/back-to-back records that really stick out every night. One of them is "U&I" straight into our "Ginsu." Obviously, "Untouchable" is playing a special role every night in our sets, and we're in awe at how many people are absolutely screaming it at the top of their lungs. So special.
2015 has been a tremendous year for Tritonal. How do you intend on building on the momentum for next year?
C: Music, 100 percent! It always starts and ends with the production with Tritonal. That's how we've built our career, and we have no intention of changing that. Thanks for having us on!
Track List:

The Chainsmokers & Tritonal "Until You Were Gone"
Tritonal "Gamma Gamma" (Original Mix)
Pierce Fulton ft. JHart "Landmines" (Original Mix)
"Cool-Ping Pong Tremor" (Tritonal Mashup)
Adam Lambert "Ghost Town" (Tritonal Remix)
Tritonal vs. 3LAU "How You Love Satellite" (Tritonal Mashup)
Tritonal "Anchor" (Club Mashup)
Tritonal & Cash Cash "Untouchable"
Follow Tritonal on Facebook | Twitter | SoundCloud
---
Share
---
Tags
---
You might also like