Metronome #095: Tom & Collins
Insomniac's Metronome series features mixes from some of today's fastest-rising electronic stars, as well as championed legends. It takes listeners deep across a wide range of genres, movements, cultures, producers, artists and sounds that make up the diverse world of electronic music.
Tom & Collins share a musical bond that stems from a longstanding friendship that began in Paris on an exchange program just after the two producers—Jorge Corral and Juan Pable Escudero—graduated from high school in their native Mexico. While they bonded over music, it wasn't until after they graduated and started careers in law and marketing, respectively, that they realized their shared love for dance music translated into a dynamic offering for the club. The pair created Tom & Collins first as a DJ duo, quickly recognizing their onstage chemistry could easily live within the studio walls.
In 2015, they signed on with Universal Music Latin Entertainment's exclusive EDM record label, Aftercluv. While much of their success has been founded on wide-reaching remix work for the likes of Madonna and 30 Seconds to Mars, the record deal helped solidify the Tom & Collins sound. They have since released their first two official original tunes on the label over the last year. Their latest, "Savage," is a sexy and soulful burner, in which the boys weave several melodic elements together in a playful call-and-response. The pitched-up vocal adds a layer of seduction, making for a tune that's perfect fodder for 4pm pool-lounging vibes or 4am club heaters.
In their Metronome mix, Tom & Collins take their style one deeper with one hour of hip-shaking grooves to shimmy to as you sip your favorite cocktail.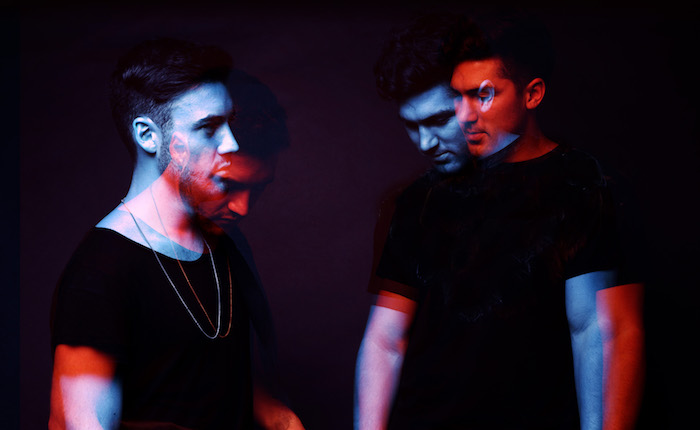 You each already had successful careers in law and marketing before joining forces on this project. What was the turning point for you that made you realize you needed to quit and do music full-time?
We would have been able to DJ and continue in law and marketing, but we realized when it came down to production, music needs your full attention and effort. We felt the pieces coming together and the universe telling us it was time.
Many artists decide to relocate after achieving success. Why have you decided to stay in Mexico City?
Even though we might end up living in another city in the near future, we feel this city has influenced us, as well as our music. We feel part of a scene, so we don't want to give it up that easily. Mexico City is one of the coolest places to live in right now—so many great things happening.
Your latest single, "Savage," has such a multi-layered sound. Can you talk a little bit about writing that tune?
This is our second single with Aftercluv, who since the beginning made it clear that they were not a standard EDM label. They supported us in our objective in making music differently and uniquely, which in the case of "Savage" is pointing to dark and sexy. We wanted to show how music could seduce and hypnotize you.
It can be argued you guys came up as DJs first and then started producing. What did you learn from performing that you were able to take into the studio when you started writing music?
We love a good groove in a track, and we learned crowds feel it as much as we do.This is the connection we wanted to achieve when it came to producing our music. We wanted our music to be original and digestible for most house lovers, so that we can all dance together.
Your remix work was already heavily recognized before you released your first official original tune. I know you had already done original songs, but why did it take so long for an official original release?
I think the main reason is that, even though we had made a bunch of remixes, we wanted our original sound to fully represent Tom & Collins. Your first original material is crucial, and we decided to wait for something we loved.
You spoke at ADE this year. What was your biggest takeaway from the experience?
We were surprised with the amount of attention that is placed on the Latin American scene from all the industry's different standpoints. Definitely served as motivation to make music.
What's coming for Tom & Collins in the new year?
A lot of music. We think it's our responsibility to keep growing as artists and to continue to deliver unique sounds to our followers.
Track List:

Desiigner "Tiimmy Turner" (Ryan Collins x Itsbilly Edit)
Sam Collins "Wa Wa"
Tom & Collins "Savage"
Travis Scott "Antidote" (Justin Jay's Party on a Sunday Edit)
Sam Divine & Curtis Gabriel ft. Nat Conway "Confessions"
K & K "Peaceful Crowd"
Kanye West "Fade" (FREEJAK Remix)
Groove Armada "Superstylin'" (Riva Starr Edit)
Tom & Collins "Down the Line"
The Weeknd ft. Daft Punk "Starboy" (Rossi Sure Remix)
Dilby "Hubba Hideout"
Justin Hobbs "Opium"
Daniel Portman "Abandon"
BeLL "Losing My Religion" (Tom & Collins Remix)
Follow Tom & Collins on Facebook | Twitter | SoundCloud
---
Share
---
Tags
---
You might also like