Upcoming Event
Insomniac's new Metronome series features mixes from some of today's fastest-rising electronic stars, as well as championed legends. It takes listeners deep across a wide range of genres, movements, cultures, producers, artists, and sounds that make up the diverse world of electronic music.
Kicking off the Metronome series is Buygore rookie Jauz, who stormed the scene in early 2014, and in less than one year rose to the top of every artists-to-watch list. In between massive remixes of everyone including bass dons Zeds Dead, pop stalwart Ed Sheeran, and rap renegades A$AP Mob, Jauz has somehow squeezed in original tracks like "Feel the Volume," "Moonlight" and "Pure Evil" with Sullivan King.
Jauz lives by his personal artist creed, "Music has no boundaries," a sentiment reflected in his hard-to-define sets, which seamlessly weave together trap grit, throwback '80s electronic, rap muscle, and bass force, as seen in his Metronome mix. From college dropout to burgeoning superstar, Jauz is a fresh face that deserves all your attention.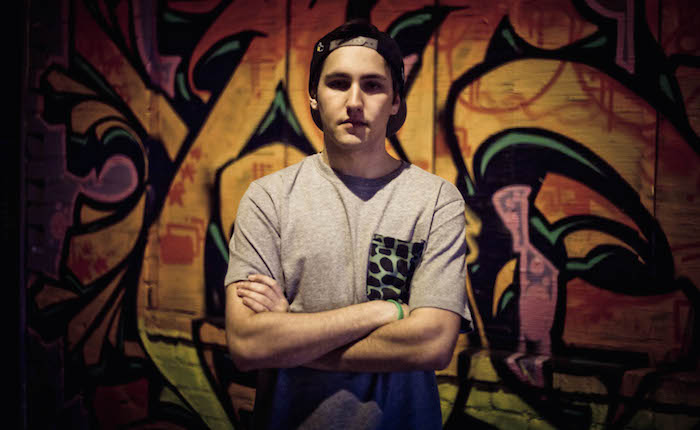 Who is Jauz?
As a project, Jauz can be summed up with three simple words: music without boundaries—someone who is not scared to push the boundaries of what can be deemed as acceptable in this day and age. As a person, I'm just a normal 21-year-old from Northern California, who loves the shit out of music. I've been producing for a bit over four years now and have been releasing music under the Jauz alias for about eight months.
And why should people be listening to you now?
I don't really know if I have a solid answer to that. I just do "me" and put it out there, and people have seemed to be taking very well to it. It's definitely a dream come true to be able to do what I love every single day and actually make something out of it. If I had to choose one specific reason people should be listening to me right now, it's because I'm doing my best to be myself and do things just a little bit differently than the rest. My boys GTA said it best: "Death to all genres." I want to change the way people see music.
You're an alum of music production school Icon Collective. How do the skills you acquired there play into your production and remix work today?
Icon Collective, without a doubt, shaped me into the producer, artist and person I am today. I learned so much technically, both in and out of class, from all of the other students and graduates. Getting to sit in the studio with dudes like Protohype and MAKJ and just watch them work and ask questions was pretty invaluable. But more than anything, I'd say Chris Wright's Art of Flow class is what changed the game for me the most. It really opened my eyes and made me start making music that I really actually vibed with instead of what I thought I wanted to make and wanted to be. After that class is when stuff really started taking off in my career.
You're 21 years old, born in 1993, yet you're adding retro future vibes to some vintage songs. You were just a baby when some of these songs were released. How do you even know about them?
Honestly, sometimes I don't even know them. For example, I was driving in the car with my manager Moe, and for some reason he had Debbie Deb's "When I Hear Music" on a CD. I vibed to it, and he told me I should try and put my flip on it. At first, I was a little iffy about whether or not I could keep the vibe of it and turn it into something really cool, but the more I listened to it, the more stoked I got on the idea. The whole track came together in less than a day. It was a really fluid process. I love taking tracks that don't really feel like they could be remixed and flipping them. The challenge just makes it that much more fun.
You seem to have an affinity for hip-hop and trap.
When I was really young, like elementary through middle school, I wanted to be a rapper really badly. I remember a moment in fourth or fifth grade when I rocked a full Sean Jean velour sweat suit for like a week straight! Then once I hit high school, I got really into rock 'n' roll and heavy metal and pretty much stopped listening to rap and hip-hop all together. Come full circle to today, and I try to incorporate all of my influences, past and present, into the music I'm making now.
Are we ever going to hear you drop some original raps like your boss Borgore?
(Laughs) No, definitely not. The age of Jauz the rapper has come and passed. I know what my skills are, and rapping is most definitely one of the things I am not good at. I could see myself writing for rappers, though. I've always been into writing since I was a kid, and I think it'd be a really cool new area of music to get into. For now, I will leave the rapping to my boys Borgore and Kennedy Jones.
You're a college dropout. Any regrets, or are you the next Steve Jobs?
Absolutely not. Sometimes I think that I regret going to college in the first place, but then I don't even regret that. I'm a firm believer in the notion that everything happens for a reason, and everything that has happened to me, as far as my career is concerned, has proved that over and over again. If I had never gone to college, I probably would have never moved to Los Angeles in the first place, would have never dropped out and would have never found Icon Collective, so on and so forth. Contrary to popular belief, college really isn't for everyone, and I definitely think I fit into the category of people who college just isn't the right fit for. The right fit for me was Icon, which isn't technically a college but taught me more than any four-year college could ever teach me.
You were once a film major. Which movie deserves an EDM soundtrack created by Jauz?
I'm sure everyone expects me to say something like Jaws or a shark-themed movie, but I'd love to do something along the lines of 22 Jump Street. Diplo curated the soundtrack for that movie, and hearing some of my favorite tunes in one of my favorites movies made it that much better. I'd love to be able to give that experience to people as well. Honestly, though, my real passion is music videos. Since I was a kid, I've always loved both music and film, and I've always envisioned the end game for me to be combining the two. I think there could be some really cool applications of that as far as the Jauz brand is concerned in the not-so-distant future.
Your homie Kennedy Jones discovered you and introduced you to Borgore and the Buygore camp. Do you now owe him on-demand foot rubs for the rest of your life?
Man, I owe that dude everything. I sent Kennedy my remix of Zeds Dead's "Ratchet" way before it came out, and he started playing it out. Long story short, I just kept bugging him with new tune after tune until he finally decided I had enough drive and determination and introduced me to his (and now my) manager Moe. The rest is history. Since then, I've become such good friends with him and the rest of the Buygore family. I love them all.
You've got a unique balance of deep house, heavy bass and trap/hip-hop to your sound. Do you gravitate to any particular genre when producing or remixing?
I tend to just make whatever comes to mind. I love making everything, and I think that as artists we really shouldn't be confined to just one genre or style. It's not the most popular approach, but I think in the long run you build fans for life, who appreciate you for you and not just for whatever style is hot at the moment. I'm in this for the long run. I don't want to be a one-hit wonder. I don't want to rise and fall with a fad. I make music because I love it more than anything, and I'm going keep doing it until I'm too old to hold a guitar or use a computer. Hopefully, that will never happen.
What do you make of all this "future" madness? Future bass, future house, future future.
I try not to label my music or classify it to one genre or the other. I think sooner or later, we'll get to a point in electronic music where people aren't concerned or worried about what genre or style a track is. They'll just care about whether the track is good or not. I see it happening already. People want change; people want something different. They want to see artists breaking away from the mold.
What's next for Jauz?
I don't know how much I'm allowed to announce; however, I will say that the near future is going to be real exciting. I'm working on some very big collabs right now. My original "Feel the Volume" will be released through Mad Decent. I have another original release coming via OWSLA with my good buddy Ghastly, and I have a couple of official remixes coming out on Columbia, Island, Republic, and Red Bull Records. I just recently joined the AM Only roster for bookings, so hopefully, sooner than later, I'll be in all your areas. The future is looking bright, and I couldn't be more excited.
Follow Jauz on Facebook | Twitter
---
Share
---
Tags
---
You might also like