Insomniac's Metronome series features mixes from some of today's fastest-rising electronic stars, as well as championed legends. It takes listeners deep across a wide range of genres, movements, cultures, producers, artists and sounds that make up the diverse world of electronic music.
When the fusion between electronic music and hip-hop was dubbed trap, the newborn genre subsequently reached fever pitch in the electronic music community, putting Atlanta's HXV in a mighty fine spot. Atlanta is widely regarded as one of the most merciless hip-hop cities in the world, and Daniel Disaster, the producer and DJ behind HXV, has been a respected figure in the city's scene for years.
Long before herds of producers disavowed their beloved genres in hopes of making it big in the trap world, HXV was producing records with ATL's fledging talent and making a name for himself in the hip-hop world. And with the meteoric rise of trap, he stuck to his guns and naturally burst onto the dance scene with an arsenal of tracks that did not lack attitude. Once his breakthrough track "Flex" caught the attention of Diplo, it landed HXV an official remix for Major Lazer's "Jah No Partial" the following year and certified his spot in the community.
HXV bleeds the spirit of his city in his productions, and his fusion of techno and hip-hop is seamless, as evidenced by his Metronome mix.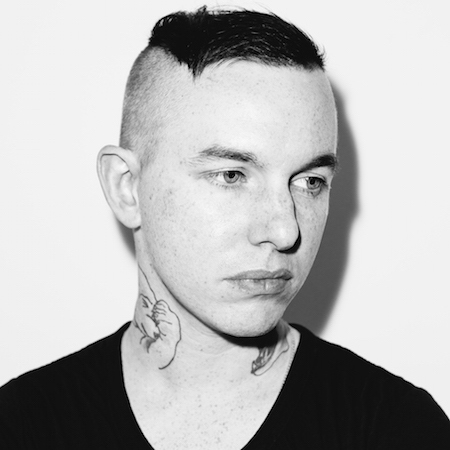 This year has really been a breakthrough for the blurring of genre lines. Has this shift in the musical landscape changed the way you approach making music now?
It hasn't changed our approach at all. We never cared about genres and doing things the "right" or "correct" way. We follow our instincts, our taste, and try to make the best possible music for that moment. Genres have become meaningless, with everything becoming homogenized. The internet has removed context from content. As a result, you see creative connections being made that, in the past, may not have happened, as people were hesitant to doing things non-traditionally. We are in an entirely new territory for consumption of all media.
Artists like Brodinski and Salva are pushing the boundaries in creating these fusions between rap and techno. Having worked with a lot of rappers, do you see them more hyped to work on dance tracks?
I really love Brodinski and Salva; all three of us are dedicated to making the best possible versions of our visions, which are independent from one another, but pushing toward the same goal of making rap records with our favorite elements of both rap and electronic music.
I see a lot of rappers warming up to being featured on dance tracks, but there are two sides to that. There's the side that's doing it because they see the potential money in the market. Then there's the side that wants to rap over forward-thinking beats or combine visions with a producer to do something different. The latter is the only one I'm interested in.
You can always tell the forced features because the artist was paid a lot of money for it, and they sound disconnected from the beat. This shit isn't forced, and it's not bought off. We are this culture; this is a new movement in music. Electronic music and rap music are the two largest and most influential genres in the new millennium. The real shit will always stand the test of time, and the shit people are doing as gimmicks—because it's hot in the moment—might work for a little while. But it won't last, and they will have to figure out another gimmick.
You're from Atlanta, and you rep it to the fullest. What do you love most about your city?
I love Atlanta, man; this is home. I love the music and the creativity here. People aren't afraid to try new things and blend cultures together. The best rap producers in the last 20 years have all came out of Atlanta or have been directly inspired by Atlanta music. I also love our strip clubs. We have the best strip clubs in America.
You like to blend the two worlds of fashion and music. Are you working with any specific clothing brands?
We just released two new collabs with Black Scale. We work with them a lot because it's organic and we are like family. I won't work with someone just because it might be a good look or increase brand awareness or whatever. The energy has to be right, and I only want to work with friends.
What's next in the world of HXV?
We just wrapped our debut EP for Ultra Music called Vultures. Right now, I'm going back in the studio and working on the second EP. After that, we'll see what happens. I would like to do an album, but the timing has to be right.
Track List:

Cliff Martinez "Wanna Fight"
Travis Scott ft. Young Thug "Skyfall"
Bas Mooy "Bleeds"
Carlo Lio "Master of the Black Arts"
ZZT "Work" (The Advent & Spiriakos Remix)
Louisahhh!!! and Maelstrom "Protection"
Floorplan "Phobia"
Tiga ft. Pusha T "Bugatti"
Maan "Burn"
ASAP Rocky "Multiply"
HXV ft. Lil Uzi Vert and Rome Fortune "Made It"
The Hacker "Pure Energy"
Dorian Knox "Lost Signal" (Black Asteroid Remix)
SD "Circles"
Follow HXV on Facebook | Twitter
---
Share
---
Tags
---
You might also like