Insomniac's Metronome series features mixes from some of today's fastest-rising electronic stars, as well as championed legends. It takes listeners deep across a wide range of genres, movements, cultures, producers, artists and sounds that make up the diverse world of electronic music.
First off, let's address the elephant in the room: Yes, Andrea Fratangelo, best known today in the electronic music world simply as Bot, is a former member of electro pioneers Crookers. Yes, together with Francesco "Phra" Barbaglia, who continues as the now-solo Crookers, Bot helped launch the global electro house domination with their genre-defining remix of Kid Cudi's "Day 'n' Nite" in 2008.
But that was then. This is now.
Operating as a solo act today, Bot continues to rock clubs and crowds across the world with his full spectrum-spanning sets of electro, house and booty bass. Since relocating to Los Angeles from his native Italy earlier this year, he's hooked up with budding imprint Main Course, churning out Bot originals and remixes including the body-moving Bot Music EP and its corresponding remix EP featuring reworks from Riton, Aquadrop, Blatta & Inesha and Wongo. Along with label heads Astronomar and Neoteric, Bot has helped take Main Course from a fledgling upstart to a bona fide tastemaker machine via fresh talents like SLUGGERS and the fan-favorite Mutant Club and Snacks compilation series.
Bot brings the Main Course spirit of diversity and experimentation to life on his Metronome mix, which explores the dirty, dingy and headbanging sounds of the label and the underground. Buckle up: It's a booty-bumping ride.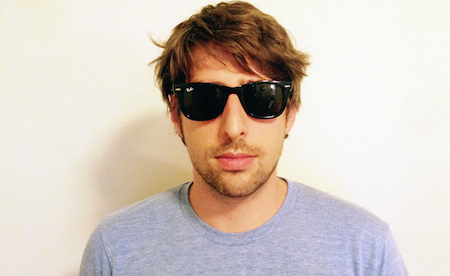 We hear you've recently moved to Los Angeles. Welcome to the City of Angels! Have you had any changes in your musical direction or tastes since moving to L.A.?
Yes, I did. My club productions are going toward more of a house-y direction. It means falling in love again with the sound that started it all for me, and also taking a break from the big-room sounds that aren't doing it for me anymore.
Any good Italian places you've found in L.A. that come even remotely close to your country's delicious standards?
Definitely. I'm a regular at Silver Lake's Speranza, and last night I tried a restaurant called the Factory Kitchen. It's located downtown, and I have to admit, it had some great Italian food from the region of Liguria.
You're into physics. Are there any lessons you've learned from your studies of physics that you apply to your DJ and/or producing duties?
I'm more of an amateur in that regard, since I studied business school, and with no particular success. Unfortunately, the kind of physics I'm into haven't found their way into practical, everyday use. But I'm sure they will, and there will be major innovations in the way we process sound digitally because of that, too.
You're one of the leading dudes at Main Course. What is it about the label that sets it apart from the millions of other electronic labels?
Sorry for bragging, but I feel like our A&R game is particularly strong, and that is especially because of Astronomar. He's in the streets of the internet all day and just really talented at finding new tracks and producers without genre restrictions all the time. Also, the fact that you can download everything for free for a month is an added bonus for many and allows us to reach a much broader audience.
Who are the Main Course rookies we should be following right now?
We just released a good EP by SLUGGERS, who I think you'll hear more about soon. Also, fellow Milan-based producer Mace is up to great things.
What are the challenges of being a solo producer compared to being part of a collaborative project? Do you now have more musical freedom as a solo act
Yes, and that's probably the main advantage because you have total freedom, but also one of the difficulties because you have to find another way to get feedback on the productions while they are in the works.
What's next in the world of Bot?
I finally managed to sign a track with one of my all-time favorite labels—gotta keep this a secret for now, sorry—that should be out by the end of the year. Right now, I'm preparing a lot of new material for which I haven't decided yet. It could even become an album if I continue to produce at the rate I am right now.
Bot Metronome Mix Track List:

Sluggers "Horizon" [Main Course]
Wuki "Talk" (Tony Quattro Remix) [Main Course]
Skitzofrenix "On My Mind" [Main Course]
Stephane 1993 "Plaques" [Main Course]
Kill Frenzy "All Night Long" [Dirtybird]
Tieks "Sing That Song" (Tiga Remix)
Dance Me "Rivastarr" (Rivastarr 2014 Re-edit)
Christian Nielsen "Do You Mind" [Play It Down}
Bot "Federjet" (Blatta & Inesha Remix) [Main Course]
Follow Bot on Facebook | Twitter
Follow Main Course on Facebook | Twitter | SoundCloud
---
Share
---
Tags
---
You might also like