Insomniac's Metronome series features mixes from some of today's fastest-rising electronic stars, as well as championed legends. It takes listeners deep across a wide range of genres, movements, cultures, producers, artists and sounds that make up the diverse world of electronic music.
On her latest release, "Work," Los Angeles-based producer/singer DUCKY goes for the jugular. In it, she sings, "You don't have to like me, but you will respect my drive / When I get behind the decks there'll be nobody left alive." It's more of a power proclamation than a threat itself, but the lyrics combined with the frenetic, 150-BPM club track take a commanding stance.
Channeling and championing her relentless work ethic, "Work" is an ode to DUCKY's rise as a leader of the new school of chameleonic, internet-based producers. Her style breaks free of genre restrictions and revives a brand of throwback rave tunes with experimentation in the realms of grime, techno, ambient and footwork. Hers is the soundtrack to the first successful time-travel pod, both celebrating the past of classic rave culture and nodding to the strange future of dance music.
With "Work," DUCKY kicks off a monthly free release series via her recently launched Club Aerobics imprint, a female-run collective cofounded with Bianca Oblivion and Suspect Bitch. It's the latest endeavor in DUCKY's long list of projects, which also includes her weekly Rave Toolz series, a collection of edits and originals "to help you kill the rave"; the weekly Club Aerobics Radio show; and growing touring and release schedules.
While she's been at it for several years—she produced an album as part of a school project in the 8th grade and later dropped out of high school at age 17 to pursue a BFA in recorded music with a minor in mathematics at NYU—her profile skyrocketed last October after a cosign from Skrillex, who released her impressive Lost Angeles EP on his Nest HQ imprint. Lost Angeles received high praise from major media outlets, including Pitchfork and NPR, who spotlighted her ethereally trippy "Rain Dance." With her upcoming Hack the Club EP slated for release at the end of March via Japanese label Trekkie Trax, there's no predicting where exactly DUCKY will land in her ever-growing universe of space oddities.
In her Metronome mix, a live and unedited set, DUCKY gets weird and otherworldly, just the type of aggressive setting the no-holds-barred artist needs to strive.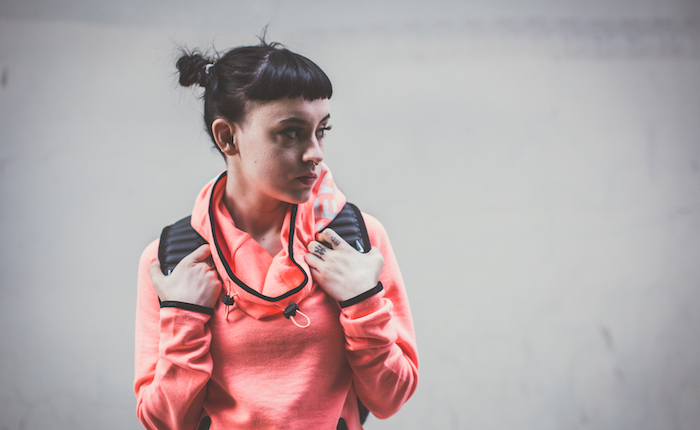 You're a vocal proponent for women's rights and gender equality, particularly as it applies to the electronic music world. How do we solve the issue surrounding the lack of female representation in this male-dominated industry? Is there even a solution?
Obviously, there's not a simple answer to this question. Any actions to right the gender imbalance in electronic music walk a fine line. On one hand, it's counterproductive to make gender a novelty. Every female DJ/producer I know would really appreciate it if you stopped referring to us as "female DJs" or "female producers." We're DJs and producers just like the boys—no qualifier necessary. On the other hand, it's important to recognize that the ratio of men to women in the industry didn't end up skewed by chance. Years of men favoring other men, while simultaneously creating an uninviting or even hostile space for women, created this imbalance. It's going to take active work to fix.
It seems like a complicated, multilayered issue, with many parties involved: promoters, artists, and even fans, to an extent. Who should lead the way in addressing the issue? And how much responsibility should each party be accountable for?
Again, no simple answer here. In my eyes, it boils down to: Do what you can. Well-known artists have the ability to make a change by actively supporting women—working with them, tapping them for remixes, booking them, etc. In my opinion, Skrillex has been a great role model for powerful men in the industry, putting on women without parading them around as different. Labels can make an effort to release [music from] women. Promoters can make an effort to book women and avoid all-male lineups.
Obviously, there are nuances to the situation. I recently had a discussion with a woman who worked with a bottle service club in the Midwest, where she lamented the fact that most female DJs they'd considered wouldn't make commercial sense to book. And that's fair.
Promoting gender equality doesn't have to be some giant sacrifice. If you promote a party with a built-in crowd, in a city with a wealth of female talent, book women. If you've got a label and you hear good demos from women, release them. If you're not getting any demos from women, consider why that is and then seek them out. Small efforts from a large group of people will add up.
Oh, and if you're a male DJ or producer or promoter, for fuck's sake, don't hit on the women you're working with! Don't touch the gear when we're mixing. Don't act surprised when we play a good set. Give us the respect you'd give any male peer, and call out your peers if they don't act right. That's on you.
You're unafraid to address the haters and face the naysayers head on. Your mantra, "Yes, I produced it," is simple yet powerful. Why did you feel it necessary to spread this message? What are you trying to tell the world with these words?
If I could, I would drop that tagline in a second. But the assumption is that women never produce. When I released tracks with my vocals on them, the label head and I both received countless messages asking who produced it, even when the description included "produced by DUCKY." It didn't matter. The onus is constantly on women to prove basic competence when it comes to production and DJing, and I'm bored with that. I guess I hope the wording makes people question why they assumed I didn't [produce the music], but mostly I just got sick of answering that question.
Your newly launched Club Aerobics imprint is co-run with two other burgeoning female artists, Bianca Oblivion and Suspect Bitch. Was this female-fronted collective born out of a necessity to be heard? Or was it more of a support system for aspiring female producers?
Actually, it was neither. We were already working together, and we had a vision for a club music outlet. That's it! I note that it's female-run on occasion when I describe it, because it seems to pique people's interest. But I think that's unfortunate. Nobody forces a narrative on male-run labels, because nobody sees that as unusual.
Will Club Aerobics be gender-neutral?
Club Aerobics is gender neutral. Our first release was my own track, our second by a young male producer from Japan named Ryuki Miyamoto. Our forthcoming release is by Elevation; I actually don't know how they identify. Of course, we're going to do what we can to promote women, gender nonconforming people, and people of color. But the burden falls disproportionately on marginalized groups to help others fight the oppressive forces they're already up against. I'm fighting my own fight against sexism in the industry; of course I want to bring others up. But it would be great if the label could just be my thing and we could ask those with more power what they're doing to right the gender imbalance instead.
The Club Aerobics singles are offered as free downloads every month, a trend we're seeing more and more. With the rise of digital streaming and the continuing decline of physical and digital music sales, what does the value of music as a product mean nowadays?
This question is hilarious, because there hasn't been a good answer in years. I studied music business in university around 2010 and was asked the same question. The devaluation of music as a commodity began in 2000 or 1999 or whenever, when the record industry refused to cooperate with Napster. It's not some scary new issue! If you're an upcoming artist, especially in electronic music, you've probably never existed in a climate where record sales were going to be your income.
You also have a background in computer programming and coding, having started as a young 8-year-old. You basically grew up in front of a screen and on the internet. Did this constant exposure to computer culture influence your decision to pursue music as a career?
I was going to say that my interest in music began before my interest in computers, but I remembered there is a really good picture of me as a baby with a rudimentary laptop playing some alphabet game. I don't think you can separate either, because they're just part of my development, but it wasn't a clear-cut path.
I was always doing something musical. I went to a school with mandatory choir. I took a lot of different instrument lessons but hated them all. I went to music camp, everything. But I think I probably just ended up as a producer because I really liked the Postal Service. I basically wanted to be Dntel, and it inspired me to check out Logic.
You also write your own lyrics and sing over your own productions. Of the two, which is more difficult, singing or producing your own beats? Do you see yourself taking an approach closer to songwriting rather than club tracks in the future?
Oh, singing is way harder. I kind of hate my voice. I actually started out as more of a songwriter and have moved toward club tracks, not the other way around! I've taken it all down now, but when I first began producing at age 13, I was basically a knockoff, lo-fi Postal Service with some Portishead thrown in. My songs were lyrically based because writing and singing felt more comfortable as a form of self-expression. Now that I've grown comfortable with my production and mixing process, I find I can be much more expressive with instrumental tracks.
Track List:

Skin Deep "Vexed" (DUCKY 150 Edit)
Blacklolita "Tengai Makyo"
DJ Snake "Propaganda" (Subsurge's Hard Club Bootleg)
Nahiba, MOTi "Turn Me Up" (DUCKY 150 Edit)
Skippit "Skank" (DUCKY 150 Edit)
Promise Land "Xpress" (DUCKY 150 Edit)
My Nu Leng, Flava D "Soul Shake" (DUCKY 160 Edit)
Firebeatz, Schella "Dat Disco Swindle" (DUCKY 160 Edit)
Abel Ramos, Albert Neve  "Let the Bass Be Louder" (DUCKY 160 Edit)
Afrojack, Hardwell "Hollywood" (DUCKY 160 Edit)
Delayers "Make Them Bounce" (Nari Milani Remix) (DUCKY 160 Edit)
Mercer "Opium" (DUCKY 160 Edit)
banvox "Summer"
Mercer & Mightyfools "Drop It Low" (DUCKY 160 Edit)
ATICA "Go Back" (DUCKY 160 Edit)
Autoerotique "Streets" (DUCKY 160 Edit)
Wiley, Wolfgang Gartner, Trina "Turn Up" (DUCKY 160 Edit)
KATOMORI "I.N.F.I.N.I.T.Y"
Follow DUCKY on Facebook | Twitter | SoundCloud
---
Share
---
Tags
---
You might also like