Insomniac's Metronome series features mixes from some of today's fastest-rising electronic stars, as well as championed legends. It takes listeners deep across a wide range of genres, movements, cultures, producers, artists and sounds that make up the diverse world of electronic music.
Deep from the belly of the techno beast comes Berlin-based Chambray, the new kid on the block setting off a firestorm over at the Jimmy Edgar-helmed ULTRAMAJIC imprint. Chambray made initial waves with "Untitled," which caught the ear of Jimmy himself back in February and eventually birthed the phenomenal Rub EP. Along with the title track, "Untitled" and EP opener "Ease" perfectly define the Chambray aesthetic: dark club romps that equally emphasize modern house, midnight bass and techno dusk. Still, bass brawler "Ghetto Giants" is the absolute truth: Imagine a drum circle led by a band of gorillas in heat set in the middle of the central African jungle. The heavyweight bass mixed with spastic drum loops are enough to clobber Satan's ears.
Chambray recently released his Rub Remixes EP via ULTRAMAJIC, which pits the producer's already-stellar tracks with reworks from The Hacker, Berghain staple Len Faki, Bodyjack and DJ Haus. To celebrate, Chambray drops his Metronome mix, which explores the darker sounds of the underground mixed with lighter dancefloor Chicago house funk.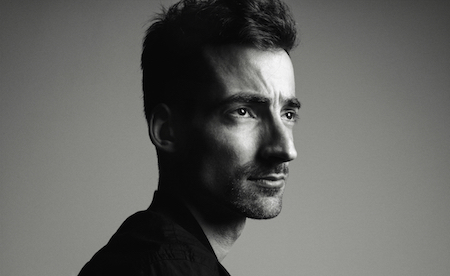 Let's talk Berlin.
Berlin, all together, is an interesting city where people are able to express themselves freely without a set of rules. I love it a lot and highly recommend it for people to at least visit once
What's happening in the city now that Americans need to know about? Who are some up-and-coming Berlin producers we should all be following?
Hard to say. In Berlin, there are a lot of good producers out there, but I have no faves until now.
What is it about Berlin and the city's club/music culture that makes the city such a hotbed for genre-pushing and forward-thinking artists and sounds?
Berlin is quite relaxed and very cheap. There is entertainment just about everywhere, and you can do what you want when you want. The city is also very multicultural, and it shows directly with the music scene. You can feel the different influences in each DJ's set, but still see how they cater it to Berlin.
What can you tell me about the current state of techno and the direction it's going?
I think techno is pretty hot right now around the world. Recently, I've noticed that techno is making a major comeback and more and more producers are adjusting their sound to reflect this. That's the reason the response to this type of music has been greater than ever, which opens new fans to different types of music within the main genre. I'm very curious and excited to see what the future holds.
How did your relationship with Jimmy Edgar and ULTRAMAJIC come about?
I sent Jimmy a demo of "Untitled" in February 2014 and immediately got a positive response from him. We talked about a conceivable release on ULTRAMAJIC for which would include three other tracks. With this motivation, I was really encouraged to get this EP done as soon as possible so we could get the music signed. I love working with Jimmy and the whole ULTRAMAJIC team. The vibe is relaxed and pally, not this straight business thing. I'm really thankful to be a part of the ULTRAMAJIC crew now.
Similarly, how did you hook up with fellow Berlin techno lord Boys Noize?
I have never personally met him. I was asked to do the remix for Madame ["Shuffle"] personally, and once it was done Boys Noize made the final sign off. I know he supports a lot of my music and would love to meet him in the near future.
You grew up in a small village in Germany, but your music is heavily influenced by Detroit techno and Chicago house. How did you discover these American sounds? And how did American pop culture influence your style and approach to music?
I got into Detroit techno and proper Chicago house early on in my life through my friends. I don't really favor one genre over the other, but I do pull elements of both into my productions. Most of my drums/percussions have influences from these genres as well as various types of African music.
As a German native, it must be wild to go from a Berghain visitor to an actual performer at the legendary club. Similarly, it must be surreal to hear techno legends like Richie Hawtin supporting your music.
Actually, I'm not a big clubber. I prefer to be at home producing music or something like that. I had only been to Berghain once before actually setting foot inside as a performer and playing. Regardless, my three-hour set was amazing; perfect atmosphere and vibe all around. As well as getting some quality time with Jimmy and Aden, of course, the entire night was awesome.
It's definitely an honor to have DJs like Richie supporting my tracks, no doubt. It's something of a steppingstone some only dream about and I'm happy to have that one under my belt.
What's currently happening in the world of Chambray?
I am currently working on my second EP for ULTRAMAJIC, which will be out early 2015. Also working on some good dates with Jimmy around his Fabriclive release party in February, and working toward making it out to the US soon as well.
Track List:

Kassem Mosse "No Peace No Love No Unity" [Mikrodisko Recordings]
Florian Kupfer "Reach Another System" (Stereohaunts Edit) [Unreleased]
Yaleesa Hall "First Leyland" [Will & Ink]
Jammin Gerald "Pump That Shit Up!" [Dance Mania]
Chaos In The CBD "Okinawa Race 1" [Hot Haus Recs]
Deapmash & Raito "Stop" (Strip Steve Remix) [Forthcoming Clubwerks]
Trus'Me "It`s Slow" (Truncate Raw Mix 1) [Prime Numbers]
ID–ID
Chambray "Untitled" (Bodyjack Remix) [Ultramajic]
Ste Spandex "Undress Me" [S1 Warsaw]
Sascha Rydell "Thought Disorder" [Fachwerk]
NKC "QF" [Bandcamp]
Chambray "Ghetto Giants" (The Hacker Remix) [Ultramajic]
Tyree ft. J.M.D. "Move Your Body" (Tyree Lost His Vocal Mix) [D.J. International Records]
Don Rimini "Dance To Chicago" (Chambray Remix) [Booty Call Records]
Follow Chambray on Facebook | Twitter
Follow ULTRAMAJIC on Facebook | Twitter | SoundCloud
---
Share
---
Tags
---
You might also like