Upcoming Event
Insomniac's Metronome series features mixes from some of today's fastest-rising electronic stars, as well as championed legends. It takes listeners deep across a wide range of genres, movements, cultures, producers, artists and sounds that make up the diverse world of electronic music.
Even though Joseph Chung and Joseph Abella did not fully realize how propitious their partnership was at the starting line, the important thing is that they came around eventually. The hesitation to get their ARMNHMR project off the ground is something they presumably look back at now with a sideways stare, because the Cali-grown duo has been absolutely nailing it in the last year.
While most of their material tends to lean into the domains of trap and future bass, they've also demonstrated a death-grip on the genre-swapping game. Catching people slippin' is their most obvious strength, as they jackhammer through sounds and create hyped-up hybrids from the rubble. It's this willingness to experiment, and mold minds in the process, that has made them a name you would be wise not to gloss over.
We've asked the ARMNHMR boys to show us what they're made of, so they busted open their toolbox of tunes and came crashing down with a mesmerizing amalgam of melody-drizzled bass offerings. Get on it after the break, and then check out a few choice words from the two brains powering a duo that knows how to hit you right in the feels with brute force.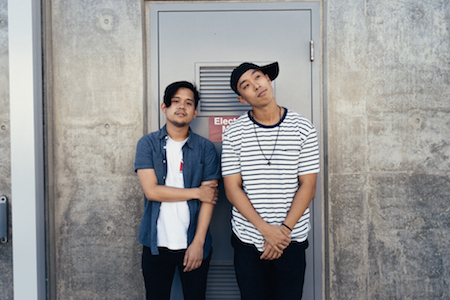 How did the ARMNHMR project originally come together?
ARMNHMR actually started out as a means of bouncing production ideas/techniques between the two of us. I (Joseph Chung) switched from Logic to Ableton, because the user interface was so much easier and Joe was already on it. He helped me get used to it all. We started this project with no real intentions of working together beyond that. After a few months of trying to make this whole "duo" thing work, we decided to go our separate ways. It was not always crystal clear. We've definitely had our bumps.
Fast-forward to about half a year later: I (JC) sent Joe (Joseph Abella) a demo that I had been working on, and he really liked it. From that day, we decided to go 110 percent with ARMNHMR and have never looked back.
Does the metaphor in your name represent you both individually? Is one of you the arm and the other the hammer, or does it encompass you collectively?
It definitely represents us in the sense that we have unique strengths, and when combined… magic happens (or so we hope, haha). In regards to whether one of us is the arm or the hammer, that is for you guys to decide, and that's what makes it extra special to us. We've been in countless conversations where we've heard several different interpretations as to who is which. Joseph and I have already decided, but it's fun to keep this going, heh.
If there's one thing we will say, it's that ARMNHMR is a representation of us both—the idea that life is all about balance and finding the joy in the little things, while also reaching for the stars. We could not have done it without the collaborative work ethic we've refined through the years.
What's your musical background before producing came into the picture? Do either of you come from a musically inclined family?
JC: As far as my own personal background, I played the alto and tenor saxophone throughout my elementary and middle school years. I also played piano, like any Asian kid growing up. As far as my family, my father was a singer in Korea, my mother is a traditional dancer, and my sister found early success on YouTube as a singer. I have always been around music.
JA: I came from a rock and classically trained background. I used to write and track a majority of my bands' music on a four-track recorder back in the day. Ironically, I honestly did not know what electronic music was until I was already in college.
Why do you believe your partnership works so well? What strengths is each of you adding to the equation?
JC: Like any successful duo, you need to have chemistry. Joseph and I have just that. Since rekindling our passion project way back when, we've never really had an argument or dispute. One could argue that it's "healthy" to bump heads here and there, but we think music-based partnerships don't necessarily need that. We see eye-to-eye on many things, while also making sure to let our thoughts and opinions be known. We hope this chemistry never ends. We want it all!
I am the iron fist between the two, and I am sure many people will agree. At times, I can be very blunt; I'll admit I could tone it down a little bit. Joseph is the elegant finesse warrior. He is definitely the nice guy of the two and keeps the team vibes leveled, haha. If we're ever in a production block, Joseph is there with the game-changing idea.
You've gained a significant amount of traction in the last year alone, with plays on your channels reaching into the millions. Was this surge of support something you saw coming, or did it catch you by surprise?
We never really expected anything, to be completely honest. Our first show consisted of nine people, and we brought all nine of them. It was so much fun, but looking back at it, a little depressing.
As our fanbase grew more and more, and when the attention from our friends started to become more frequent, we realized that maybe things would pan out for us. The local scene has been a HUGE factor in our success. It's great to feel the love of Orange County riding on your back. We could not have done it without you guys. Special shout-out to Los Angeles and the Bay Area—screw it, shout-out to California (the best coast)!
What has been the most surreal part of your story thus far?
The most surreal part of this whole thing is that our dreams are actually achievable. Getting messages from people all over the country and the world still surprises us. We don't think we'll ever get used to it, and we are 110 percent okay with that. It's amazing to see where our music can potentially take us, and that is the ultimate motivator. We have some pretty great shows coming up, and we can't wait to announce them.
What's the main motivation pushing you forward?  
Two things: Family and happiness. We want to pursue music because we love it. It brings happiness to us, and we know that it also brings happiness to our respective families. We weren't born to sit in a cubicle for eight hours a day. The thought of it just clenches our stomach. Happiness is freedom. This passion project has never been as clear than it is right now, and we'll chase this dream until we die (cheesy but true).
As Asian Americans, how, if at all, has your culture affected your work? Are there certain obstacles or advantages that might be specific to your situation?
Both of us never had the luxury to work on music full-time, because of the culture back at home. We were expected to maintain high grades at all times, like any stereotypical Asian family. Even after college, both of us got salary jobs working 40 hours a week to make sure our professional lives were not affected. We see this as an advantage and a disadvantage. The negative side is that we can't solely think about music (as much as we'd love to). It was extremely difficult in the early stages, because of the emotional pressure that came with it. Things have gotten exponentially better as our vision started to become clearer. The real work begins when we get home… We see ARMNHMR as not only a production duo, but as a business. It's not just our passion; it's our baby.  We take it very seriously, and it definitely shows in how quickly we've grown. The marketing, the networking, the graphics are all done in-house, and it's been an unforgettable learning process.
In California, there's a large demographic of Asian ravers and festivalgoers, but there seems to be little representation on the producer side of things. To what do you attribute this disparity in dance music?
Race is the elephant in the room within many conversations, and dance music is no different. For one, there's this whole generalization that Asians only like to study or party, and to some extent, there is truth to that. However, we have a lot more to offer than high test scores, and we definitely think people are starting to notice the shift. We'll stop right there, though.
The idea of race is a VERY complex topic that goes beyond a certain group not being into making music (because they are). Within the dance music industry, there just isn't all that much diversity, and no one can deny it. People like what they are used to—it's human nature, and it'll take something very special to promote change. We'd like to note that we're not all screwed or anything. Music is growing so quickly amongst so many different types of people. We're on the right path!
Per Asian producers, we do see Asians becoming more relevant as dance music continues to grow, and we're a testament to that. Back when we started listening to this genre, Asians and dance music didn't really make sense (except for Steve Aoki, underground raves and drugs). Both of us know a handful of Asian artists that are making waves, and we can't wait to see where everyone is 2–4 years from now. (Huge shout-out to DATHAN, MYRNE, graves, Far East Movement, Manila Killa, and the list goes on and on.)
Please share a few words on the mix you've put together for us.
In this mix, you'll find tracks we have played in the past, as well as some new ones from producers we absolutely cannot stop listening to. The track list is a surface-area representation of the music we love to play during our shows. We love seeing the crowd vibing to our unorthodox palette. When people come out to see us for the first time, they're not exactly sure what to expect. Our SoundCloud may sway them one direction, but the minute the music starts, we catch them with a right hook. We hope you enjoy this mix and really appreciate the Insomniac family for giving us this awesome opportunity. Hope to see you guys real soon. <3
Track List:

ARMNHMR "ID" (Intro Edit)
A. G. Cook "Beautiful" (Rustie Edit)
Marshmello "Find Me"
Alison Wonderland "Want U" (Ganz Flip)
MadeinTYO "Uber Everywhere" (Slushii Remix)
Nonsens "Gotta"
Havok Roth & TYNVN "Vessel"
ARMNHMR "Trauma"
Boombox Cartel & Quix "Supernatural"
Ookay "Thief" (Habu Remix)
Dillon Francis & What So Not "Arrows" (Ben Maxwell remix)
Keys N Krates x Getter x RL Grime "Can't Deny Mine" (Havok Roth VIP Edit)
ARMNHMR "Fallen" (William Black Remix)
ARMNHMR "Fallen" (k?d Remix)
Laura Mvula "Green Gardens" (Djemba's Fest Edit)
Flux Pavilion "I Can't Stop" (Just A Gent Flip)
ID "ID"
Atik "#GHOSTDANCE"
Jane XØ, Dannic "Undone"
Illenium ft. Joni Fatora "Sleepwalker" (Xan Griffin Remix)
Benny Benassi x Skrillex x Rustie "Cinema Slasherr" (Benzi x Elephante 2k16 Edit)
ARMNHMR & DEVAULT "Rain"
Trademark "Take It Back" (Flume x Audien)
Niykee Heaton "Infinity" (Illenium Remix)
Vanic x KFlay "Make Me Fade"
Alison Wonderland "Whompz" (DNMO Remix)
graves & Maazel "Lost Boys"
Flume ft. Tove Lo "Say It" (Illenium Remix)
The Chainsmokers "Inside Out" (ARMNHMR Remix)
Follow ARMNHMR on Facebook | Twitter | SoundCloud
---
Share
---
Tags
---
You might also like