Metronome #162: Das Kapital
Insomniac's Metronome series features mixes from some of today's fastest-rising electronic stars, as well as championed legends. It takes listeners deep across a wide range of genres, movements, cultures, producers, artists and sounds that make up the diverse world of electronic music.
Among the farthest reaches of the world, you are bound to stumble upon hidden pockets where the most unique music is begging to be discovered. There's something about the isolation factor that allows closed-off countries like South Africa to take dance music to strange and exotic places. Such is the case with Das Kapital, who, alongside contemporaries like Kyle Watson, have found a distinctive way to reinterpret house music through extra-quirky grooves and just enough grit to make the club get dirty.
His body of work speaks for itself. But if you still need to have it spelled out, skim through his catalog and check the bits he's put out on top-shelf labels, like Punks, This Ain't Bristol, Audiophile XXL, and even an unlikely rework for heavy metal legend Rob Zombie, who can testify to the unique slant Das has been capitalizing on.
Yet it's not just his music that people are after; he's become an outspoken voice within the South African dance scene. Das has been vocal about the hurdles producers must clear to be successful, using his national radio show In Das We Trust to push the culture forward and making him the South African dance scene's biggest champion.
Das flexes his skills as a selectah in this week's Metronome mix with an hour of booty-shakin' house. He sprinkles his mix with plenty of his own beats, including some unreleased gems and a super slinky ID to get things started.
We had a chat with Das Kapital about the unique experience of being a South African producer, the incredible story that led to his remix for Rob Zombie, and how he landed on a moniker that stems from his early interest in political philosophy.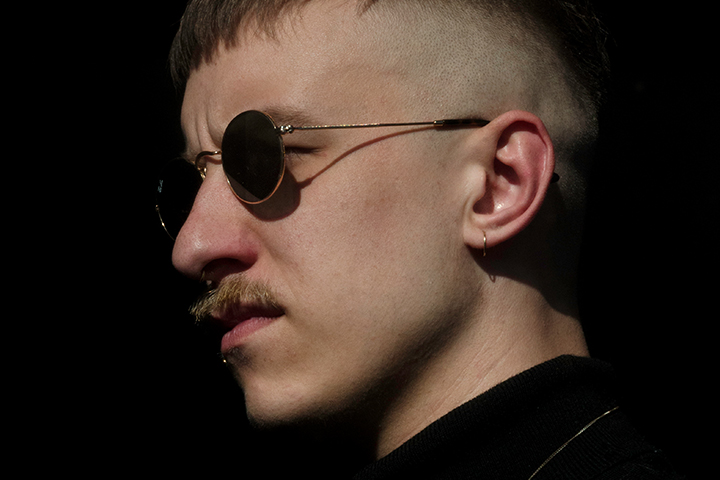 I generally avoid this question, but when someone shares an artist name with a Karl Marx book, I have to ask: What inspired your name, and how does that relate to your music?
Ha! Look, I'm glad you got the reference, and I understand it can be a bit odd to notice. I was finishing up high school when I decided to roll with Das Kapital as a moniker. At the time, a lot of the artists I was inspired by were taking their names from video games, books, or comics. When I was [around] 18, I was kind of obsessed with reading philosophy, economics, and history. I ended up taking Das Kapital because I was reading Marx at the time; my family's German, it sounds like a person's name if you read it offhand, and I like the idea of music being "for the people." There's obviously some irony in making my living making and playing music under this name, but that's part of the fun.
In your TEDx Talk, you spoke about the importance of dedication. Can you touch on how important it is for young producers and how that's helped drive your success?
I've seen so many talented artists come and go before really making an impact, because they just don't have that "spark" that separates someone with ability from an artist. That idea of waking up and creating, regardless of the outcome, is what has allowed me to do this music thing as my livelihood for almost nine years. As much as it's my work, it's the thing that keeps my fire alive.
Working tirelessly on your craft is the only sure-fire way to improve and find your own space in a world so full of endless, immediate content. I'm here right now because I've recommitted to my process at every hurdle. The more I've done "me," the easier it has been to find my own voice and an audience that understands it.
What are some of the hurdles you've had to overcome that might be considered unique to South Africa?
South Africa is such an interesting scene, because of the huge mix of influences. We have managed to make so many unique sounds and subgenres but often suffer from the fact that we still (erroneously) feel we are not up to a global standard. We wait for an international cosign before we take a lot of our dance artists seriously, and that sucks to see.
Being on the southernmost tip of Africa makes touring internationally prohibitively expensive for many artists trying to come up, and in the end, a lot of talent stagnates because we choose to just do well "at home," rather than taking the risk of pushing our sound abroad.
I make my own sound—a Frankenstein's Monster of my far-reaching influences—rather than follow whatever is popping in the major cities and scenes here, which has meant I'm not immediately the "easiest" artist to understand in a scene quite comfortable with music that's easy to put in a box. However, that level of "doing my own thing" has also helped set me apart and garner me a reputation and wider audience internationally. I regularly advocate that "uniqueness" to rising producers, because it's what has made our greatest exports so recognizable to begin with.
Can you big up some of your favorite South African artists?
Happily! Of course, I have to give love to Kyle Watson. He's not only one of the most talented artists we have, but also an all-around great guy that gives a lot of love to those around him. On some "You've gotta check these guys out to understand their vibe" type thing: FKA Mash, DWSON, Cuebur, Sam Mkhize, Advent, Hendrik Joerges, Stiff Pap… I could do this all day!
You were exposed to dance music at an extremely young age. Can you talk a bit about how you fell in love with it?
I hate those stories producers give about how musical their upbringing was; it's like a pissing contest. However, I was very fortunate to grow up around a lot of music because of my parents. I'd like to think I picked up the best parts of my mom's natural musicality and my dad's encyclopedic knowledge of the backend of music. I grew up listening to everything from Britney Spears to Yothu Yindi, but the classic house, techno, rave, and trance I was exposed to as a child stuck with me into adulthood. I got my first DAW at 15, and when I was 18, I realized that club music was where my heart really was.
Things came full circle when you got to host your weekly national radio show with Faithless and brought your dad in with you. How does it feel to share your passion for dance music with your immediate family?
It's awesome, to be honest. My dad introduced me to Faithless in the early '90s, and then some 20 years later, I got to introduce him to Sister Bliss. They ended up talking about their kids—I don't know what else I should have expected! My dad constantly links me to the stuff he's listening to—at this point, a lot of Armin van Buuren and A State of Trance. He understands where I'm going with the music, even if the sounds aren't exactly what he's used to, so I make sure to keep him on my promo mail-outs.
You remixed Rob Zombie, and the story behind it is kind of incredible. Can you share what led up to that?
That was wild! I think it was eight years ago now, when my manager got word that some publishers or managers we knew had this Rob Zombie remix album on their desk. I had already garnered a bit of a name for my remixes at the time, so they said I should take a shot at it; the catch is, I only had two days to do it. I managed to deliver this weird (and very of-its-time) fusion of metal and firing, 128-BPM dance music, and Rob Zombie apparently loved it and added it to the album alongside remixes by the Bloody Beetroots, Photek, and KORN's Jonathan Davis, amongst others.
Being on national radio in South Africa every week allows you to influence dance music culture in a different way. Can you talk about how your radio show gives you the space to advance the culture?
Being given the chance to host In Das We Trust—­my weekly three-hour radio show on 5FM—for three full years now has meant I can both bring up as-of-yet unheard talent into the public eye, and introduce forthcoming and future-forward international club sounds into the country.
It's been an incredible journey giving a voice to artists that haven't yet been able to break out of the bedroom, while also showing the global scene that there is an audience here that they NEED to consider.
I've seen collaborations and cross-pollination occur that I could never have planned for. There are fans of the show in Soweto listening to UK funky now because they've been exposed to it. There are artists in Detroit remixing South Africans because they were both featured on the show. I've had everything from NOISIA to ambient music featured and given its rightful space, and I've been proven right over and over again that South Africa is ready for more than just the safe and boring side of dance music that a lot of the gatekeepers here still think is the only option.
Das Kapital 'Metronome' Mix Track List

ID & ID – ID
Botnek & Aylen "Sky High"
rrotik, J. Worra & Dances With White Girls "Ride or Cry"
Alex Session ft. Graziella "Move" (Das Kapital Remix)
Lowdown & MKJAY "Afterhours"
Melodys Enemy "Dead Unite" (Eli Brown Remix)
J. Worra "Like XO" (Das Kapital's After Hours Mix)
Arzeen "Prem De" (Das Kapital Remix)
Will Clarke & Nick Monaco "Like a Girl"
Eli Brown "Tech This Out" (Melodys Enemy Remix)
HAEZER "Radioactive Rhythm" (Das Kapital's Gone Nuclear Mix)
MASC "It's Good"
Anti Up "Friday" (Edit)
Bart B More & Das Kapital "Hit the Club"
MNNR & STØNE "Like Dirty"
Taiki Nulight & Cause N Affect "What You Gonna Do"
Maximono x Marten Hørger "Switch" (Edit)
Das Kapital & MNNR "XTC"
Melé "The Beyonce Track"
NiQW "Rinsin"
Endor "Metronome"
Bart B More "Superzoom"
Arnold & Lane "Shaeke"
Moonbootica & Jack Beauregard "Covered in Gold" (Das Kapital's Sunrise Mix)

Follow Das Kapital on Facebook | Twitter | SoundCloud
---
Share
---
Tags
---
You might also like