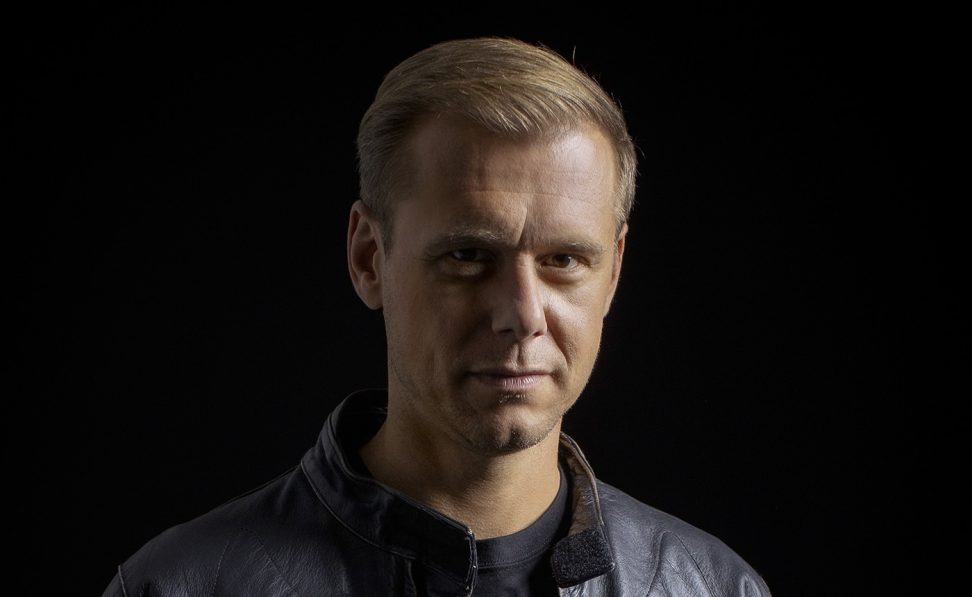 Genre: Trance
Origin: Netherlands
This is a man driven by an unbridled and relentless passion for music. Armin van Buuren is a born perfectionist, striving to stay on top of the scene he's helped build. As the flag-bearer of the trance movement, he's one of the most influential figures in EDM worldwide. Even though he lives an extraordinary life as one of the world's most popular DJs, he has always remained a down-to-earth guy. Armin van Buuren is constantly on the move, whether creating music in his studio or en route to his next high-end club or festival show around the globe.
Armin: "It's not just love for music, it's my passion. It goes beyond liking, and beyond a hobby. It's about a way of living. Music is essential to my life."
For more than twenty years, the Grammy-nominated Dutchman has been living to the rhythm of his own international success. His five-time number one position in the critically acclaimed DJ Mag Top 100 DJs poll has been the result of his loyalty to fans, his creativity in the studio, the perseverance with which he hosts his weekly radio show 'A State of Trance' and the energy he brings to the crowds in front of him. Despite the heavy pressure that comes with being one of the world's most popular DJs, Armin has always kept his focus on the music. And that's exactly what keeps him going.
HOW IT ALL BEGAN
Born in Leiden, the Netherlands (December 25, 1976) to a musical family, Armin indulged his passion for music from a young age. He spent all of the money he earned from his paper route on records. His mom won a computer when he was 10, piquing Armin's interest in technology. "So as a little nerdy kid I was writing my own basic programs and learnt about the technology from there." Armin progressed from making low-profile mix tapes for friends to high-end mixes when he started experimenting with different sequences on his computer through his uncle. "I was so stunned by what I saw him doing on the computer that I got addicted to creating music right there and then!"
"I loved dance music immediately – this great rebellious sound that was so different from the 'beautiful' songs of the years before." Armin cites electronic pioneer Jean-Michel Jarre as a major influence, as well as Dutch producer Ben Lie-brand, who later mentored him in his mixing and producing.
In the early days, Armin thought it was wise to have a back-up plan, and so he studied for a law degree. The final year of his course was inevitably stretched out as he juggled his studies with his increasingly hectic schedule; his rise to fame included lots of productions and remixes, as well as playing in front of packed clubs every weekend. It took him three years to graduate, but his determination made him succeed.
Despite having a Master's degree in Law, the main ingredient in Armin's life has always been music. Armin: "I see it as my responsibility to promote trance as a genre, and I want to support it in every way I can. Music should connect us. As long as the music keeps evolving like it is, I will continue and I don't see any reason to slow down."
THE DJ
No matter how many hours Armin van Buuren has travelled to get there, as soon as he enters the DJ booth, the Dutch-man puts his full focus on the music, the crowd and how those two will combine. Once the beats of his first record kick in, the room lights up and chanting starts to fill the air. To witness a set by Armin van Buuren is to be blown away — to lose yourself completely in the music and become one with the people around you. Mixing seamlessly, he has created his own sound and style, making his DJ sets a truly unique experience. He unites millions, not only through the gigs in his challenging schedule, but also through his 'Armin Only' and 'A State of Trance' world tours.
His busy life as a DJ has inspired countless people both personally and professionally. In 2009, Dutch author Coen Bom presented his on-the-road biography of Armin called 'Eén op één' / 'Armin Only', in which he reported on the hectic life of Armin and tried to find the secret behind the grand success of the humble Dutchman. In October 2012, the official documentary 'A Year With Armin van Buuren' was released, in which Armin was followed during an important year in his life, offering a unique look behind the scenes and inside his personality. Again and again, his life as a superstar DJ con-tinues to inspire others.
Armin has the privilege of performing at some of the world's biggest and best festivals, clubs, events and shows. One of the highlights of his career was performing for the newly crowned King and Queen of the Netherlands in 2013, Willem-Alexander and Máxima. Together with the Royal Concertgebouw Orchestra and in front of the monarchs and 15,000 fans, he performed both 'The Bolero' as well as an orchestral version of the title track from his 'Intense' album. During the 'Koningsvaart' (a special, cultural boat trip through the city of Amsterdam), the King and Queen surprised both the crowd and Armin by getting on stage and dancing along with him.
Another memorable highlight of Armin's career was his DJ set at the Museumplein in Amsterdam in July of 2010, during the ceremonial honoring of the Dutch national soccer team. Even though the national team lost in the FIFA World Cup final, they partied like they were the absolute winners with a crowd of 200,000 strong.
In 2013, Armin's career hit a new milestone when he became the first solo dance artist to play in Madison Square Gar-den. The event was completely sold out, representing another crowning achievement for the DJ.
After the 2013 summer season had ended (along with his residency at the world's biggest club, Privilege in Ibiza), Armin kicked off a new 'Armin Only' world tour based on his 'Intense' album, in collaboration with theatre director Jos Thie. More than 33 dates were set, with shows landing in cities such as Kiev, Mumbai, Saint-Petersburg, Helsinki, New York, Toronto, Mexico City, Sydney, Johannesburg, and more. With the 'Armin Only' tour, Armin brandished a unique and ex-clusive show format, which unfolded like the many layers of his 'Intense' album. In total, more than 500,000 visitors at-tended, spanning 5 continents. A 'Road Movie' series was also created, documenting behind-the-scenes footage of the entire tour as it took place.
In 2014, Armin began a highly successful weekly residency at the famous Ushuaïa Beach Hotel in Ibiza, playing every Thursday night from June 26th to September 11th alongside top DJs from the Armada Music roster. After the residency, he released a compilation entitled 'A State of Trance at Ushuaïa Ibiza' to commemorate the season.
As if to underline the success of the residency, Armin returned to the Ushuaïa Beach Hotel a year later for another 'A State Of Trance at Ushuaïa, Ibiza' summer. His performances in the center of the Ushuaïa pool were met with wide-spread passion and enthusiasm amongst his fans, subsequently leading to the release of the second volume of his Ushuaïa compilation series: 'A State Of Trance at Ushuaïa, Ibiza 2015'.
On January 26th, 2016, Armin van Buuren announced the first two dates of his brand-new Armin Only Embrace world tour, to which even more dates were added later on through a live announcement at A State Of Trance Festival Utrecht on February 27th. 'Armin Only: Embrace' has since seen a spectacular kick-off in Amsterdam, the Netherlands and has brought a spectacular offering to other cities, including Gdansk (Poland), Dubai (UAE), Sofia (Bulgaria), Minsk (Belarus), and Mexico City (Mexico and more.
In 2017, on Friday, May 12th and Saturday, May 13th, Armin van Buuren celebrated his twenty-year anniversary as an artist in one of the most prestigious venues of the Netherlands. Both shows in the Amsterdam ArenA sold out in no time, which allowed Armin van Buuren to celebrate the special occasion with tens of thousands of his most loyal fans and to create a memory able to withstand the test of time.
In the summer of 2017, Armin van Buuren returned to the White Isle for another highly anticipated summer residency. Gracing Hï Ibiza – one of Ibiza's newest and hottest clubs – with sublime Wednesday Night shows alongside fellow-Dutchmen and friends Sunnery James & Ryan Marciano, Armin van Buuren does what he does best: rousing crowds beyond belief and giving them the time of their lives for the full duration of the show.
At the start of 2018, Armin van Buuren announced his return to Hï Ibiza alongside Sunnery James & Ryan Marciano to dive into the Ibiza madness for another glorious summer chock-full of stellar club performances and epic festival live sets, such as the seven-hour-long live set at Untold Festival in Romania. One year later, in 2019, Armin van Buuren still heads up the Wednesday Night shows at Hï Ibiza during the summer.
In 2022, two years later than originally planned due to the Corona pandemic, Armin van Buuren will play his most per-sonal and intimate live shows yet through four sold-out shows in the Ziggo Dome: 'This Is Me'.
THE RADIO HOST
What started as an obsession for radio has turned into a weekly highlight for more than 44 million listeners, broadcast-ing to over 100 FM stations and fans from 80+ countries. In June 2001, Armin van Buuren aired the first episode of 'A State of Trance'. Eighteen years later, he still hosts the weekly two-hour show, where he presents the biggest tunes of the moment and provides an interactive way for fans to discover new music. Regular features of the show are the 'Tune of the Week', 'Progressive Pick', 'Service For Dreamers' and the 'Future Favorite', the latter of which is based on an online voting poll.
Celebrating each milestone, Armin did an extensive world tour based around the 650th episode of ASOT in early 2014. The 'New Horizons' world tour landed in the cities of Moscow, Yekaterinburg, Almaty, Utrecht, Santiago, Buenos Aires, Jakarta, Kuala Lumpur, and Miami. The 8-week tour took place in January, February, and March of 2014 and included nine shows in countries all around the globe, with events broadcast live on the A State of Trance website.
In continuation of the success of ASOT, Armin kicked off his A State of Trance Festival tour. ASOT Festival was a new concept developed for 2015 in conjunction with ASOT Episode #700. Armin van Buuren became the first DJ to have his own festival: the biggest trance festival tour in history. The tour invaded Utrecht, Buenos Aires, Ultra Music Festival in Miami, Sydney and Melbourne, Mexico, and other destinations worldwide. Episode #700 was also the first time that an entirely fan-created show was used, with fans being given the chance to present their favorite tracks on air. Fans were asked to submit voice recordings of themselves introducing their favorite trance tracks of all time, and the resultant songs and recordings were used to create an entirely fan-made episode, which marked the first time in the world a major dance radio show has ever done this.
After very successful editions of ASOT 750, ASOT 800 and ASOT 850, the A State Of Trance event series hit ASOT 900 on a high note, celebrating no less than 900 episodes of the radio show with a huge event in Utrecht, the Netherlands, which attracted a crowd of 33.000 strong. ASOT 950 naturally followed suit one year later, and Armin van Buuren's in-ternationally acclaimed radio show has since surpassed the milestone number of 1000 episodes, with an epic ASOT 1000 celebration weekend scheduled for February 2020.
Reflecting upon the 'A State of Trance' world tours, Armin says: "I'm deeply honored by all the positive things that are happening for the show and for the sound in general. I've always said ASOT is not only a show for, but also a show by the fans. The show wouldn't be where it is without the fans, so it feels amazing to see so many people celebrating along. It's crazy to see groups of fans going crazy to the same music that we're playing on the other side of the world. People wearing banners, flags, and making their own private party. This is what I meant with 'turning the world into a dance floor'."
Each year, the listeners of the show are asked to vote for their favorite records of the year, with the 'A State of Trance Top 20' as the official result. Each track on this list ends up in the 'A State of Trance Year Mix', released at the end of December. Weeks of editing and mixing come together in a two-hour mega mix showcasing over a hundred tracks and countless memories. Several hundred thousand copies of the series have been sold to date, and the series has been going strong for almost fifteen years. Another series that Armin has linked to the radio show is the 'A State of Trance Classics' compilation. After years of providing some of the most essential classics and all-time favorites in EDM, the series continues to commemorate the early days of dance music. Furthermore, Armin was awarded 4x certified Plati-num for his ASOT Year Mix series in late 2014.
In addition to the radio show, Armin started the weekly 'A State of Trance Podcast' with a selection from the previous episode of the radio show, ensuring that listeners never miss out on any highlights. Every Sunday, Armin also hosts a 24-hour radio day called 'A State of Sundays', broadcast on one of the biggest radio stations in the United States: Sirius XM Satellite Radio. In addition to the A State of Trance shows, A State of Sundays also introduces its listeners to the sets and radio shows of other popular DJs and talented artists.
In 2017, Armin van Buuren opened a brand-new radio studio in the HQ of Armada Music in Amsterdam, from which all latest episodes of A State Of Trance are broadcast in audio and video.
THE PRODUCER
Whenever he's not on tour or having a daddy day with his daughter Fenna and son Remy, Armin locks himself up in the studio. Giving meaning to his famous quote "Don't be a prisoner of your own style", he explores the boundaries of EDM through his originals and remixes. Some of his most beloved works, such as 'Communication', 'Burned With Desire', 'Blue Fear', 'Shivers', and 'Yet Another Day', have grown into highly revered classics, withstanding the test of time.
Armin van Buuren can now look back on the success of his '76' (2003), 'Shivers' (2005), 'Imagine' (2008), 'Mirage' (2010), 'Intense' (2013) and 'Embrace' (2015) albums, whilst gearing up for the release of his seventh artist album, 'Balance', on October 25, 2019. 'Intense' was nominated for the Dutch Edison Pop Award for 'Best Dance Album'. The follow-up to his 'Mirage' album featured collaborations with Israeli violinist Miri Ben-Ari, Australian duo NERVO, and singers like Trevor Guthrie, Emma Hewitt, Laura Jansen, Fiora, and more. 'This Is What It Feels Like' ft. Trevor Guthrie (the first single off the album) was nominated for the Grammy award for 'Best Dance Recording' and also received a nomination for a Canadi-an Juno Award. It became a worldwide hit, reaching A-List rotation on radio stations all across the globe and receiving silver, gold, platinum, and double platinum certifications in countries such as Canada, the Netherlands, the UK, Australia, and Italy. The video has reached over 64 million views to date.
After indulging his fans with a fresh Armin van Buuren presents Rising Star record ('Safe Inside You' feat. Betsie Larkin), an official remix of the 'Game Of Thrones Theme', and a collaboration with Electronic Music pioneer Jean-Michel Jarre ('Stardust'), Armin announced the name of his forthcoming artist album during his ASOT radio show on Thursday, Sep-tember 3, 2015.
'Embrace' emerged as Armin's sixth full-length artist album on October 29, filled with remarkable collaborations with the likes of Mr. Probz ('Another You'), Hardwell ('Off The Hook'), Cimo Fränkel ('Strong Ones'), world-famous Dutch Jazz trumpeter Eric Vloeimans ('Embrace') award-winning Dutch band Kensington ('Heading Up High'), U.K. singer-songwriter BullySongs ('Freefall' and 'Caught In The Slipstream') and fellow Grammy nominee Gavin DeGraw ('Looking For Your Name').
Said Armin of the stylistic diversity of 'Embrace', "Each of the instruments you see on the album cover – which was shot by Anton Corbijn – was an instrument actually used on the album! I thought it would be a real challenge to myself to try to create dance music using all of these disparate instruments. I really wanted to push myself past my comfort zone and create something very exciting not just for me, but for all the lovers of music out there. I hope you enjoy it." Judging by the ecstatic reaction of audiences whenever Armin plays his album cuts onstage, he has, once again, succeeded.
In August 2016, Armin van Buuren put out his 'Old Skool' mini album. Inspired by the track 'Old Skool' on the 'Embrace' album, Armin van Buuren went on to revamp timeless classics such as Human Resource – 'Dominator', The Ultimate Seduction – 'The Ultimate Seduction', Speedy J – 'Pull Over', and more. The result, a seven-piece mini album, takes his fans back to where it all started by brandishing a piece of dance music history.
Always striving to step out of his comfort zone, Armin van Buuren turned 2017 into an excellent year by dropping three summer-flavored smashes: 'I Need You' (with Garibay feat. Olaf Blackwood), 'Sunny Days' (feat. Josh Cumbee) and 'You Are' with Sunnery James & Ryan Marciano, the anthem for their joint summer residency at Hï Ibiza. And if that didn't prove versatile enough, he dove into previous uncharted territory with his first single of 2018: 'Sex, Love & Water' (feat. Conrad Sewell), a delicious mash of funk and disco. The rest of 2018 saw him deliver more amazing pop-dance singles in the form of 'Therapy' and 'Wild Wild Son', but also saw him dive into his Trance roots with tremor-like festival anthems such as 'The Last Dancer' with Shapov, the gimmicky 'Blah Blah Blah', 'Our Origin' (also with Shapov) and the sublime 'United', a high-intensity anthem made in collaboration with Vini Vici and Alok. In 2019, Armin van Buuren continued where he left off, releasing more powerful bangers (e.g. 'Turn It Up', 'Show Me Love' (with Above & Beyond)) and lovely crossbreed singles (e.g. 'Lonely For You' (feat. Bonnie McKee), 'Don't Give Up On Me' (with Lucas & Steve feat. Josh Cumbee)). It shows just how open-minded Armin van Buuren is and that's exactly what made him remain a top player to this day.
On October 25, Armin van Buuren released his seventh artist album, 'Balance'. The album consists of 28 tracks, and includes well-known singles such as 'Blah Blah Blah', 'Sunny Days' and 'Phone Down' as well as new collaborations with the likes of NE-YO ('Unlove You'), MatLuck ('Don't Let Me Go') and Tempo Giusto ('Mr. Navigator'). Armin van Buuren even launched his own limited-time 'Balance' escape room in Amsterdam to celebrate the release of the album.
As stated by Armin van Buuren, the album is about thinking in possibilities rather than definition, thinking about what music could be instead of what it should be. "Every song I make teaches me something new, and the next song is always a result of all my previous records, the new things I learned and the people I met", the world-renowned DJ and producer says in the foreword of his album. "Over the years, this process – and especially the fun of creating – became more and more important to me. It's a journey that gives me meaning and helps me learn more about my personal interests ra-ther than focus on the recognition I get for the outcome. That's the big difference between who I am today and who I was a few years ago. 'BALANCE' is a new chapter in my book of life, the result of venturing into known and unknown territories while finding the balance in between. This creative journey gives me the energy to do what I do, to keep go-ing."
In 2020, Armin van Buuren continued to put out more admirable creations. Among those are his 'RELAXED' chill album, which features acoustic versions and chill remixes of some of his biggest tracks to date, and 'All On Me', his genre-crossing single with Hardstyle pioneer Brennan Heart.
In 2021, Armin van Buuren not only released his first-ever collab with Swedish dance music star Alesso ('Leave A Little Love'), EDM juggernaut Steve Aoki ('Music Means Love Forever') and Dutch vocal sensation Davina Michelle ('Hold On'), but also released the first volume of his new 'A State Of Trance FOREVER' album series, which features collaborations with some of the biggest artists in Trance and Progressive.
THE LABEL OWNER
In 2003, plans emerged to set up a record label. Together with Maykel Piron and David Lewis (Ar-Ma-Da), Armin found-ed Armada Music. Today, Armada Music is the biggest independent dance music label in the world, based in Amster-dam (HQ), London and New York (satellite offices).
Armada Music represents labels and artists across the electronic music spectrum, releasing music from the likes of including Andrew Rayel, Armin van Buuren, ARTY, Erick Morillo, Ferry Corsten, Kevin Saunderson, Lost Frequencies, Loud Luxury, Morgan Page and W&W. Armin's own 'Armind', 'A State of Trance', and 'Who's Afraid Of 138?!' labels also operate under the wing of Armada Music, and the labels take a leading role in releasing Armin's artist albums and 'A State of Trance' mix albums. Armada Music was voted #7 in Mixmag's "Label Of The Decade" poll in 2017. One year later, in 2018, the label won the International Dance Music Award for 'Best Global Label' for the sixth time.
Despite his ambitious and hectic schedule, Armin still serves as A&R manager for his own Armind, Who's Afraid Of 138?!, and A State of Trance labels.
THE AMBASSADOR
On December 16, 2019, Armin van Buuren joined forces with the World Wide Fund for Nature (WWF) to motivate mil-lions of people to join the movement and fight against plastic pollution. As a Global Oceans Ambassador, Armin will contribute to the worldwide #BeatPlastic campaign.
---
Share
---
You might also like