Why the World Needs a Disco Revival, Now More Than Ever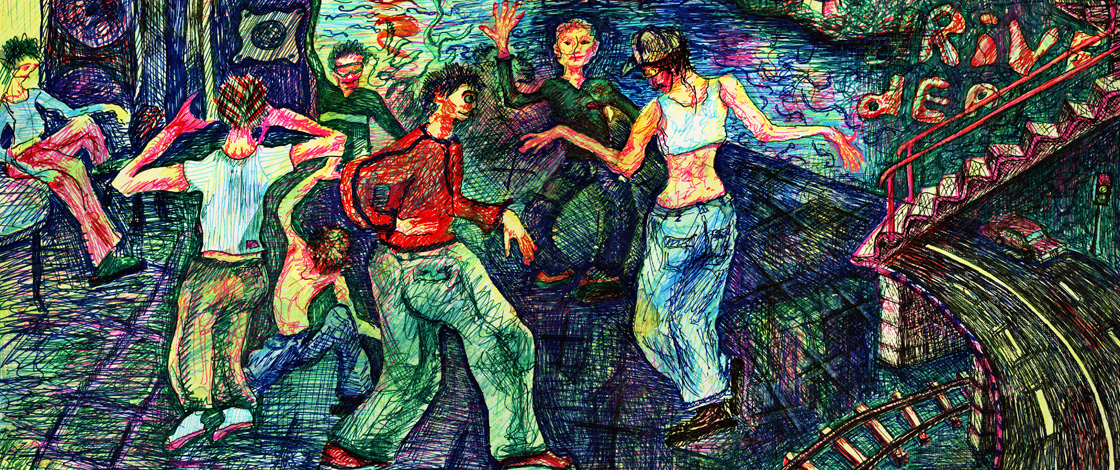 You probably don't need a journalist on Insomniac.com to tell you the world is in a precariously volatile state right now. Our Facebook feeds are but a vicious sluice of reactionary political opinions periodically interrupted by round-the-clock news coverage of horrific violence upon innocent people somewhere. The summer of 2016, which has seen unspeakable attacks in Orlando, Nice, Baghdad and Munich, will likely be remembered as one of the most violent, senseless and politically pivotal in recent memory. And while it is important to be aware of the world around you, it's equally important to find some respite when things are as bad as this.
Personally, I can't think of a time that we've needed a disco revival more than now.
To get yourself onto a checkered dancefloor under the shimmering metallic patchwork of the spinning ball—and come together with your brothers and sisters from all walks of life and cut some shapes to these candid, feel-good tunes—is the pinnacle of positivity. Dancefloors have become places of unity and acceptance, for those on the periphery of "normal" society to come and share and love and lose themselves. But no dancefloors in modern culture have provided that sanctuary as long as disco.
Being a genre built as a reaction to the politically charged, counterculture rock movement, disco was wholly embraced by a variety of marginalized cultures across the country. It was staunchly apolitical, colorblind and classless, and the scene held no prejudices about sexuality—something that would be an integral part of its blossoming into house music in the late '70s. The earliest clubs the dance music scene has eulogized—such as Studio 54, the Loft, Paradise Garage and the Warehouse—were all disco clubs before they were house music clubs, and became places of unbridled liberation for the gay and the gay black communities.
Vince Aletti, whom dance music historian Bill Brewster credits as being the first journalist to cover disco, wrote: "More than anything, disco was driven by an underground idea of unity. The manifesto was the music. Love Is the Message."
"At this moment—when politicians are erecting walls between us, the media's 24-hour cycles make martyrs out of madmen, and the streets run red with the blood of our fellow human beings—we need dancefloors to be places of salvation and celebration."
The music itself wasn't obviously defined at the time of its conception. Fusing together elements of rock, Latin, afro, funk and R&B, it was largely just music that could be danced to in a discotheque. After its sound became defined by longer cuts, chunky Moroder-esque basslines, percussive breakdowns, and an effortlessly swooning groove, the genre surged in popularity and peaked in 1977 when Saturday Night Fever was released and the Bee Gees took it mainstream.
The ensuing backlash against disco—which was never as expressly manifested as in Chicago in 1979, when 50,000 people turned up at Comiskey Park on the request of a local rock DJ of questionable prejudices, and ceremoniously burned their disco records—was swift, and the genre was pushed underground once more. Meanwhile, a DJ named Larry Levan was getting busy taking the increasingly out-of-vogue disco records and making the first remixes and edits for his Manhattan club, Paradise Garage. The club became the home of the outlandish, hedonistic gay culture of New York City, and would become the archetypal dance music club, smashing off the dancefloor every stringent social barrier that existed and treating you exactly as you wished to be treated, so long as you did the same for your fellow man.
"It was New York cutthroat money time," notes Garage resident Dave Piccioni on Brewster's DJ History site. "Everybody was sticking knives in each other's backs. It was dog eat dog. Aggressive. Dealing, 60,000 people living on the street. It was a dog of a place to live in. And then you'd go to this little oasis, where people were really well-mannered and friendly to each other. You just felt completely comfortable. People of a like mind, who shared something, and that was an open mind."
In that statement, you get not only a sense of how special Paradise Garage was, but how integral dance music and disco had become for removing the people from their often abject or marginalized lives. But as AIDS spread mercilessly through the scene in the '80s, and with the Garage's closure and Levan's tragic death in 1992, the genre was all but done, giving way to house and techno, and fading out of fashion and into obscurity—resurfacing periodically as a novelty.
At this moment—when politicians are erecting walls between us, the media's 24-hour cycles make martyrs out of madmen, and the streets run red with the blood of our fellow human beings—we need dancefloors to be places of salvation and celebration. And there's nothing better at putting a smile on your face and a swing in your hips like some deep, funky disco.
Thankfully, the genre upon which all of our genres are built is making a swift and exciting comeback. Through long-standing legacy acts like DJ Harvey, Defected's Simon Dunmore, LCD Soundsystem frontman James Murphy, and scores of up-and-coming producers and labels, disco is being revitalized and merged with the newly pastiched deep house sounds to create a deeper, bottom-heavy version of the band-driven sounds of the mid-to-late '70s.
Daft Punk's Random Access Memories—which heavily referenced synth god Giorgio Moroder and featured cameos from Chic's Nile Rodgers and house legend Todd Edwards—taught a new generation of clubbers the simple joys of soulful disco. The knock-on effect from that is a sound that's been bubbling beneath the underground house scene for the last year or so.
Last week, the cathartic power of a good disco flex really hit me. I was at Mister Sunday, the weekly outdoor soiree in Brooklyn, organized by the superb house and disco imprint Mister Saturday Night. On a dancefloor upon which the only rule is no cell phones (they want you to live in the moment instead of documenting it), I saw people of all races, colors and creeds, from very young to very old, beaming from ear-to-ear like the world wasn't burning down around them. For that moment, as the sun hit their faces and residents Justin Carter and Eamon Harkin spun 12-inch after 12-inch of prime disco groove, nothing else in the world mattered.
For your escapist pleasure, I've put together a mixture of some old and new disco jams for you to wrap your groove around and give yourself over to.
Machine ‎"There But For The Grace Of God Go I"
Lost in Music (Gay Marvine Edit)
Don Armando's 2nd Avenue Rhumba Band "Deputy Of Love"
Daniele Baldelli "Suruas"
Alexander Robotnick "Problèmes D'Amour"
Emmanuelle "Italove"
Martin Circus ‎"Disco Circus"
Jimmy Bo Horne "Spank" (12 Disco Version)
Stopp "I'm Hungry"
Richard T Bear "Sunshine Hotel"
Gino Soccio ‎"Dancer"
Gepy & Gepy ‎"African Love Song"
Double Exposure "My Love Is Free"
Kasso ‎"Brazilian Dancer"
David Joseph "You Can't Hide (Your Love From Me)" (Larry Levan Mix)
Bumblebee Unlimited "I Got A Big Bee"
Loose Joints ‎"Tell You (Today)"
T-Connection "At Midnight" (Larry Levan Mix)
K.I.D. "Hupendi Muziki Wangu?! (You Don't Like My Music)"
Erotic Drum Band "Plug Me To Death"
Belle Epoque "Miss Broadway"
Sinnamon ‎"I Need You Now (The Fierce Reprise)"
Skatt Brothers "Walk The Night"
Chemise "She Can't Love You"
Hermans Rockets "Space Woman"
Charlie "Spacer Woman"
Kano ‎"I'm Ready"
Brooklyn Express "Change Position (88)"
Mascara ‎"Baja"
La Bionda ‎"I Wanna Be Your Lover"
Unlimited Touch "I Hear Music In The Street"
Bumblebee Unlimited ‎"Lady Bug"
---
Share
---
Tags
---
You might also like