The birth of our underground brand Factory 93 not only brought on an adrenaline rush reminiscent of the renegade warehouse era of raving—on which Insomniac was founded—but it also had us thinking back to all the people, places and parties that made this whole operation possible. And with that came a burning desire to crack open our collection and dust off the classic records we couldn't live without. Through our From the Crates series, we'll be breaking out both seminal and obscure cuts alike, imparting some knowledge in the process.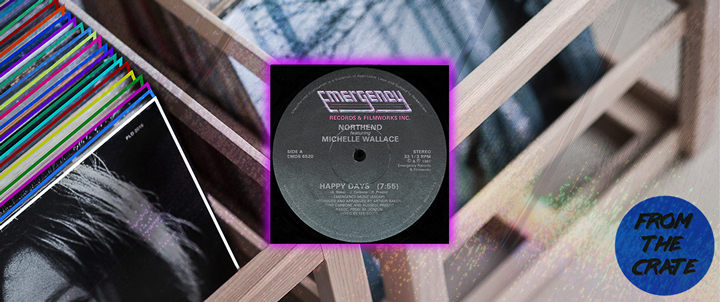 As the '70s slid into the '80s, disco was all but dead to the average American music consumer. The rock-centered Disco Sucks movement, culminating in the infamous Disco Demolition rally at Chicago's Comiskey Park in summer of '79, played a role; so did the closely related racism and anti-gay resentment the music seemed to stoke in some people. But perhaps most of all, the commercial viability of disco collapsed under its own bloated weight: When Broadway belter Ethel Merman is croaking out a schmaltzy disco version of "Alexander's Ragtime Band" on The Tonight Show Starring Johnny Carson, you know you're in trouble.
Needless to say, disco didn't really go away at all—a fact that reverberates even now, via the gorgeous tapestry of dance music around today. Instead, it retreated to its birthplace: the clubs. Disco's departure from the mainstream was probably the best thing that could have happened; with the spotlight shining elsewhere, now freed from oversight by major labels and radio programmers, disco was let loose to enter a creative renaissance. Artists were suddenly free to simply make great music that would get people on the dancefloor, and one of the best disco-tinged tracks to come out of that fertile period was Northend's "Happy Days," released on Emergency Records in 1981.
The production core of Northend was a trio of Bostonians: Tony Carbone, Russell Presto, and a pre-fame Arthur Baker. Carbone, a multi-instrumentalist who had attended the Berklee School of Music, currently serves as an assistant professor at Berklee, while Presto, a drummer and DJ, died unexpectedly in 1984. Baker, of course, would become one of the era's defining producers. After the release of "Happy Days," he went on to produce a mind-boggling string of groundbreaking tracks, including Afrika Bambaataa's "Planet Rock," Rockers Revenge's "Walking on Sunshine," and New Order's "Confusion." As his career progressed, Baker produced, composed, arranged and/or remixed for everyone from Al Green and Quincy Jones to Bruce Springsteen and the Rolling Stones. His Discogs page lists almost 2,000 credits; even allowing for repeats, that's a lot.
"I wouldn't say that I made 'Happy Days' specifically for Larry to play, but it was definitely inspired by him a little bit."
Though he was still largely unknown when "Happy Days" hit the shops, Baker's skills as a dance music producer were already becoming apparent. He had put together an album's worth of lush, Philly disco–inspired music that ended up being sold to remix pioneer Tom Moulton and released on the Casablanca label in 1979 under the T.J.M. moniker. That same year, Northend tasted dancefloor success via the trio's debut, the propulsive "Kind of Life (Kind of Love)," released on the seminal West End Records. But "Happy Days" would prove to be Baker's biggest success to date.
By then, he had moved to New York and was hanging out at New York clubs like Galaxy 21, Better Days, and of course, the almighty Paradise Garage ("Kind of Life," as it happened, had been a favorite of the Garage's Larry Levan). Baker credits his clubbing habits with helping to formulate just what makes a dance track click.
"It was a matter of being able to hear what producers are making and what the people at the club are liking," he said in a recent phone call from his current home in Miami. "I wouldn't say that I made 'Happy Days' specifically for Larry to play, but it was definitely inspired by him a little bit." It shows: The song possesses that difficult-to-nail combination of richness and spaciousness that feels tailor-made for the Garage's Richard Long–designed sound system.
The bulk of the "Happy Days" recording sessions took place in Boston, but the overdubs and the mix were mostly done at Right Track Recordings, a legendary midtown Manhattan facility that also hosted sessions with the likes of Talking Heads, Whitney Houston, Kraftwerk, and the Stones. In retrospect, the tune's production was an all-star affair. Besides Baker, Carbone and Presto, the players included Andre Booth, who lent keys on Vicky D's "This Beat Is Mine" and served as hip-hop polymath Marley Marl's keyboard player; Michael Jonzun, who went on to form the Jonzun crew; Charlie Street, who played guitar on tracks by Shannon, Nolan Thomas, and Brenda K. Starr; and Jonzun's brother Maurice Starr, who hit the big time via his work with the likes of New Edition and New Kids on the Block. The original mix was by Frank Filipetti, a studio whiz would later work on records by the likes of Foreigner, George Michael and Barbara Streisand, while the cut was mastered by Herb Powers Jr. at the fabled Frankford/Wayne Mastering Labs.
"This was the first remix I know of—certainly the first one I was involved with—that actually used guitar and keyboard overdubs, and that was mostly Tee's idea."
But the record's secret weapon was the remixer and Better Days DJ Tee Scott. The revered NYC clubland trailblazer, who passed away in 1995 after a long battle with cancer, was originally brought on to provide an instrumental remix for the "Happy Days" flipside, but his contribution became much greater than that. "Tee had a big hand in the overdubs," Baker recalls. "Before, the most that people would add was percussion. But this was the first remix I know of—certainly the first one I was involved with—that actually used guitar and keyboard overdubs, and that was mostly Tee's idea. I named the instrumental version 'Tee's Happy,' instead of just 'instrumental' or something—mainly because I thought that it would make Tee happy. And I was right!"
Michelle Wallace—of Boston act the Wallace Sisters—was enlisted for the lead vocals and lyrics, which were placed front and center in the mix, reflecting on the simple joys of life. "Clap our hands and stomp our feet / Let's all go out and play," she suggests—and with its syncopated guitar chords, rubbery bottom-end, boisterous keys, sparkling xylophone, and funk-fueled rhythm boasting a whip-crack snare, it's hard not to take her up on that. Scott's sparser remix, meanwhile, largely dispenses with the vocals, but what it loses in life-lesson literality, it more than makes up for in good-times feeling. It's about as perfect as a disco number can be: buoyantly euphoric while steering well clear of sentimental triteness.
"We were going for a George Benson–meets–Chic vibe," Baker says—and that vibe was enough to give the release a modicum of chart success, reaching No. 9 on the Billboard Club Play Singles chart. But that only hints at the impact that both "Happy Days" and "Tee's Happy" had in the clubs. With DJs like Levan at the Garage, David Mancuso at the Loft, Larry Patterson at Zanzibar, and of course, Scott at Better Days all playing the track early and often, it's not an exaggeration to say the record had an influence over an entire generation of producers and DJs.
"We really believed in that song," Baker says. "We thought we got the sound right. It was really crisp; all the elements were there. It's one of my favorite 10 records I've ever been involved with." Considering Baker's expansive discography, crammed with pioneering tracks and massive hits, that's saying quite a bit.
---
Share
---
Tags
---
You might also like