Daniel Wang "Like Some Dream I Can't Stop Dreaming"
The birth of our underground brand Factory 93 not only brought on an adrenaline rush reminiscent of the renegade warehouse era of raving—on which Insomniac was founded—but it also had us thinking back to all the people, places and parties that made this whole operation possible. And with that came a burning desire to crack open our collection and dust off the classic records we couldn't live without. Through our From the Crates series, we break out seminal and obscure cuts alike, imparting some knowledge in the process.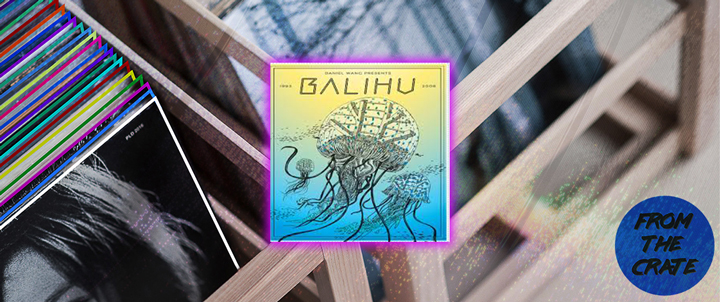 Certain records belong in every dance music collection. One is Daniel Wang's "Like Some Dream I Can't Stop Dreaming," released in 1993 on The Look Ma No Drum Machine EP via his own imprint, Balihu records. It was his first record on the label—which he created expressly to release his own oddball sounds, as well as other music like it—and it's steadily become a cult classic in the past 25 years. 
According to Daniel, "Like Some Dream I Can't Stop Dreaming" is built on 17 samples, but two of them stand out: 1986's "One for the Money" by Sleeque and 1979's "Funk It" by Eddy Rosemond. Like the essence of life itself, however, knowing the ingredients isn't enough to make it so. The key to the magic is in the touch. In Daniel's hands, the track's opening and title hooks turn the original "One for the Money" lyrics into a spell—when you hear them, you know something freaky-good is about to go down. The percussion and taffy-like synthesizer riff ripped from "Funk It" transform from a sonic wavelength into a neural pathway to a neon-lit get-down. Before you know it, you're grinning like you have a headful of endorphins, and you're clapping along like you're auditioning for a flamenco troupe.
"I never liked the sound," Daniel says in a Resident Advisor interview, referring to "One for the Money," the source for the song's lynchpin sample. "The drum sound is really stiff; the bass sound is really artificial. I never liked the song itself." This is not a total slight, however, as Daniel applies the same attitude toward his own music. "A lot of those Balihu records, they're kind of weird—not necessarily good. The technical production qualities are not totally correct," he says. Ultimately, "what is more interesting than a correct song and a technically perfect track is an unusual sound."
In addition to moving crowds at countless parties for 25 years now, the unusual sounds of "Like Some Dream…" have turned up in James Murphy and Pat Mahoney's Fabriclive.36 mix, Bob Sinclar's Live at the Playboy Mansion mix, and disco connoisseurs Paper Recordings' Robodisco compilation. The track has been recommended by Aziz Ansari(?!), who tweeted a YouTube link to it, and house duo Bicep, who called it an all-time favorite and "a full-on deep Detroit disco workout with one of the most amazing, hypnotic vocals ever."
It has also been credited as an influence by early 2000s acts, like fellow disco purists Metro Area, and was cited by Walker & Royce as an inspiration for their 2017 album, Self Help. "This record really inspires us to let go and be weird, reminding us that music doesn't always have to make sense," they said, listing it among such heavyweights as Larry Heard's deep house masterpiece "The Sun Can't Compare," featuring Mr. White and Gus Gus' trance classic "Purple," as remixed by Sasha V the Light.
Despite all the adoration, "Like Some Dream I Can't Stop Dreaming" was an anomaly on the music scene in 1993, the year of Haddaway's "What Is Love," L.A. Style's "James Brown Is Dead," and Culture Beat's "Mr. Vain." Wang's home-hewn, high-brow but down-and-dirty, sample-rich touch didn't stand much of a chance for mainstream success against this slick backdrop. Given that it was also the year of the kitschy "La Macarena," one might have hoped otherwise.
"I remember years later, around 1998 or 2000, some guy actually sent me a list of almost all the obscure samples on that record. It's happened less than three times total in the past 25 years."
At the time, Daniel was in graduate school at University of Chicago, studying film and comparative literature and hanging out in gay and black clubs. He tells Insomniac, "No [DJ] I personally knew in Chicago played my first record." Daniel had to look a little further for that. "I got a call from DJ Eddie Matos in NYC one night. He held the phone up to his radio, tuned to KISS FM. Tony Humphries was mixing Balihu 001 on his late-night mix show!"
As for hearing it in public, Daniel says, "I think I first heard it out loud at a real underground rave in Detroit, in a huge warehouse covered in black trash bags. I almost fainted from the lack of fresh air. I think [DJ] Terry Mullan played it there."
Recalling the making of the record, he says, "Basically, all the samples were recorded into my Akai S-950 sampler and strung together on the built-in 16-track sequencer on my Korg 01W keyboard, with its tiny black/white LCD screen, about 4×2 inches."
As for experience, he says, "I was always into classic disco and jazz standards, but in 1993, I knew nothing about music theory or production technique. Balihu 001 was a collage of catchy sounds that were hard to ignore." Daniel was so self-deprecating about his experience, he included a joke with the record, offering free promos to anyone who could name the samples. "I remember years later, around 1998 or 2000, some guy actually sent me a list of (almost?) all the obscure samples on that record. It's happened less than three times total in the past 25 years!"
In hindsight, Daniel says, "I really see the whole thing with a huge sense of irony and wonder. I'm not PROUD of that record; it's not a piece of music that gives me aural pleasure and tonal excitement, like a Salsoul classic. But I can see what a unique statement it was, reflecting that person who I was: entirely musically naive, technically untrained, a real outsider floating in my own world of vintage disco sounds and references. Sort of like Sun Ra—not making beautiful music by accepted standards, but… a dreamer, a punk rocker, saying something in a low-tech, atonal way. I honestly look at myself and think, 'What a lucky and odd creature you are; you better not screw this up… You've come so far.'"
If you didn't know about "Like Some Dream I Can't Stop Dreaming" for most of your life, don't feel bad. It is one of those deep cuts that sits in DJs' collections, like a secret weapon. Anyone who thinks of white suits when they hear the word "disco" would not be expected to know about Daniel Wang or Balihu records. If you've made it this far in this article, however, you now have no excuse. Next time you are looking for some disco action, you know exactly whom to take for a spin.
---
Share
---
Tags
---
You might also like