Shannon "Let the Music Play"
The birth of our underground brand Factory 93 not only brought on an adrenaline rush reminiscent of the renegade warehouse era of raving—on which Insomniac was founded—but it also had us thinking back to all the people, places and parties that made this whole operation possible. And with that came a burning desire to crack open our collection and dust off the classic records we couldn't live without. Through our From the Crates series, we break out seminal and obscure cuts alike, imparting some knowledge in the process.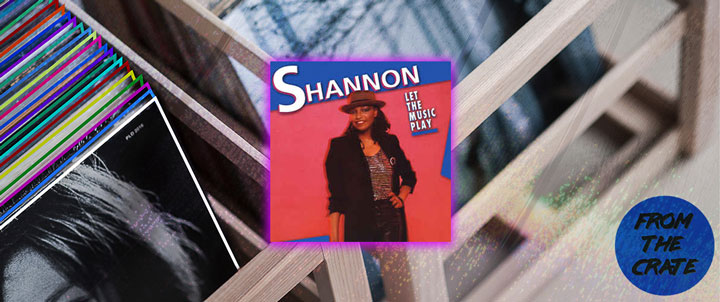 Shannon started out as a jazz singer before her music became a staple at discos, roller rinks, and FM radio stations around the world. "Let the Music Play" was her first hit, flinging the emergent freestyle sound into the mainstream. This was the early '80s, following the bust of disco and before disco's revenge came roaring back as house later in the decade.
Freestyle was a Latin-influenced, boogie-pop sound with bouncy beats that would later branch off into Miami bass, vocal house, and elsewhere. It seemed to be just as catchy for children as it was for adults, and it provided a bridge across a cultural divide as well, making space for Puerto Rican and other Latinx producers, DJs, and artists in a pop music world that had largely barred folks from these communities.
Freestyle, in many ways, is Latin American Italo Disco—if that makes any sense. The two styles were proliferating on separate continents and spoke to a similar, theatrical sensibility for big, romantic pop bangers—West Side Story with drum machines, minor chord synthlines, and laser rays.
"Let the Music Play" kicked off a movement in the States, and young Shannon Greene became one of the scene's most enduring artists. A native of Washington, D.C., now based in New York, Greene was in her early 20s when she was spotted by production partners Mark Liggett and Chris Barbosa when she was performing at someone's studio in 1983. Barbosa's day job at the time was "working for the city board of elections, delivering paperwork" before things took off. Greene was a student.
The duo had a problem. They had somehow found themselves producing rap songs, but they weren't really feeling the direction it was going in. Homesick one day, Barbosa channeled some of his Puerto Rican roots into a track he originally called "Fire and Ice." The fire was the "street bass," and the ice was the "pop melody that sits on top."
The beat had a killer synth and drum combination—an early example of the classic 303 and 808 being synched together, with a gated reverb. That reverb and a chunky kick drum are what many consider to be crucial to achieving that freestyle production sound. Barbosa and Ligget had sampled a snippet from Arthur Baker's "Looking for the Perfect Beat." Baker is a sort of legendary '80s producer, famous for world-shattering cuts like "Planet Rock" and "Confusion."
When he heard the beat on "Let the Music Play," he was initially jealous of the fresh sound the duo had seemed to invent, not knowing that they had sampled sounds he had originated. Baker told Red Bull in 2015, "They used gated reverb on the kick and the snare throughout the record. Of course, when I heard 'Let the Music Play,' I went, 'God, I want drums like that,' when they had, basically, taken the idea from one of my records. We were all listening to each other."
Lyrically, the song uses the metaphor of dancing as relationship and strikes sort of a bittersweet chord. Ann Godwin was the song's writer but was contractually tied to another publisher, so she gave her brother, Ed Chisolm, writing credit. Vocally, it's not just Shannon but also Jimi Tunnell, a man, who sings the eponymous "Let the Music Play," for which Shannon completes the call-and-response. This sort of gender ambiguity was another way in which this sound veered closer to house and further from hip-hop as it developed.
A key distinction between freestyle and hip-hop that was becoming evident was that freestyle was catering more directly to women and queer audiences, versus hip-hop, which would begin and end the '80s in two very different places. Don't get us wrong—B-boys could get down to tracks like "Let the Music Play"; its percussion was the perfect accompaniment to poppin' and lockin'. Freestyle and hip-hop both were born from big-city communities of color, but freestyle in some ways cast a wider net and included even more women, Latinx, and queer people than hip-hop would by the end of the decade.
The song went gold and traveled well beyond the States. It was embraced widely across groups and was a smash, inspiring countless other songs in this format and a wave of freestyle running through large American cities like New York, Chicago, and Miami.
Freestyle bore hard through the '80s, finally winding down as new '90s styles emerged—like new jack swing and vocal house—which spoke to a similar-but-different set of aesthetics. The freestyle genre has often been re-animated by acts like Jessy Lanza, Corinne, and Morgan Geist, as well as pop stars like Jennifer Lopez. Madonna—who dated Jellybean Benitez and got her start at the Funhouse, along with Shannon—is arguably another product of the freestyle scene, and she seems to have done alright for herself.
Retroactively, Shannon has sometimes been lumped in with the '80s "one-hit wonder" set. She even appeared in one of those cheesy VH1 one-hit wonder programs in the late '90s. Yet she had many chart and club successes after "Let the Music Play." Even if none of them captured that lightning in a bottle from the original, there was still some great music in her catalog—belters like "Give Me Tonight" (which also features Tunnell on vocals) and an unexpectedly great cover of Foreigner's "Urgent."
"Let the Music Play" has been covered, sampled, and interpolated ad nauseum, including the excellent and extra-'90s downtempo piano house Pet Shop Boys–produced cover for The Crying Game OST.
It's obvious that to write Shannon off as a lucky one-off is to insult her and the genre, neither of which is a mere novelty. There exists an active freestyle festival circuit, having sprouted in the early 2000s and continuing to this day, in which Shannon, Debbie Deb, and other stars from the era perform regularly. If electro can come back—a cousin of freestyle whose revival has certainly has been en vogue the past few years—then maybe freestyle can, too?
---
Share
---
Tags
---
You might also like