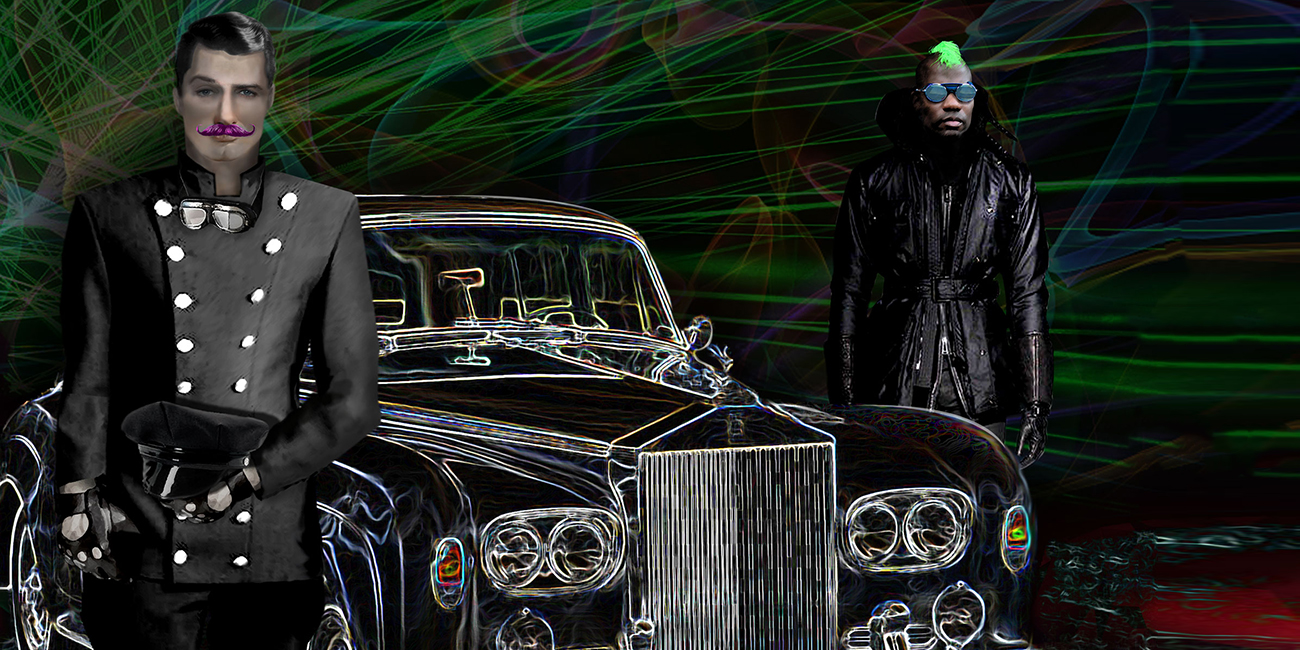 He's the Driver. Born aboard his family's submarine moored at the bottom of the Marianas trench, son of a Vegas showgirl and a gifted musician from another dimension, the Driver makes it his business to ensure the dance music he loves goes off ON TIME. How? He expertly drives, pilots, or captains—via whatever vehicle necessary—the DJs, producers, and move-shakers of EDM. It is under his steely gaze and deft wheelwork that they get from point A to point B—and everywhere in between.
In style.
While in their company, he gets to know them. Well. He's the superfans's superfan. On the side, he freelances for Uber in his 1956 Rolls Royce Silver Cloud—perhaps in a town near you.
And he talks. A lot. He loves and lives for EDM and wants to share "the word." Can you blame him?
CHICAGO, NOVEMBER 11, 2017, 2:36pm—the Driver picks up Greg Ackerman, an Uber client.
"Hello, sir. Yes, I'm the driver you called. Climb in. Don't be startled by the locks. They're automatic—as is the climate control… and the wet bar."
He winks.
"Wet out there today, isn't it? What? Why am I wearing a tuxedo? I'll tell you: I'm coming from my other job. I've just completed a week-long blessing of an assignment driving living Chicago house legend Curtis Jones, otherwise known as Cajmere. OR Green Velvet. Quite a fellow. Quite. A. Fellow. And quite a story… He's been percolating since his remix of 'Keep Movin'' blew the roof off Chicago house music in 1993. Did you know…"
In 2015 at a storm-besieged Tomorrowland festival in Belgium, Jones famously "prayed for the rain to stop." And it did. The also-present Dave Clarke asserted that it stopped because "they were both, optimistically, wearing sunglasses." Who knows for sure?
Along with his main port in the City by the Lake, Jones has dropped permanent anchor in Belgium! His compilation album The Nineties (1993 AD Through 1999 AD), later revamped and issued in the states as Green Velvet, was released exclusively in Belgium in '93. "Belgium is the one place, you know, through the ups and downs, [that] has always shown love for me."
Jones created his Chicago-based Relief Records as a sort of logical evolution/offshoot from his Cajual label in 1993. Scoring one for the underground, he was signed to Warner Brothers' F-111 label in 2000. More than 25 years later, Cajual and Relief Records are still slaying it. F-111? Not so much.
The very first track Jones ever created was not released. "I thank god for that. I don't want to hear it, and I know for sure that nobody does. I don't really remember the name of it, but all the things I did in the beginning were not… good… at… all."
"The track, in my mind, that I did where I was like—'OK! I've finally done it. I've done the music that was in my head'—was the 'Keep Movin'' remix, which was the original 'Percolator,' in 1992."
"A lot of us DJs, we'll just show up like three minutes before our set and go on. When we finish, we're out of there. I go and try and hear as many DJs as I can, especially in other countries, where DJs are doing things differently. I'm always trying to make what I'm doing sound better."
His mother referred to his material as "boom boom music."
The vocal sample on "Preacher Man" was made possible via the practice Jones had of recording the radio on cassette tape. In fact, according to legend, he was out at a party when the initial capture went down, coming home to a "happy surprise."
"I can get a bit thought-provoking at times, so I just think it's time for us to start spreading love. I honestly say that. It may sound hokey, but that's where my heart is. It's time for us to be a lot more loving and just… let things go."
His original chosen tag of "Cajmere" was a wordplay on his initials: Curtis Alan Jones. "Green Velvet" was born out his girlfriend's father jokingly referring to his sound as "velvet music." Add a green mohawk, and… ALAKAZAM! Or something like that.
In 2006, after an uncharacteristically quiet stretch, Jones went public with the fact that he'd suffered a serious overdose of psilocybin while on magic mushrooms. Shortly thereafter, he vowed to turn his "life around." His productivity increased, and his career went into renaissance mode.
"I want to know 'the truth.' In searching for it, I did a lot of things I shouldn't have been doing, was around a lot of people I shouldn't have been around. Through it all, I learned. I'm thankful that God saved me from it all, and I made my way back to a place where I'm truly happy and able to have fun."
TooT, TOOT!
Follow Green Velvet on Facebook | Twitter | SoundCloud | Instagram
---
Share
---
Tags
---
You might also like