Upcoming Event
The birth of our underground brand Factory 93 not only brought on an adrenaline rush reminiscent of the renegade warehouse era of raving—on which Insomniac was founded—but it also had us thinking back to all the people, places and parties that made this whole operation possible. And with that came a burning desire to crack open our collection and dust off the classic records we couldn't live without. Through our From the Crates series, we'll be breaking out both seminal and obscure cuts alike, imparting some knowledge in the process.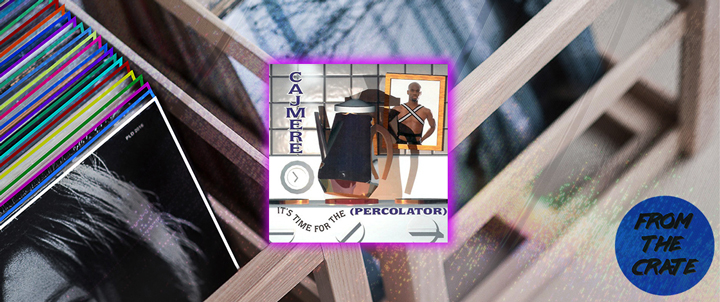 "Coffee Pot (It's Time for the Percolator)," as it's officially named—or "Time for the Percolator" less formally, or simply "Percolator"—is a crucial second-wave house jam and one of the most instantly recognizable records you'll likely ever jack to. You've almost definitely heard it, but if you haven't, you must truly ask yourself: Have I been to a real house party?
Before he went by Cajmere or Green Velvet or any of his other alien aliases, Chicago native Curtis Jones was studying chemical engineering and quit school to start producing music, running a label, and DJing as a full-time gig.
"They told me that I needed to have a hobby, so I started off with music," he told the Village Voice in 2012. "From there, I just fell in love with it, so I started to produce stuff. That transitioned into me performing out of necessity, because people wanted to see me perform 'The Percolator.'" It was his first mega-hit and a dancefloor staple, but surprisingly, it didn't catch fire out of the gate. This weird little gem needed a few stabs before getting the takeoff it needed.
House music had been, well, percolating in Chicago for the better part of a decade when Jones rolled up his sleeves in the studio in the early '90s. This was also before house music got really BIG, vocal-heavy, and piano-driven by the mid '90s. Jones was embracing its minimal, nascent raw sound (and also was admittedly broke, as it goes for many younger artists, so rawness was sort of a logistical reality, as well). Also, as Jones described to 5Mag, the initial explosion of the house scene had started to fade down by the end of the '80s, as far as parties in Chicago. "We all went to the parties in the '80s—huge parties with thousands of people and a lot of excitement. That had kind of died off." And so, the scene seemed due for a new vanguard to breathe some fresh air into the nightlife.
The first mix of "Percolator" would become known as "Keep Movin'," but it didn't really stick with dancefloors, even though it's nearly identical. The vocal is different ("Keep movin' / I got news for you, honey" in place of "It's time for tha percolator")—but sonically, it's just an alternate mix of what would go on to evolve into "Percolator."
The sounds on display in "Percolator" are simple: vocal ("it's time for tha per-cu-lator"), a drum machine, and that slippery, squeaky synth. It's track-y to the point of silliness, with its militant drumline patterns and the opposite of any deeper melodic or classic song structure—which, many have argued, laid the template and created the jumping-off point for the aggressive sounds of ghetto house and Baltimore club, a raunchier, tougher and more explicitly ass-driven sound, which was about to branch out.
"Keep Movin'" was cut to wax in 1991 on Chicago imprint Clubhouse Records, which was, as Jones explained, "run by Hula and K. Fingers. They had some hits like "Nu Nu" from Lidell Townsell, but they were working mainly on remixing major artists like the Fresh Prince [Will Smith]."
For whatever reason, "Keep Movin'" didn't seem to break out. So, Jones just kept producing new work and, as became his wont, returned to rework, remix, and re-record elements of the song multiple times, until he found the iteration that really clicked.
"The sound of Curtis Jones speaking, 'It's time for the percolayda,' is a bit like the Amen Break. It might seem simple on the surface, but the magic in the original can't be duplicated."
As he told the Voice, "Because it got so overlooked, I was like, 'Let me try it again!' [laughs] I put it on an EP with three other tracks. The standout track was 'Chit-Chat,' which [New Jersey DJ] Tony Humphries used to play a lot. Because it was so popular, I decided to do remixes of all the songs on the EP, so that goes to the third version of it, where I came up with 'The Percolator.'"
The Computer Blog's Imitation Experiment, a series devoted to recreating famous tracks, tried to recreate "Percolator." They found that there's something about the vocal that's impossible to replicate. "The sound of Curtis Jones speaking 'it's time for the percolayda' is a bit like the Amen Break. It might seem simple on the surface, but the magic in the original can't be duplicated."
Jones got a lot of help from his engineer (and the mastering by local legend Mark Richardson). As Jones told The Quietus in 2012, "The studio engineer was… well, let's just say, he was very good at the technical stuff," remembers Jones. "He could make anything sound like you wanted it to. And we were working on this remix, and he said something like, 'I need to go and put the percolator on.' And I thought, 'Yes! That's it! It's time for the percolator!'" And thus, the vocal of a house classic was born.
This time around, however, the record hit, which surprised Jones, who felt it wasn't the best mix of the song, and who was now already tired of the tune altogether ("Ehh. It's not as good as the first version of it," he'd admit decades later). This success not only pushed Jones to the foreground and helped kick off his career, which is still going strong (he's headlining festivals well into his 50s), but it inspired a "Percolator" dance, which means it was cemented in the local dance culture for a long time to come. It also helped inspire entire scenes to develop. Its simplicity made it accessible and fluid to cross over into various music communities in the Chicago area. Its influence can't really be overstated.
Reaching his personal saturation point for his own creation, Jones eventually grew even more tired of the record, as is understandable for anyone who has to hear their own work ad nauseum.
"There was a point in my life where I didn't feel the way I do now, and that perspective helped me get beyond it and understand that if fans want to hear ['Percolator'], there's nothing wrong with that. Hearing you play this one song that you made will make someone so happy. I have to admit, there was a point in my life that if I heard 'Percolator' one more time… [laughs] I mean, there were even tracks about 'Percolator'!"
---
Share
---
Tags
---
You might also like