Sound Evolution: The Musical Progression of Martin Solveig
In our Sound Evolution series, we take a look (and listen) at the back catalogs of some of the world's biggest DJs.
Many of you have heard the name of French superstar DJ Martin Solveig, but you might not know that this unassuming hitmaker used to produce what was considered underground jazzy house music.
For some reason, the French always seem to be in the right place at the right time when it comes to electronic music trends. From the disco house explosion of Daft Punk to the chilled-out hip-hop of DJ Cam to the hipster dominance of the Ed Banger crew, this country has exported some serious influencers.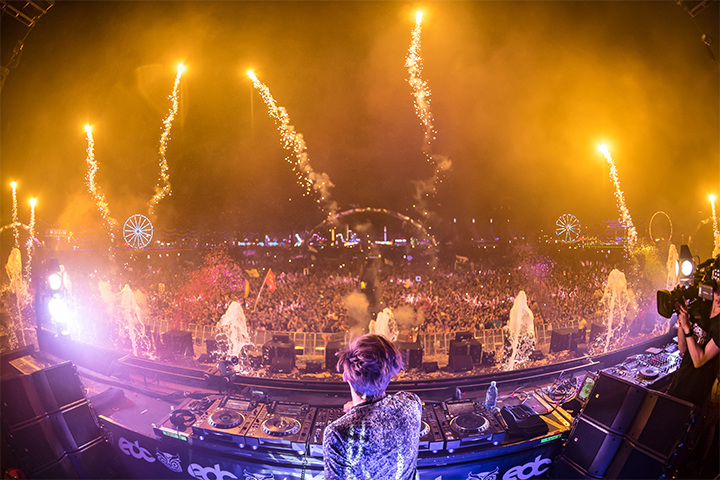 When it comes to the trends of house music, Solveig has always moved with the fluidity of a chameleon, blending with ease into each new style that becomes fashionable. What's more incredible is that Solveig never compromises on his quality. No matter what genre of house he is pursuing, you never hear a flaw or question his integrity.
It's hard to say how much of his success he owes to musical evolution or to a deliberate strategy—or maybe even some of that French luck—but one thing is for sure: He's not showing any signs of slowing down.
Martin Solveig just makes great dance music, and that makes it hard for the haters. There is nothing a hater loves to do more than shit on someone from the underground who has become successful.
Just like hip-hop culture, dance music has always been a bit precious about the underground and artist credibility in regard to "selling out." It's a tough line to walk for many DJs and producers who achieve commercial success; the venom is quick to take hold and leaves many careers in the coroner's office.
Solveig has successfully circumnavigated the social media troll fest with aplomb, never getting caught up in the nonsense, but instead focusing on making stellar electronic dance music.
With a career that spans three decades and a string of successes that would make most DJs green with envy, it's easy to see why Solveig is still around—just listen to his music.
It's hard to say how much of his success he owes to musical evolution or to a deliberate strategy—or maybe even some of that French luck—but one thing is for sure: He's not showing any signs of slowing down.
This is the musical evolution of Martin Solveig.
Martin Solveig "Heart of Africa"—Mixture Stereophonic, 1999
This single was one of Solveig's first big records and hit just at the beginning of the massive French Afro house movement. The infectious "Heart of Africa" sample, with that wicked sax loop, still holds up today—and it was a sign of things to come from Solveig as he enters Bob Sinclar's Africanism crew.
Martin Solveig "Linda"—Mixture Stereophonic, 2002
Three years later, Solveig had the Afro house sound mastered. Every house DJ across the planet took notice of this trend, and Solveig himself helped define the entire movement—along with guys like DJ Gregory, Bob Sinclar, and DJ Yellow.
Martin Solveig "Rocking Music"—Mixture Stereophonic, 2003
"Rocking Music" is where we start to see Solveig pivot and move away from the Afro house trend with more of a straightforward pop riff reminiscent of a Michael Jackson record, complete with a full funk vocal and fat bassline. Solveig was starting to get funky—really funky—and it was good.
Martin Solveig "Something Better"—Mixture Stereophonic, 2006
The title says it all here. Solveig was headed toward big-room funky house with an obvious nod to the king of pop; the vocalist even sounded like Jackson. The production was still reminiscent of his earlier work, and you can hear little bits of the old Afro house here and there in this tune. The percussion and the basslines were evolving but still very Solveig-ish. "Something Better" was popish yet killer and hard to hate.
Martin Solveig & Dragonette "Hello"—Mixture Stereophonic, 2010
As 2010 ushered in the first massive wave of EDM hysteria in the US, guess who was sitting in pole position? Yup. "Hello" became Solveig's first mega hit and was played on every radio station, in every grocery store, and at every discotheque on the planet. The vocal hook was immediately set with legions of new fans, and just like that, Solveig was HUGE.
Martin Solveig & the Cataracs ft. Kyle "Hey Now"—Spinnin' Records, 2013
"Hey Now" ventured into the indie dance rap vibe but still built on those big basslines that were dominating with the EDM kids. The Kid Cudi–style rap of Kyle and indie rock hybrid vibes of this tune moved Solveig into the lane of radio pop. How did we get here from Afro house?
Martin Solveig ft. Ina Wroldsen "Places"—Universal Records, 2016
Here we see another big jump to the trendy emotional pop house that was destroying Spotify playlists across the world. Twisted and chopped-up licks, a saccharine sweet vocal, and some hands-in-the-air buildups took this tune right to the top of the pops.
There we have it: the evolution of one Martin Solveig from deep Afro house to full-blown electronic pop music. The sounds of house music are constantly evolving in all directions, from the core underground scenes to the massive festival scenes. It's no wonder so many people love this music in all its forms.
Solveig continues to reinvent himself in ways that only he can. Maybe it's a French thing. Whatever it is, it's kept him relevant for more than 20 years and counting.
Follow Martin Solveig on Facebook | Twitter | Instagram
---
Share
---
Tags
---
You might also like