Sound Evolution: The Musical Progression of Armin van Buuren
Upcoming Event
In our Sound Evolution series, we take a look (and listen) at the back catalogs of some of the world's biggest DJs.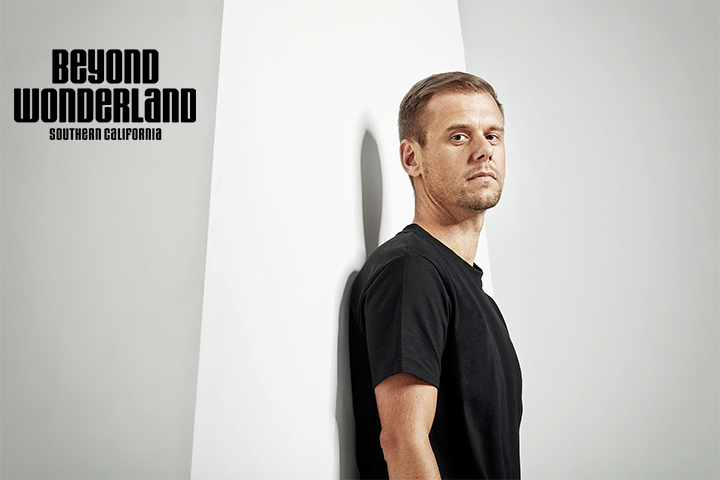 Grammy nomination. Five-time DJ Mag #1 winner. Numerous International Dance Music Awards trophies. Platinum records around the world. It's almost impossible to summarize the life and legacy of Armin van Buuren, one of the most celebrated and decorated electronic artists of all time. But like he has shown us time and time again, the impossible is only what we've yet to Imagine.
From his humble roots in his native Netherlands, where he spent his formative years making mixtapes for his friends and DJing the local club circuit, Armin has risen to become one of the true icons of this industry and a bona fide global star. Along the way, he's established his own electronic empire: Armada Music, his award-winning record label that's home to dozens of esteemed sublabels; A State of Trance (ASOT), his beloved weekly radio show, which reaches 40 million listeners across more than 80 countries and 100 FM radio stations and has spawned a global event series and world tour; and Armin Only, his ambitious and immersive one-man concert brand. Today, Armin runs in an artistic lane all his own, with millions of fans around the world and countless records to prove it.
Music has remained the key element behind everything Armin touches throughout his decades-long career. A flag bearer of trance, he's since expanded his sound to encompass everything from electro to pop to psytrance, all while keeping the Armin touch at the core of all his releases. Exploring Armin's vast discography is like opening a portal to an endless universe of sound.
Ahead of his headlining set at Beyond Wonderland SoCal 2019 this weekend, we've tracked the sound evolution of Armin van Buuren. Remember: This is just a glimpse at some of Armin's key releases, so make sure to dig into his wide-ranging discography for the full scope.
Beyond Wonderland SoCal 2019 tickets are on sale now.
"Blue Fear" [Cyber Records, 1997]
Considered Armin's first breakout track, "Blue Fear" is peak '90s trance. The extensive buildup, four minutes of charged energy and vintage saw waves, is pure trance bliss. Once the track finally climaxes, it feels like releasing all your body's endorphins at once. The breakdown is near hypnotic; you'll get lost in a state of trance, no doubt.
A State of Trance [United Recordings, 2000]
Speaking of A State of Trance, this is where it all started. Released in 2000, A State of Trance is the first installment of what would become Armin's long-running, fan-favorite, genre-defining compilation series. Exploring everything from progressive house to trance to house, the inaugural mix, which originally came as a two-part CD series, displayed Armin's keen ear as a DJ and early electronic tastemaker in full force. A State of Trance would go on to become one of Armin's universal brands, spawning a worldwide radio show, a record label, and a global event series all under the ASOT name.
76 [United Recordings, 2003]
As his debut album, 76 elevated Armin from trance DJ to full-on electronic album artist. Compared to the big beats coming from his trance colleagues of the day, 76 unfolds like a proper song-based album, rather than a collection of random singles dressed up as an LP. Tracks like "Burned With Desire" and "Never Wanted This," both featuring OceanLab vocalist Justine Suissa, show Armin's early penchant for songwriting, a rare element in a beat-driven genre. The album also features an updated version of Armin's breakthrough hit, "Blue Fear" (see above) and a collab with Ferry Corsten as System F ("From the Heart"). Collectively, 76 solidifies Armin as an artist with a big-picture mentality that spans beyond the dancefloor.
Shivers [Armada Music, 2005]
Shivers, Armin's follow-up album, picks up where 76 left off. Again, the producer puts a heavy focus on songwriting over beat-making, enlisting singers like Nadia Ali, Mic Burns, Martijn Hagens, Justine Suissa, and Genesis singer Ray Wilson; the latter two featured on Armin's debut album, 76. Shivers freely explores genres and sounds not typically associated with Armin, like breaks ("Wall of Sound"), electronic rock ("Golddigger"), and even pop ("Who Is Watching"). The album also features a massive collab with progressive house icons Gabriel & Dresden ("Zocalo") and the Armin classic, "Shivers," which still slaps to this day.
"This Is What It Feels Like" [Armada Music, 2013]
As one of his most successful tracks to date, "This Is What It Feels Like" helped establish Armin as a household name around the world. Released as the second single off Armin's fifth studio album, Intense, "This Is What It Feels Like" is a stunning earworm that mixes the emotional pull of trance with big-room energy, shiny electronic melodies, and pop-leaning vocals from singer-songwriter Trevor Guthrie. The track dominated the global charts, reaching the top 10 in 10 countries and becoming Armin's first top-10 hit in the UK, while the track's official music video is inching toward 100 million YouTube views to date. The track also garnered Armin's first and only (so far) Grammy nomination—in the Best Dance Recording category in 2014—securing one of his biggest career accolades ever.
"Ping Pong" [Armind/Armada, 2014]
Love it or hate it, the tongue-in-cheek "Ping Pong" remains the inescapable festival anthem dominating dancefloors worldwide. A deceptively simple electro monster, "Ping Pong" is pure, unadulterated big-room bombast. It shows that Armin knows how to have a good time—a master of his craft, unafraid to let loose and have fun with the masses. The track's equally silly, ping-pong-inspired official music video counts more than 16 million YouTube views and growing. Just try and get this banger out of your head.
Embrace [Armada Music, 2015]
Embrace, Armin's sixth studio album and most recent full-length project, is perhaps his most ambitious to date. Across 15 diverse tracks, Armin goes for the full spectrum of electronic music. The album's title refers to Armin's "embrace" of the numerous different genres, sounds, and instruments—the album cover depicts all of the musical instruments used in the production process—featured on the LP and filtered through his style. Featuring a wide range of collaborators, including Hardwell ("Off the Hook"), Dutch jazz trumpeter Eric Vloeimans ("Embrace"), fellow trance giants Cosmic Gate ("Embargo"), and Gavin DeGraw ("Looking for Your Name"), Embrace shows Armin challenging himself as a producer and expanding his songwriting reach, giving electronic fans of every shade something to dance to.
"Sex, Love & Water" [Armada Music, 2018]
In early 2018, Armin surprised fans with this funky slice of groovy disco-pop. "Sex, Love & Water" is a bit like Daft Punk's international hit "Get Lucky": an unexpected turn from an electronic giant that sounds nothing like dance music but packs burning dancefloor heat. Sure, "Sex, Love & Water" is pure pop gloss, but we dare you not to move your feet when this one hits the speakers.
"Blah Blah Blah" [Armada Music, 2018]
With the international explosion of psytrance hitting its zenith, it was only a matter of time until Armin entered the arena. Similar to "Ping Pong" (see above), "Blah Blah Blah" is part gimmick and part festival anthem. The track features the pulsating synths and rapid-fire rhythms of psytrance as its bedrock, while Armin inserts his brand of emotional melodies. "Blah Blah Blah" has charted around the world, while its official lyric video counts more than 282 million YouTube views to date. Now with Armin's nod, psytrance is enjoying a whole new level of global fandom.
Catch Armin van Buuren at Beyond Wonderland SoCal 2019, which takes place Friday, March 22, and Saturday, March 23, at NOS Events Center in Southern California. Tickets are on sale now. For more information, visit the official website.
Follow Armin van Buuren on Facebook | Twitter | SoundCloud
Follow Beyond Wonderland SoCal on Facebook | Twitter | Instagram
---
Share
---
Tags
---
You might also like