Sound Evolution: The Musical Progression of Zedd
In our Sound Evolution series, we take a look (and listen) at the back catalogs of some of the world's biggest DJs.
Anton Zaslavski, the man we know and love today as Zedd, was destined for dancefloor greatness from day one. Originally born in Russia and reared in Germany, Zaslavski grew up with music surrounding his everyday life. The son of musicians—his father a guitarist and schoolteacher and his mother a piano instructor—Zaslavski caught the music bug as a youngster, picking up the piano at age 4 and later the drums at age 12. That early exposure to music would fuel Zaslavski's lifelong passion for the beat and lay the foundation for his sonic identity.
Inspired by the electro house sounds of Justice's groundbreaking 2007 album Cross, Zaslavski headed toward the neon-lit dancefloor. He soon began experimenting with his newfound electronic sound, which mixed elements of electro house, progressive house, dubstep, house, and beyond. Zaslavski officially became Zedd at the beginning of this decade, and he's never looked back.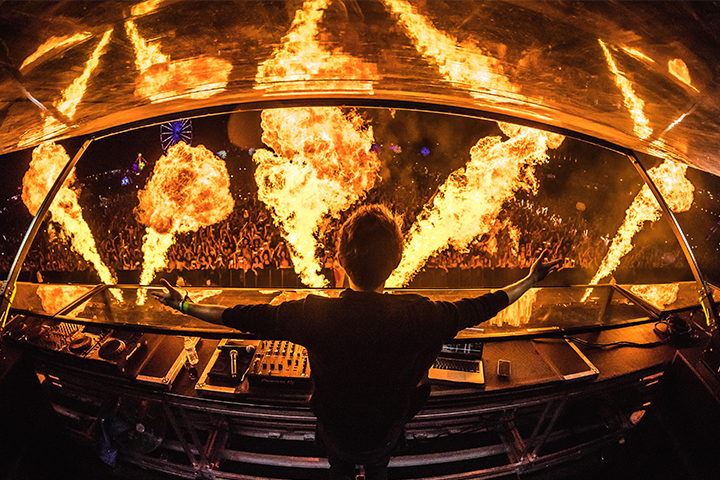 From the get-go, Zedd showed a proclivity for robust, cinematic productions that mixed his classical training and his passion for electronic music. His debut original single, the 2010 track "The Anthem," features beautifully layered cascading synths, progressive-laced melodies, and thick drums that, when combined, sound like a digital orchestra.
Fast-forward to 2018, and Zedd is a multiplatinum, Grammy-winning artist/DJ/producer who's worked with the biggest names in pop and dance music. He's morphed his sound throughout the years to incorporate big, shiny pop beats and diva vocals from today's leading stars, all while keeping one foot on the dancefloor. Today, Zedd is behind the same inescapable earworms filling the international airwaves and fueling the festival crowds.
In less than a decade, Zedd has gone from scrappy electro house newcomer to one of the biggest and highest paid electronic music superstars today.
Here, we take a deep dive into the superstar DJ's vast discography and key releases as we track his ongoing sound evolution.
This is the musical progression of Zedd.
"The Anthem" [Big Fish Recordings, 2010]
In 2010, the world officially meets Zedd via "The Anthem," his debut original release. The electro house track has all the ambition of a mainstage act and the drive of a festival anthem. It shows a young and surprisingly confident Zedd looking to conquer the world. It also features early indications of Zedd's distinguishable style—power synth chords, vocal layers, big beats—and his penchant for song structure and melody. The track will go on to place in Beatport's Electro House Top 20 chart, notching Zedd's first professional achievement.
Skrillex "Scary Monsters and Nice Sprites" (Zedd Remix) [Big Beat/mau5trap, 2010]
Zedd takes on Skrillex's dubstep monster in this 2010 remix. He remains (relatively) loyal to the slamming drops and neck-snapping bass of the original, sending his remake into hard electro and complextro territory while keeping the dubstep framework mostly intact. The remix shows Zedd's production flexibility and his curiosity for genre experimentation. As one of the earliest crossovers between Zedd and Skrillex, the track will go on to help cement a long-lasting friendship and working relationship between the two producers.
Lady Gaga "Born This Way" (Zedd Remix) [Interscope, 2011]
While Zedd remains in the electro and dubstep lanes here, his remix of Lady Gaga's massive hit "Born This Way" gives an early glimpse into his pop interests and mainstream ambitions. Released as an official remix, his "Born This Way" rework, one of his first collabs with a major pop act, introduces Zedd to mainstream audiences and allows him to discover his radio-friendly, pop-leaning electronic sound. It's also one of his earliest releases with longtime label Interscope, his intro to the major leagues. Zedd will go on to remix and officially produce several Lady Gaga tracks, including three songs off her 2013 album, Artpop.
"Stars Come Out" [Dim Mak, 2011] 
Featuring Heather Bright, aka pop/EDM singer Bright Lights, "Stars Come Out" is Zedd's first original song to feature full-on vocals. While the track, released on Steve Aoki's electronic-heavy Dim Mak, is straight-up complextro, it shows Zedd's still-developing ability to work with vocalists in a studio setting. It's the first of many vocal-based electronic anthems to come from Zedd.
"Spectrum" ft. Matthew Koma [Interscope, 2012]
Released as the first single off his 2012 debut album Clarity, "Spectrum" fully encapsulates the pop-EDM hybrid sound Zedd has been perfecting up to this point. Driven by Matthew Koma's powerful vocals, "Spectrum" is the type of fusion that'll work equally on mainstream radio and late-night raves. While leaning toward mainstream pop, the track is still primarily electronic—though that soon changes for Zedd. The track eventually tops Billboard's US Dance Airplay and US Dance Club Songs charts, a major win for the burgeoning producer.
Clarity [Interscope, 2012]
Zedd goes B-I-G for his major label debut album Clarity, a full-on pop album dressed up as an EDM record. Picking up from "Spectrum," Clarity fulfills Zedd's every pop ambition and fully powers his mainstream drive. The album is led by the catchy title track, a pop powerhouse—written by Zedd, Matthew Koma, Porter Robinson and Skylar Grey and featuring vocalist Foxes—that still infiltrates festivals and dancefloors worldwide. "Clarity," Zedd's breakout track, is his first foray into full-on pop, which he's been working toward since day one. The track ultimately reaches the Top 10 on the Billboard Hot 100 chart, ultimately going three times platinum in the US and landing Zedd's first-ever Grammy win (for Best Dance Recording) in 2014. A deluxe version of Clarity, released one year later, amps up the mainstream appeal with the addition of the chart-topping single "Stay the Night," featuring Paramore singer Hayley Williams, another pop behemoth.
Ariana Grande ft. Zedd "Break Free" [Republic, 2014]
While Zedd's previous pop adventures featured fellow up-and-coming singers and songwriters, "Break Free" is his first collab with a truly major pop star: Ariana Grande. The track, which also features production work from super producer Max Martin, is an electro house banger turned massive pop bomb via Grande's diva-like vocals. "Break Free," a triple-platinum hit and one of the most viewed music videos on YouTube, ultimately elevates Zedd's pop-EDM hybrid sound to a higher level of songwriting and production and exposes him to a wider mainstream audience. It also sets the stage for Zedd's new sound: polished pop hits fueled by electronic energy.
True Colors [Interscope, 2015]
Zedd follows up his major label album debut, Clarity, with True Colors, his second full-length release for Interscope. The album continues the producer's EDM-pop endeavors with a bigger cast of pop stars and notable singers, including Selena Gomez, who guests on lead single "I Want You to Know." True Colors receives moderate success, topping Billboard's Top Dance/Electronic Albums chart and winning the Top Dance/Electronic Album award at the 2016 Billboard Music Awards.
Zedd and Alessia Cara "Stay" [Interscope, 2017] 
As one of his most recent hits, "Stay" pairs Zedd with singer-songwriter and Best New Artist Grammy winner Alessia Cara. "Stay" reflects a pared-down version of Zedd's pop sound. Where his previous pop-focused hits like "Break Free" and "I Want You to Know" stayed loyal to his electro house sound via full-on builds and roller-coaster drops, "Stay" is straight-up pop with a muted electronic background. The new approach works: "Stay" becomes a Top 10 hit on the Billboard Hot 100 chart and holds the #1 spot on Top 40 radio for six consecutive weeks in the US. "Stay" also earns a nomination for Best Pop Duo/Group Performance at the 2018 Grammys. Notably, it marks his first Grammy nod outside of the expected dance/EDM category, signifying Zedd's full arrival into the wider pop community.
Zedd, Maren Morris and Grey "The Middle" [Interscope, 2018]
Taking a cue from the beloved Avicii, Zedd dips his toes into country music territory with "The Middle," a triple team with country singer-songwriter Maren Morris and up-and-coming electronic duo Grey. The bright, pop-fueled track mixes EDM and '90s pop with Morris' country twang. As Fuse notes, the track "leans a lot more pop than electro," opening its appeal to wider, more diverse audiences. Zedd closes out 2018 in huge fashion via "The Middle": The track is currently nominated in two of the "big four" categories at the upcoming 2019 Grammys, including Record of the Year and Song of the Year, his biggest nominations to date.
Catch Zedd at Countdown 2018, which takes place Monday, December 31, at NOS Events Center in San Bernardino, CA. Tickets are on sale now. For more information, visit the official website. Countdown 2018 is an 18+ event.
Follow Zedd on Facebook | Twitter | SoundCloud
Follow Countdown on Facebook | Twitter | Instagram
---
Share
---
Tags
---
You might also like