Sound Evolution: The Musical Progression of Alesso
In our Sound Evolution series, we take a look (and listen) at the back catalogs of some of the world's biggest DJs.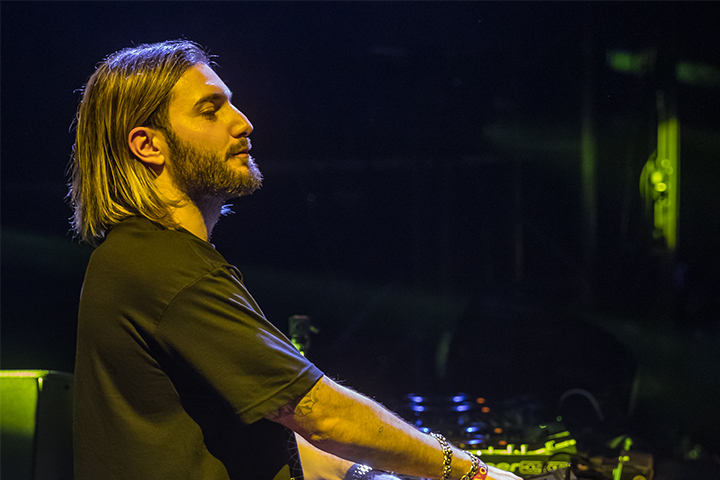 The rise of Alesso is a Cinderella story of mainstage proportions. Born and bred in Stockholm, Sweden, Alesso (née Alessandro Lindblad) began his lifetime musical journey at the age of 7, when he began playing the piano. By age 16, he'd become enamored with electronic music after one of his close friends passed him a CD featuring dance music legends like Daft Punk and early music from his countrymen Swedish House Mafia (SHM), the latter of which would prove a pivotal influence on his career.
Fast-forward to 2011, when he was in his early 20s, and Alesso is discovered by fellow Swedish producer, electronic superstar, and SHM founder Sebastian Ingrosso, who would go on to introduce the newcomer to DJ culture and help develop his sonic identity.
The Alesso sound has since evolved throughout the years, encompassing a wide range of genres and styles, from deep house and tech house in the early days, to progressive house and big-room bangers during the zenith of the American electronic boom, to radio-ready pop hits and mainstage heaters nowadays. Today, Alesso is a Grammy-nominated, multiplatinum artist who stands as one of Sweden's greatest musical exports and one of the brightest stars of the EDM generation—all of which happened within one decade.
Here, we've tracked the key releases that have come to define the superstar producer's skyrocketing career and progressive sound evolution.
Alesso EP [Joia Records, 2010]
Tech house and deep house are not the first genres you'll associate with Alesso's sound. But as his debut release, the Alesso EP straddles both worlds in excellent form. Even from the beginning, you can hear Alesso's penchant for big, beefy beats, as heard on opening track "Think It's Time." Rife with deep house melodies, the track rises with progressive house energy, building tension thick enough to slice. It's an early glimpse at the Alesso formula: progressive beats driven by electricity.
Sebastian Ingrosso and Alesso ft. Ryan Tedder "Calling (Lose My Mind)" [Refune Music/EMI, 2012]
"Calling (Lose My Mind)" is one of Alesso's first collabs with big brother Ingrosso. Originally released in 2011 as a progressive house instrumental (then simply called "Calling"), the track was later updated with a massive vocal feature from renowned songwriter/producer and OneRepublic frontman Ryan Tedder, who lifted it to anthem level. "Calling (Lose My Mind)" became Alesso's first major hit, topping Billboard's Hot Dance Club Songs chart in the US and becoming a Top 10 hit on the dance charts in the UK and Australia. It marked Alesso's arrival as a mainstream artist with a mainstream sound.
Alesso vs. OneRepublic "If I Lose Myself" [Mosley/Interscope, 2013]
This remix once again pairs Alesso with Tedder, this time with the latter's group, OneRepublic. Alesso takes the original—a catchy, electronic-tinged pop rock ballad—and flips it into a progressive house anthem. In addition to becoming an international hit, going four times platinum in his native Sweden and silver in the UK, this remix secured Alesso's first-ever Grammy nomination, in the Best Remixed Recording, Non-Classical category, in 2014 and solidified his superstar status.
Calvin Harris and Alesso ft. Hurts "Under Control" [Deconstruction/Fly Eye/Columbia, 2013]
A collab with Calvin Harris, featuring vocals from duo Hurts, "Under Control" is an undeniable hit that exemplifies Alesso's prowess as a power collaborator and songwriter. The track underscores both Alesso's production and songwriting skills and proves he can hold his weight when working with super producers like Harris. The track debuted at #1 on the main UK Singles Chart, a first for Alesso and a fifth for Harris, and went platinum around world and gold in the UK and US.
Forever [Def Jam/Virgin, 2015]
In 2014, Alesso became the second artist ever, following Afrojack, to sign to the legendary Def Jam Recordings label. For his major label grand entrance, he released Forever, his debut solo album. It shows Alesso in full form, putting his wide-ranging production skills and sound front and center. Every shade of Alesso is here: hard-hitting electro ("PAYDAY"), progressive house ("Cool"), radio-ready pop ("Scars"), and electronic-powered guitar pop ("All This Love"). The album is led by the worldwide hit "Heroes (We Could Be)," featuring Swedish pop singer Tove Lo, which topped the dance charts in the US and UK and ultimately went platinum in both territories. The track, which also became a Top 40 pop hit on Billboard's Hot 100 chart in the US, is credited for catapulting Alesso to an even higher level of mainstream appeal and remains one of his festival favorites.
"I Wanna Know" ft. Jolin Tsai [WM, 2016]
Alesso X CHEN "Years" [SM Station, 2016]
Alesso and Anitta "Is That for Me" [Warner Music Latina, 2017]
A known collaborator, Alesso teamed up with three international pop stars from across the world between 2016 and 2017 for a string of electronic-flavored global pop releases. In 2016, he released a new version of "I Wanna Know," an electronic vocal pop cut originally featuring Norwegian duo Nico & Vinz. The updated remake, featuring softer piano melodies and guitars, enlisted singer Jolin Tsai; Alesso also remixed Tsai's own hit, "Play." Later that year, he released an updated version of his 2012 hit "Years," originally a collab with Matthew Koma, featuring singer Chen, a member of international K-pop group Exo. The new release remained largely sonically intact but came in two versions: one in Korean and one in Chinese. In 2017, Alesso released "Is That for Me," a dreamy pop collaboration with Anitta, a massive star in her native Brazil. Collectively, this trifecta underscored Alesso's grasp of the pop spectrum on a global scale and helped him reach new dancefloors worldwide.
Hailee Steinfeld & Alesso ft. Florida Georgia Line and watt "Let Me Go" [Republic, 2017]
Like his Swedish brother Avicii before him, Alesso stepped into country music territory with this catchy ditty. On paper, the EDM-meets-country crossover may not seem like it'd make much sense. But Alesso's tropical house melodies, paired with watt's crisp production and songwriting, create the ideal framework for Hailee Steinfeld's pop-leaning vocals and Florida Georgia Line's country attitude. That formula proved successful—the track became a Top 40 platinum hit in the US—and expanded Alesso's collaborative range to new possibilities.
"Remedy" [10:22pm, 2018]
Released late last year, "Remedy" is quickly becoming one of Alesso's most recognizable songs. That's probably due to its massive unveiling: In August 2018, Alesso, alongside vocalist Conor Maynard, debuted the track on Good Morning America, the most-watched morning show in the US, to close out their annual summer concert series. The performance is perhaps Alesso's biggest mainstream feat to date; not many electronic artists have pulled off a GMA performance. The track went on to top the US Dance Airplay chart, and it continues to grow in 2019.
"Tilted Towers" [10:22pm/Astralwerks, 2018]
Alesso closed out 2018 with one of his most forward-thinking collaborations so far. "Tilted Towers," a progressive house bomb, is a partnership release with Tyler "Ninja" Blevins, the world's biggest gamer, and esteemed electronic label Astralwerks. The track was featured on Ninjawerks, an original soundtrack featuring music from the world's top electronic artists—including Dillon Francis, Tiësto, Kaskade, and others—that pairs the music and gaming worlds together in an industry first. Alesso debuted the song (named after a popular map from the viral video game Fortnite) on live-streaming video platform Twitch with Ninja, premiering it to nearly 50,000 tuned-in fans at once. Beyond the big beats, Alesso's contribution to the project is indicative of his trendsetting mentality: With the gaming and music worlds colliding like never before, he remains one step ahead of the game with collabs like "Tilted Towers."
Catch Alesso at EDC Mexico 2019, which takes place Saturday, February 23, and Sunday, February 24, at Autódromo Hermanos Rodríguez in Mexico City. Tickets are on sale now. For more information, visit the official website.
Follow Alesso on Facebook | Twitter | SoundCloud
Follow EDC Mexico on Facebook | Twitter
---
Share
---
Tags
---
You might also like