Nicole Moudaber Is No Stranger to Spirituality and Magic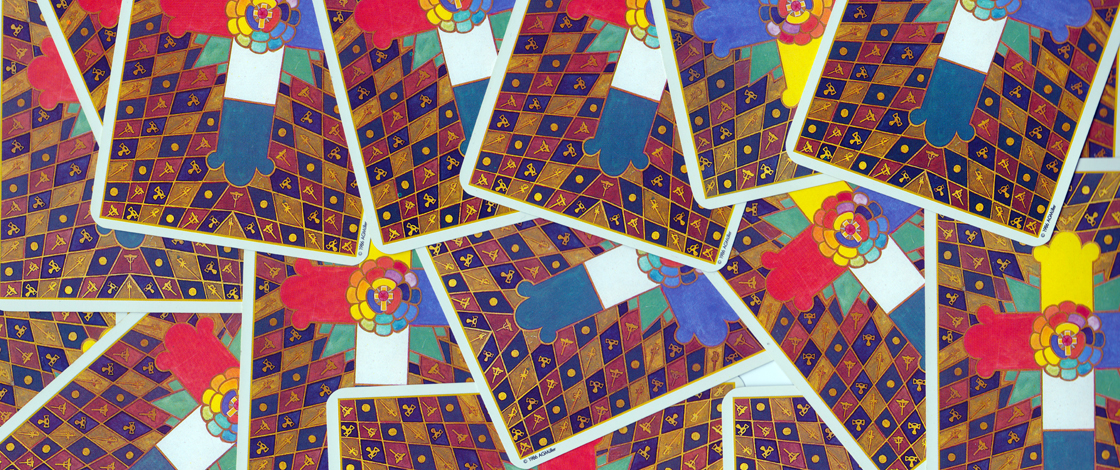 Having released her latest EP, Silent Sigh, less than two weeks ago, Nicole Moudaber continues her meteoric path through the New Year. The slow, dark techno dancefloor journey through spacey synths, deep textures and cool, unrushed build-ups is almost a pause between ringing in the New Year in Miami, hitting the beaches of Mexico to close BPM Festival and an upcoming tour through Europe, the Middle East and North America.
"The title track on the EP was a new direction for me, as I'm always trying to push my own boundaries and create different styles without losing my sound, as such," explained Moudaber from London. "It was also a song with personal meaning for me, and directed at a person. It's about the fact that you simply don't always get what you want. Timing can be a bitch!"
The London-based, Lebanese-Nigerian producer got her beginnings in the electronic music world in the late '90s, having started off as a promoter in Beirut. She switched to becoming an artist some six or more years later, until her music caught the attention of one Carl Cox. Today, she runs her own MOOD Records label, and a steady flow of releases, remixes and world tours has ensued. She also has an upcoming EP in mid-March that will release on Carl Cox's label, marking a return to her musical roots. We sat down with Moudaber to get a glimpse into her life and her career through a tarot reading and learned that she has quite a year ahead of her—not to mention that she's no stranger to spirituality and magic.
"One of the tracks on that EP [on Cox's label] is called 'Old Soul, Young but Not New,' and I feel connected to that title somehow," says Moudaber. "I'm really excited to come back to his label, since he's the one who really discovered me before anybody else. But I do already have a tarot reader that's been with me for five years now, in Brooklyn. She's more of a medium and life coach, so in a way this is strange, as it's going to be public! I definitely don't want to talk about personal stuff."
Card 1 (the situation right now): The Hanged Man
At first glance, I have to say this is an incredibly positive reading! This first card represents you at this moment. This is a card that's generally one about pause. Take a deep breath, consider your options, and don't jump to any action or conclusions. You're not entirely where you want to be, so the idea is that you've come to the threshold of a new stage. The card can often indicate a crossroads, but judging on everything else around you, I'd say you're more standing in a gateway to abundance, stability and fruitful manifestation. It's more of an awakening in this reading than being stuck between up and down. The man in the card is alone, quite literally hanging upside-down, so I would say that keeping your own counsel is wise. At every turn as you ascend through this year, pause, take a step back, see how you feel, check in with your intuition and your bank accounts, and do what's right for you.
Card 2 (crossing the situation and a general point to keep in mind): Sensitivity 
A more standard reading would reflect that in this position, we'd reveal what's blocking you, but I chose to pull this card before we began the reading, as a sort of spiritual geo-locator of where you're at. This card is about an increase in sensitivity in your life and the change that comes with it. As you ascend and become attuned to your own path, people, places and activities will often no longer seem interesting, or really quite fit. Honor your sensitivity, and do not take the loss too personally; it's a natural part of change in your life that will bring you closer to where you need to be. This card is pulled from a Life Purpose deck of cards, not a standard tarot deck.
Nicole: Wow! That is correct and what is happening in my life.
Card 3 (the root or basis of your question): King of Cups
This card in this position is the root of the matter, or the foundation of your question, which in this case is career. Here is a benevolent, feeling man with an open heart, with a strong imagination and loving heart. As you are the boss-lady, it could also be a reflection of you. With the Kings of Cups, decisions made from the heart are wise. The cups are also a suite of pleasure, and sometimes even alcohol and excess, the King being at the highest point of influence for those factors, too. But I get the sense here, especially with a reading so positive, either take heed in the word of that benevolent man in your life—be him a business, romantic, family partner or otherwise—or keep counsel with your own inner, loving paternal instincts. Much of the joy and success we see coming into your life is built on a foundation from keeping attuned to a strong, open heart center.
Card 4 (elements coming to pass): 8 of Cups
This is the only shadow cup card we see in the reading, and it's in the position of influences that are coming to pass. This is a card about leaving behind what doesn't serve you, in search of finding what really does resonate with you—or in your case, what's becoming a new you. This applies to jobs, relationships of any variety, locations, styles, sounds, lifestyles, travel schedules, what have you. Again, it's normal to mourn loss in your life, but understand that it makes space for new. That's a good thing, and from the looks of your reading, there is much new coming into your life to celebrate.
Card 5 (the present): Judgment
Judgment is marked by the number 20, which can in some circles be a number indicating the influence of divine timing. Now, it's also a card quite literally about a period of time where you are assessing, judging, taking stock, deciding what stays and what goes. It's a card that also warns against jumping to conclusions. When you look at the Hanged Man, who again denotes stasis, I would advise in this case that the message says to take things one step at a time. Heed the signals around you about timing, as keeping with the natural order of how things must go will lead to less resistance in your outcome.
Card 6 (near future): 10 of Cups
This is one of the happiest cards in the tarot. Its most traditional depiction is a small, happy family dancing under a rainbow. And it means just that at its core: rewarding family life, trust, stability, happiness. It's a strong, recurring theme in your reading that an open heart will lead to financial happiness, and this card is no exception. Heart and finances are linked.
Card 7 (the energies you bring to the question at hand): 9 of Wands
This card can mean different things with different decks, but at its core, it means there is much burden put on you. But you can handle it, you've got this, and you know how to keep your wits about you. What you do isn't easy, but you're able to make it happen. Again, it's a bit of a lone ranger card, so linking it with the Hanged Man, I would say again, keep your own counsel from time to time. Only you know what's right for you, as you still continue through a period of reflection, purging and reviewing your life. Protect what you've worked so hard to accomplish. Draw a line in the sand when you must; it will serve you.
Card 8 (energies of the people surrounding you): 9 of Pentacles
In a word, solid. The people who surround you are trustworthy, and while there may not be trillions of dollars surrounding your enterprise, this is about affording the small luxuries in life, abundance, fertility and ripeness.
Card 9 (advice): 9 of Cups
I will say for this reading, the message in your advice position is simple: Make a wish. And with a reading such as this one, it's the very launch of your rocket ships of desire that will take you to new levels in life. In brief, make those wishes. Make them big, and they will come true.
Card 10 (outcome): 4 of Coins
This card isn't the most enthusiastic card in the deck, but it's certainly not negative. I would say in this case, be wary of being too controlling. Often, control freaks are simply people who are too hard on themselves, and as a result, they end up being the same for their peers. In this case, since you have been warned a couple times to keep your counsel and not be hasty, this card is a signal to keep centered. Do not cling too tightly to outmoded relationships, ideas, or even your money. At the same time, exercise prudence. Throwing hands in the air won't serve you either. In analysis, I would say the reading really says that you are heading to wonderful places, but mind that you balance your heart with logic, release your past to move to the future, stay centered in your heart and your spirituality, stick up for yourself, and stability, happiness and success are really yours for the taking. Aim high! Oh, and slow down. Take deep breaths to stick to your core as you bounce around the world. It's not easy.
Nicole: That's amazing, thank you.
Actually, one outstanding part of this reading is that there are three consecutive nines in it. I've never seen something like that before—at least never with the number nine—which is a particularly strong visual cue: 999. There are many different schools of thought with numerology, but I'll go with the one I use most, and I think it's clearly reflected in your reading. 999 is about a return to self, a completion of a phase. It's also about being a light worker and a signal to get to work and start shining your light on those around you. If you think about the world of DJing, it's a world utterly constructed on vibration. You have DJs who are working with relatively light tools in order to create their art, and if you think about the interaction between a dancefloor and the person behind the decks, it's certainly a metaphysical experience. So you as a spiritual person, and you professionally, could be two sides of the light worker concept. Your EP alone is so pared down, yet so effective.
Nicole: That's really amazing. Nine is one of my favorite numbers; it always has been. My birthday is the 19th, so in a way, I've always associated myself with it. Nine is considered zero in the math world, so nine is a very potent number—for me, anyway.
You can catch Nicole Moudaber doing her thing at EDC Mexico on Sunday, February 28.
Follow Nicole Moudaber on Facebook | Twitter
---
Share
---
Tags
---
You might also like