Cut From the Catalog: MOOD
Upcoming Event
Record labels have long been the gatekeepers of the dance music space, as they continuously define and reshape tastes via releases, endless talent scouting and the curation of brand-hosted parties. In our Cut From the Catalog series, we big-up established and buzzing imprints alike, by taking a look at the organization's ops while running through a retrospective mix built solely from their respective catalogs.
Emotion exists at the very essence of dance music. Anyone who argues otherwise will have to take it up personally with underground mogul Nicole Moudaber. She has practically built her entire empire around the feelings-first philosophy, which is purposefully threaded through every single facet of her estimable Mood brand.
Founded in 2013, the imprint has served as a passion project for Nicole, who wants nothing more than to create authentic, undiluted experiences both on and off the dancefloor. It's an area of expertise she has excelled at with flying colors, as she continues to promote proper moods in each of her endeavors, the list of which seems to grow by each passing second.
On the release side, Moudaber has aligned with like-minded artists such as Carl Cox, Pan-Pot, Pleasurekraft, Skin, Jamie Jones and Anja Sneider, to name a few. The buck doesn't stop there, however, with her vision extending beyond the studio and onto the stage by way of her intimate MoodRAW and festival-driven MoodZONE showcases. Whatever the case may be, Moudaber's main motivation has always remained with the best interest for house and techno. And her movement has become deeply embedded in consciousness of the underground.
As Factory 93 prepares to open up its coveted warehouse space in Los Angeles to house the MoodRAW showcase this weekend, we jumped at the chance to take an inside look at Moudaber's formidable MOOD imprint. In addition to tossing us some exclusive insight, Nicole appoints label regular Marino Canal to turn us on to their vibe through a captivating collection of tunes stripped solely from their audio archives.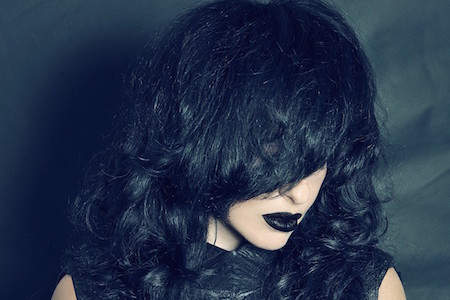 There's a lot of power in a name based on how it reflects the spirit of any entity. Why do you believe "Mood" accurately depicts your vision for the imprint?
Mood is emotion. It's fundamental to life and, of course, to music. There are many different moods and different states of mind a person can be in, and this concept gives me the freedom to explore different emotions with the music I release. The music must always invoke a feeling, emotion or passion, whether it be euphoria, reflection, warmth, isolation, or darkness. I want the music I release to make you feel something.
What core values are at the heart of the label?
Quality. Emotion. Passion.
You're entering into the fourth year of operation. Were there any major growing pains or eye-opening lessons you've experienced along the way?
It's expensive, both financially and in terms of time commitment. But it's rewarding. I enjoy the A&R process, listening to new music, and discovering new artists. And when I play the music out and it makes people dance, that's what it's all about!
What major developments and personal accomplishments would you say have helped define the imprint?
Well, I've been very lucky to collaborate with some amazing artists along the way, and I'm very proud of what we've created together and very happy to be able to release these projects on my label. My collaboration with Carl Cox, "See You Next Tuesday," was a really defining moment, as well as the more recent Breed EP, which was a collaboration with Skin from Skunk Anansie. This was a challenging project, as Skin and I are from very different musical backgrounds, but it really worked—the end result was incredible! The EP got accepted into the Grammys for consideration, which means a lot to me. We also put together an amazing remix package featuring Carl Craig, Pan-Pot, Paco Osuna, Jamie Jones, Paul Ritch, Scuba, Hector and more. They're all friends of mine who play at my parties around the world, and I respect them so much as artists. It makes me very proud to have them on the label. We also released our first album on Mood last year by Marino Canal; there's more coming from him this year.
House and techno are the primary descriptors of the music you sign, but how else would you distinguish the type of sound/artists you stand behind?
It goes back to the first question, really—looking at mood and emotion. The music has to make me feel something. But in terms of defining the sound, I don't want to be too strict about that. My personal tastes are varied, and the sets I play reflect this. I like to warm up the room sometimes when I play my own branded events, so my set will be more deep and melodic—or I might be playing intelligent techno in a warehouse setting. I like to think the label can represent all sides of my tastes.
Which artists are high up on your hit list right now?
There are lots of new artists that I am trying to push on the label. Lee Van Dowski has an EP being released this month; he's an amazing producer, quite melodic. I have an EP being released soon by an artist named Bleak House, also very deep and melodic. And there's going to be further releases from both Joel Mull and Marino Canal, both who've released previously on Mood.
What's your barometer of success?
As long as I really believe in what I'm doing and I can keep doing it, that's success for me.
How much of an advantage do you feel your history as a promoter has given you at programming your branded shows and curating your release schedule?
It's a huge advantage. It's about attention to detail, looking at what people want and how to create the right vibe of the party—and this theme carries through to the label. It is about creating the right environment for people to have memorable moments.
How do you approach the planning process differently for your MoodRAW and MoodZONE events?
The main focus for me is always the music; the music comes first in the planning process. However, the venue is obviously an important part of creating the vibe and experience for clubbers, and this affects the music programming. The concept of MoodRAW is to throw parties in open spaces/warehouse type environments—hence the "RAW" element—and this theme obviously affects the music programming. The MoodZONE events are festival stages, sometimes starting during the day, which affects the mood of the music. In either case, it's about building an experience and taking people on a journey over the course of the event.
What sort of legacy do you hope to leave behind with your label?
I would like Mood to be regarded for the quality of its music, and also as a platform from which others have been able to grow and flourish. If the label has been able to help people along the way, from launching up-and-coming producers to helping people get through their everyday lives through the power of music, that's an amazing thing.
Please share a few words on the CFTC mix your label has put together.
The mix has been put together by Marino Canal, a staple artist on Mood who often plays my events, too. We've tried to represent some of the different sounds you can find on Mood and span the catalogue from my early collaboration with Carl Cox, "See You Next Tuesday," through to the recent Breed EP and Lee Van Dowski's forthcoming release "Evar." I hope you enjoy it!
Track List:

Marino Canal "Over"
Nicole Moudaber & Carl Cox "See You Next Tuesday" (Deep Mood)
Gennaro Mastrantonio, Billy Johnston "Rainy"
Bastian Bux "Riot"
Pleasurekraft "There Is No Safe Word"
Joel Mull "Erector Pili"
Pleasurekraft "Defiler"
Gennaro Mastrantonio, Billy Johnston "Self Inflicted"
Stephan Hinz "Outreach"
Lee Van Dowski "Evar"
Nicole Moudaber & Skin "These Walls Are Made of Water" (Pan-Pot Remix)
Nicole Moudaber & Skin "These Walls Are Made of Water" (Paul Ritch Remix)
Follow Nicole Moudaber on Facebook | Twitter| SoundCloud
Follow MOOD on Facebook | Twitter | SoundCloud
---
Share
---
Tags
---
You might also like